2008 Scottish Regional Championship - Retrospective: First Section
12-Mar-2008
James Cook once again tested the bands to the full and beyond, but the two qualifiers certainly found their sealegs and will be confident travellers on the shorter trip to Harrogate.
---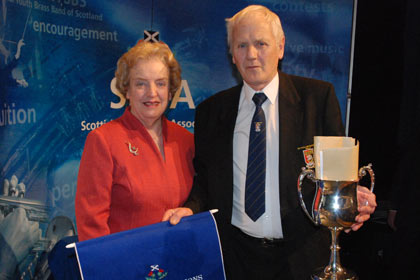 Boness receive their prize
As has been the case all around the country this year – and Scotland was no exception, Gilbert Vinter's 'James Cook – Circumnavigator' caused no end of problems for the competing bands.
Overall it meant that the contest wasn't perhaps the greatest in terms of overall quality, although the top two bands in a field of ten, Bo'ness & Carriden and Clackmannan District Brass, produced two authentic performances of a work that remains undoubtedly a championship section test despite its age.
Brave efforts

The pair will head for Harrogate knowing that they will have overcome perhaps the hardest test piece they will have to play all year, and it should give them a huge boost of confidence that they did it so well. Others were by no means as lucky, despite some brave efforts.
Until the first of the two qualifying Pritchard-Jones Sykes had to try and find the plus points in three very varying accounts from Lochgelly, Arbroath Instrumental and Bathgate who were drawn 1 – 3.
Longest drum roll

Lochgelly opened the contest with perhaps the longest drum roll in the history of all national anthems played in Scotland (if it would have been played before a firing squad the prisoner would have died of old age), before they set sail with a decent opening section of the test piece. A brave effort from the solo cornet was followed by more solid work and the march had a touch of grandeur about it too. It just faded at the end as stamina waned, but it was a good marker and well directed by Paul Drury that more than held its own to come a deserved 3rd. The Fifers would have been pleased with this we are sure.
Moments

Next up was Arbroath Instrumental with a spirited account that had its moments of good and bad, but perhaps needed a touch more reserve in places in terms of tempo. The decision to shoot off like a cross channel hovercraft in the 'Giocoso' meant problems galore but a top notch bass solo and stylish march brought things back on track, although the stabbing of the Captain seemed a bit hit and miss with the spears. Still it was a spirited account from a young band.
Bathgate never quite found their sea legs and a bold opening soon became error strewn and ragged. Detail went missing and although the 'Calmo' was better with good efforts from the main solo lines it never felt as if it was ever completely under control. The march was also a bit hurried and messy and it all rather summed up a rather harsh performance from James Smith and his band. It was a bit James Over Cooked.
Authentic performance

With that came the first of the two authentic performances of Gilbert Vinter's colourful work. Paul Kiernan has been attracting favourable reviews of his conducting with Clackmannan and after this well structured performance you could see why.
This was good stuff – full of sustained quality, well chosen tempi and soloists who didn't sound strained. There were one or two tuning issues in places but a classy horn and flugel and a piece of veteran quality from the 3rd man on the cornet solo allowed them to get away with a rather pacy march that lacked a touch of grandeur.

A fine finish though put them back on track and it came as no surprise that it was enough to get them to Harrogate with plenty to spare. They are a fine band in the making under the Co-op star trombonist.
Bright

A bright opening from Barrhead Burgh promised much but the technical hurdles started to become a little too high in places and from the 'Giocoso' it started to get error strewn and messy. Accomplished solo lines pulled things back on track for Martyn Ramsay's band in what was a very intelligent interpretation, but some poor trombone lines pushed them off course more than once.

That it came 4th probably told you more about the standard of the bands that finished below them than it did about their own qualities on this one as it got progressively more tired and insecure right through to the end.
Accomplished

There was little doubt that Bo'ness and Carriden fully deserved to take the title after Michael Marzella and his band delivered a very accomplished account of themselves from the number six draw.
It did have a couple of little odd moments here and there with the bass section very nearly causing a bit of a musical mutiny at one point, but tasteful soprano work allied to secure cornet, flugel and horn in particular made sure a very stylish reading from the MD came off well.

As a comparison to Clackmannan it perhaps found favour as the band had a deeper, more resonant ensemble quality as well as slightly more secure soloists. The win was well deserved and they will head south later this year confident of doing well at Harrogate.
By this time the top two prizes had in fact sorted themselves out pretty clearly in anyone's book and it was clear to see why. The pair had the best soloists, produced the best ensemble sound, were led with intelligent and perceptive MDs, and had obviously done the hard work in the rehearsal rooms. That was not to say that the rest didn't put in the same amount of effort, but Bo'ness and Clackmannan had the quality to work with and it was all on show on the day.
Glimpses

Kirkintilloch Kelvin Brass did shows glimpses of the potential and talent that has in the immediate past seen them compete at the higher level and they certainly launched their assault on the title at breakneck speed under the direction of Charles Keenan.
The problem was that there was no real need for the speed – as we have said before, Cook's ship wasn't turbo charged, and as a result there were too many problems in the ensemble and with individual lines for it to have come any higher than 5th. There was a good band holding onto the rigging here for dear life at times, when all they had to do was take their foot off the nautical accelerator.
Robust

Broxburn under Kevin Price were very nearly sunk by their own robust approach. Having all hands to the cause is a great thing for morale, but it doesn't help when individuals or sections then take it upon themselves to win the contest without even a by or leave to their colleagues. Too often Broxburn sounded as if they were all at sea, despite a tremendous piece of cornet cadenza playing and the odd moment when somehow it gelled.

Then it had real promise – but this was a performance made up of too many individual deckhands heading to sea with their own ideas how to get to Australia.
Intelligent

St Ronan's led intelligently under Alex Knox knew they were going to be in with a hard old journey on this piece, but overall they emerged at the end with credit. A decent start gave way to a safe 'Giocoso' but they rather disappointingly rushed through the 'Calmo' when less haste would have been perhaps more beneficial. It got a little confused to end, but it was a brave attempt on a piece that was at the limits of the bands current abilities.
That just left Granite City under Edward Paley who set sail at a fairly leisurely pace. It resulted in the opening perhaps needing a touch more energy, but you could possibly see the reasoning behind the decision as the band just about managed to overcome the technical difficulties in the score. A fine 'Calmo' with a classy solo cornet contribution led to a slightly tired march and ending, but it was a decent account just in need of a touch more nautical spirit – and we don't mean extra rum.
No problems for David and Steve on this one and they must have been pleased that the bands fell into a fairly predictable pattern. The two qualifiers can be well pleased with their efforts on the weekend and both should make the slightly less strenuous journey to Harrogate full of confidence. It won't be misplaced either.
K. Crookston