2008 Scottish Regional Championship - Retrospective: Second Section
12-Mar-2008
The bands in the Second Section never quite enjoyed the Downie 'Invention' on the weekend, but the top two qualifiers did more than enough to win through in style.
---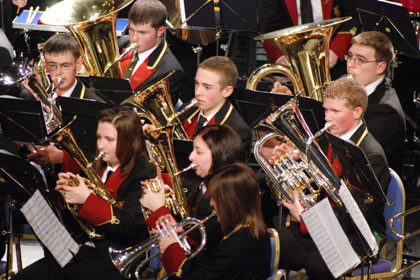 Cultured Campbeltown cruise to victory
If there was one disappointing contest on the weekend then it came in the Second Section where the combination of a rather uninspiring series of performances and a piece that never quite captured the imagination of either listeners or bands meant a rather subdued atmosphere at the Glenrothes Hall and a hard working day for the judges David Thornton and Steve Pritchard-Jones.
Deserved winners

You couldn't take away the fact that Campbeltown were thoroughly deserved winners under the baton of Craig Anderson, but it was a victory that never really thrilled despite their obvious qualities. Second placed Johnstone conducted by the experienced Raymond Tennant will of course be delighted that they will be making the trip to Harrogate too, but they will surely also be relieved that they will hopefully not have to play Kenneth Downie's 'Three Part Invention' again.
The rather quirky nature of the piece meant that it was written in a style that the modern Second Section band finds uncomfortable. Light, detailed, academic and very English in a classical sort of way, it never quite had enough meat on its bones to satisfy the appetites of the bands here. It is a quite beautifully constructed piece, but whereas the rest of the sections had works that allowed them to showcase their traditional strengths this one asked them to work on their more obvious weaknesses.
Cultured performance

Campbeltown had certainly done that and as a result delivered a very cultured performance that stood them out from their rivals.
The opening was well balanced and compact in ensemble, whilst the Bach inspired middle movement was full of subtle textures and colours as well as rock solid solo lines and ensemble balance. With the added bonus of a crisp and playful third movement it was almost the complete package and fully deserved to take the title. Craig Anderson shaped the work with a delicate touch and his players responded wonderfully well. The two point winning margin could and perhaps should have been more.
Comfortable

Joining them in Harrogate is Johnstone with a performance that although not quite achieving the same levels of consistency and delivery, still had plenty of quality about it to comfortably beat off any rivals.
Raymond Tennant allowed time and space for his players to deliver well balanced ensemble and solid solo contributions, and although it did get off to an unconvincing start it soon blossomed with a neat second movement and jaunty third, all backed up with perhaps the most rounded ensemble sound of the day.
Ahead

These two bands were a good length or two ahead of their rivals, but behind them were a number of decent accounts that although never quite having enough about them to challenge the top two still emerged with credit. Chief amongst these were Croy under Kenneth Blackwood in third place.
The opening did seem a touch too legato in style perhaps but the strength of their ensemble sound was impressive despite a few nasty little moments here and there. A rather slow middle movement that just lacked flow was followed by a purposeful third, and overall it was perhaps the style that cost them the points that saw them fall short of a qualification place. Third place though was about right.
Mini battle

The rest of the eight bands battled it out in something of a private mini contest, with Tullis Russell Mills putting behind them the disappointment of the recent Scottish Open to claim a hard earned 4th place from the number 1 draw.
Gavin Lindsay's band produced a clean and purposeful start that led into a second movement just let down by intonation problems. The final section was delivered with robust purpose – a perhaps a tad too robust in places to capture the sense of vibrancy in the score, but it rounded off a decent account from an improving band.
Behind them came Shott's St. Patrick's conducted by Michael Marzella. They promised much in a breezy opening section that was delightfully shaped by the MD, but just when it was starting to really take off things started to go awry. Insecure entries in the second movement proved costly, whilst the final section didn't quite capture the sense of light playful endeavor required – it was perhaps a bit too worthy and dour, and that may have been the reason why it ended up in 5th instead of challenging more strongly for a podium place.
The final top six place went to Jedforest Instrumental conducted by Chris Bradley from Whitburn.
A strong opening was taken at a fair old pace, and whilst it was exciting it was also error strewn too. Much the same happened in the second movement before they all caught up with each other in the third to finally find their collective feet and end things off in a stylishly robust and playful manner. Too little too late perhaps, but still more plus points than minus ones.
Lost focus

Perthshire Brass started well under George Annan but the music soon lost focus and a poor second movement allied to a scrappy third cost them any chance of coming any higher than they eventually did.
The same was true of Selkirk in 8th place under the command of Colin Hogg. As last band they closed the contest with a rather mixed performance that lacked for consistency above all else. When it was good it really captured the style, but when it went off the boil it did become hard work.
Kilmarnock Concert were a bit short handed it must be said – just the 22 brass players, and in the circumstances they did well to produce a decent account of themselves and the music under Andrew Keachie. A robust sound just gave the opening section a hard edge at times, whilst the second movement was a little lumpy in style. The finale section saw their best playing but too many overall insecurities from start to finish was the reason why it didn't feature any higher than it did.
Same story

It was much the same story with City of Discovery too off the number 2 draw. Bruce Fraser tried manfully to give his charges the opportunity to shine, and although there were occasions when they did it was a question of insecurities and inconsistency that did for them
Finally, Clydebank Burgh – also short of numbers with just 19 brass players, but with a full team of percussionists.
John Grant did his best with the limited resources, but a number of structural ensemble problems and insecurities in each of the movements meant they were consigned to come 11th. It was a fair old attempt though from all concerned with glimpses of real potential on show for next year.
That was that then and the two bands will of course be delighted at winning through to the finals. Campbeltown in particular sounded a fine band in the making, with Johnstone not too far behind. The rest though may look back at this contest as one in which the piece was never going to suit their talents – and it did show.
K. Crookston