2008 Scottish Regional Championship - Retrospective: Third Section
12-Mar-2008
The space race came to Glenrothes on the weekend, and the Scots certainly had two bands who went into orbit.
---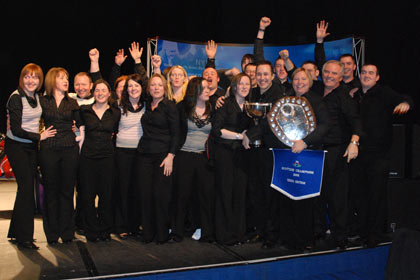 Dalkieth celebrate their victory
Paul Lovatt- Cooper's 'The Dark Side of the Moon' provided the eleven bands on the Saturday in the Third Section with a fine test piece to get their teeth into.
It also proved to be an ideal piece for the bands to show of their qualities too – full of colour, interesting textures, lyrical tunes and exciting effects. As a result all eleven played as well as they could have expected, and whilst the overall standard did vary, adjudicates Steve Sykes and Steve Pritchard-Jones had plenty of performances to sit back and admire.
Opportunity

The piece also allowed the opportunity for the best bands to come through and take the qualification places that were on offer, and there could be few complaints that the two men in the box did a fine job in picking out the eventually winners Dalkeith and Monktonhall Colliery and Annan Town, whilst the other placings seemed to find general approval in the hall when they were announced.
Early marker

The early marker had been set by Annan Town directed by David Shanks.
Before they took to the stage off the number 2 draw the contest had started with a decent marker from Buckhaven & Methil conducted by Gordon Evans MBE. Poor tuning just detracted from an atmospheric opening, but it soon recovered with a fine cornet contribution leading to some well controlled playing. It perhaps just needed a touch more rocket fuel in places, but overall it was a solid account that eventually came 10th.
Annan on the other hand were secure and atmospheric right from the start – a great combination on a piece that is scored to highlight basic tuning problems with real clarity. The control of the band was terrific and with a classy cornet solo and a fine sense of style in the broader lyrical sections it was obvious this was setting itself up to be a real contender. A rocket booster of a re-entry concluded a performance of quality and merit and it came as little surprise that it eventually ended up in second place.
Risk

Bon Accord Silver perhaps took an unnecessary risk in having the cornets point to the back of the stage in the opening as they were inaudible and it took them a little while to really hit the booster packs and launch into orbit. When they did Bruce Wallace's band were very good indeed and although they just started to run out of gas in the final section it was a quality performance that found them coming home in 4th place. The opening though could have cost them a possible podium finish.
The high standard of the contest continued with St. David's Brass under John Dickson and a performance full of character, excellently shaped by the MD. It was colourful and exciting (just a bit too much in places when the error count robbed the overall picture of clarity) but the energy that the band brought to the music stayed with them right to the end. Just those nasty moments stopped them from perhaps booking themselves a place at Harrogate.
Merit

Another performance of merit followed with Coalburn Silver conducted by Gareth Bowman. Colourful and atmospheric to open it was developing very nicely indeed with excellent cornet leads.
A slightly strange decision to add even more rocket fuel to the engines where none was required lost the performance its control however and although the broader sections were well handled it did take time to really settle down once more. The return trip home was full of energy and character, but the decision to try something when nothing was really required may have been the reason why it eventually ended up in 6th and not a qualification place. A touch unlucky, but it was a risk they really didn't need to have taken.
Performances of merit

The next three bands all produced performances of credit, but given that there had been a particularly high standard set before them it was understandable they ended up where they did.
MacTaggart Scott Loanhead directed by Alan Fernie certainly had their moments when things went very well, but they also had extended periods when things didn't quite have the same level of quality about them too.
These tended to be in the quieter passages where nerves and intonation just robbed the picture so 8th place was overall a fair result for their efforts.
So too with Turriff Silver under Frank Cranna who got off to a poor start and found it tough to recover thereafter. It also had it moments when things got back on track but it perhaps needed a bit more pace to get it into orbit and for it to stay they with falling back to earth with a bump. Unfortunately they couldn't quite manage it and it came 11th.
It was great to see such a young conductor in the shape of Eoin Tonner direct a band here this weekend, and we doubt whether there has ever been a 16 year old take a band on stage in the entire history of these Championships – and that is well over 100 years now.
It was a fine effort too – and not just from the MD who was impressively understated in his technique and so precise with his communication to his band. Simon Rattle watch out!
Simon Rattle

Dundee Instrumental did struggle though, but with plenty of time and space and with some real moments of quality in response from his players (especially a fine solo cornet) overall it was a performance of rich promise from both parties. We could have witnessed the start of something very special indeed here.
Tayport Instrumental opened their account in a manner that suggested that they were determined to reach for the stars. It promised a great deal, but unfortunately they couldn't maintain their orbit in the same manner as the piece progressed. We don't know if you can have a curate's egg in space, but if you can then this was it – full of good and occasionally bad moments that eventually saw then home in 7th place.
No problems

No problems of just about any variety for Dalkeith and Monktonhall though and a performance that fully deserved to take home with them the Scottish Championship trophy as well as the qualification to Harrogate.
James Chamberlain delivered a very persuasive reading of the score, whilst his players responded in kind with great dynamic features, balanced ensemble, solid solos and a sense of character to their playing.
This really was space age stuff – modern and exciting, full of energy and clean lines. It did get a touch hard in places and there seemed little need for the back row to stand when they were doing OK anyway, but it just added that extra sheen to a performance of merit, and which certainly found favour in the box. It also meant a double for the MD as he also won with Whitburn on the Sunday – a great weekend then for Jim.
Extra punch

That just left Dunfermline Town under the direction of David Neil with a performance that was secure and detailed to open and featured some really nice solo contributions too from a young bumper up cornet player in particular. It just lacked that extra punch that the bands that finished above perhaps had, but it was neat, tidy and very well directed and they could be proud of their efforts in coming home in 5th spot.
Paul Lovatt- Cooper's test piece proved to be both popular with performers and audience alike on the weekend, and you could hear why. All the bands can take credit for how they performed whilst the two qualifiers in particular can now look forward to the slightly less arduous trip to Harrogate confident that they can mix it with the best of the rest of the UK. The Scottish space race here proved that beyond doubt.