2008 Scottish Regional Championship - Retrospective: Fourth Section
12-Mar-2008
Eight good performances of Rodney Newton's work just left the one question. Why no Glasgow or Aberdeen movement?
---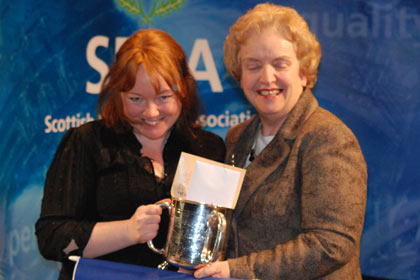 All smiles for Renfrew
A very strange thing happened in the Fourth Section contest. Come the announcement of the results the unofficial 4BR placings were exactly the same as those decided upon by adjudicators David Read and Raymond Tennant. Spooky or what?
Nothing of the sort really, or any confirmation that 4BR is now just as good as the two distinguished men in the box in getting the placings right, as a highly enjoyable contest saw the musical pieces of this particular musical jigsaw puzzle fall very neatly into place.
Good overall standard

The overall standard was pretty good – testament to a well chosen set work that although not particularly challenging as a piece of music, did what it was required to do very well indeed.
When a region is desperately looking to increase its foundation base of competing bands then pieces such as Rodney Newton's are ideal in attracting them back. People all over the country tend to forget that the bands at this level need real encouragement, not misplaced tests of their abilities to battle through music they don't enjoy because they cannot play.
Eight pretty good accounts

As a result we got to hear eight pretty good accounts. The standard did of course vary at times, but overall it was one of the most encouraging Fourth Section contests at these Championships for many a year.
The two qualifiers in particular can be very pleased with their efforts, whilst not one of the remaining six bands struggled to a point where there lost confidence in their abilities to overcome the tricky styles asked of them in each of the four movements.
The only pity was of course that the composer didn't take the opportunity to perhaps drop one of London, Paris, Rome and Moscow and add a portrait of say Glasgow or even Aberdeen instead. He could also hopefully be persuaded to write a 'Four Scottish Cities Symphony' at some time in the future?
Early marker

The early marker on the day was set by Irvine and Dreghorn Brass under the direction of David McKellar. Theirs was a good all round show from a very healthy sounding band which overcame a slightly tentative start to blossom. A classy Paris, atmospheric Rome and final romp through Moscow set them up very well indeed and they fully deserved to claim the second qualification place on offer. This was a very good performance.
Dumfries Town followed under Peter Heyes and theirs was a performance from a young band that was packed with youthful enthusiasm and vigour.
It did mean that some of the quieter passages lacked that touch of reserve and there was some dodgy intonation, but the plus points far outweighed the minus ones. A classy cornet solo in Paris, fine march in Rome and a final fling of Russian celebration in Moscow rounded off a performance of merit.
So too with Penicuik Silver who eventually finished in 4th place. Terry Johns laid out each movement with care and attention to the character of the music and as a result was given a bold and colourful performance from his band.
London had the right hint of reserve, Paris touches of gallic flair, Rome was atmospheric and Moscow detailed, but it just needed a bit more care and attention to the tuning as well as the style to have come any higher than it did in 4th. Lots of promise though.
Plenty to admire

There was also plenty to admire about Newland Concert directed effectively by Robert Fraser. A lovely opening London (you could almost sense the Queen waving from the stage at you), a well delivered Paris and controlled Rome seemed to have set them up for a possible qualification place. Just then though it needed that extra Russky push to the end, but it never quite came and they sounded just a tad tired by their musical trip around Europe. It was a fine effort though.
Queensferry Community Brass was undermined by tuning problems from just about the word go – a real pity as each of the movements had just the right stereotypical style.
John Gilmour allowed his band time and space but a controlled London, slightly nervy Paris, atmospheric Rome and robust Moscow were all just spoiled by wayward intonation. If they could have cracked that then it surely would have come higher than 7th as all the other essential ingredients were very much in place.
Fully deserved

The winners meanwhile were excellent and fully deserved their title and qualification for Harrogate. Renfrew Burgh really captured the musical pictures of each of the cities to a tee under David Hutchison. London was controlled and stately, Paris stylish if a little nervy, Rome so atmospheric and dynamically accurate, whilst Moscow was full to the brim with vodka induced Russian celebration.

It was super stuff, a really good show, very well directed and executed by the band. Winners without a doubt in fact.
Brass Sounds Inverclyde can also be proud of their efforts too, although they perhaps didn't help themselves at times with some playing that lacked concentration. London was solid and balanced, whilst Paris was going along with real gallic flair until it went all a little 'oh la la'.

Rome became a touch nervy but still had the essential sense of the eternal city whilst Moscow was robust and stylish if a little too full of Cyrillic written accidentals in the cornet section. If they could have got the old translation phrase book out then those nasty little problems could have been sorted out they may have come a little higher.
Brave effort

That just left Dysart Colliery under Bill Sandell and a brave old effort with an interesting stage set up with basses, euphs and baritones on the conductor's left and the back row cornets pointing straight out. Don't know why either, but it seemed to work.
London was confident and taken at a nice stately tempo, whilst Paris was helped by a fine cornet player. Rome just got a little muddy in the waters of the Tiber whilst Moscow was a bit lightweight to really be considered a true Cossack inspired dance. These Russians do tend to be a touch on the portly side. Overall though it was a decent effort with plenty of stylish intent but it came where it did because their rivals on this occasion just made a better fist of the work in its entirety.
Overall though a great little contest full of good playing, moments of inspired individual and ensemble playing, good direction and even the odd moment when perhaps the musical characters of the cities in question got a bit mixed up!
No problems though for the winners and qualifiers and Renfrew and Irvine should can be confident of more than holding their own at Harrogate come September.

K. Crookston