2008 West of England Regional Championship - Retrospective: Championship Section
12-Mar-2008
The dreaded curse did strike again, but that wasn't the only talking point in the Championship Section on the weekend.

---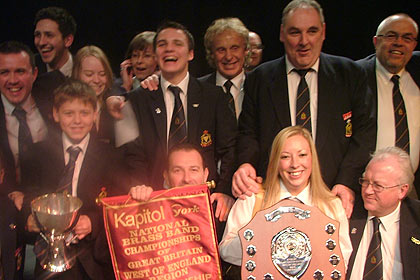 No curse here: Mount Charles celebrate their win at Torquay

And so the dreaded curse of a band not being able to retain the Championship Section title lives on in the West of England. Not since Richard Evans conducted Sun Life on John Golland's 'Sounds' in 1996 has a band been able to maintain the bragging rights a year after they last won it.
It's a strange old curse though with many a band coming close but not quite having either having that extra touch of class or that hidden touch of luck to do it. It was the same this year once more.
Mount Charles has done well here in recent years and it's a venue that is clearly to their liking. They tasted victory in 2006 and had to settle for runners up spot last time out, but under Andrew Duncan, they returned home on this weekend as victors.
Excellent performances

There were some excellent performances laid out by the impressive list of imported conductors drawn here this year – Nicholas Childs, Roy Newsome, Major Peter Parkes and Frank Renton to name drop a few. They all knew their Eric Ball and their Mozart better than most and as a result they pulled out all the stops to produce some fine readings, even if at times, not everything went according to their well laid plans.
One or two MD's took chances with their approaches and it paid off for some better than others.
The soloists on show can take great credit too - from lyrical solo cornets to neat sopranos, bold euphoniums to secure tenor horns, they all did their bit and all held their nerve.
From the judges perspective, it soon became clear why Colin Hardy and Alan Hope picked the bands they did, as they were the ones that certainly focussed on dynamics, textural light and shade and give the music time and space to breathe within all three movements.
Four in the frame

The four in the frame for us were PolySteel, SWT Woodfalls, Camborne and Mount Charles with St Keverne and Lydbrook in with a serious shout of pinching a top six place. For the judges it was a bit different, but you could understand clearly their thinking used in reaching their deliberations.
Mount Charles had a bit of a wait to play but when they did, delivered a performance of real note. After them there was still plenty of opportunity for bands to pip them to the title, but none came – according to the judges.

They might not have given what sounded the most convincing interpretation of the contest, but they were clean, very clean. It was neat and precise and as a result it was very much up there in just about everyone's thoughts.
Andrew Duncan's interpretation gave the ideal opportunity to shine for Ian Thomas on solo cornet and Jon Small on soprano. The whole performance was full of spaciousness, good dynamics and subtle colourings. The 'Romance' in particular was beautiful whilst the final 'Impromptu' was sensibly handled.
Not surprisingly, their MD was naturally chipper at the victory and he openly admitted their result at London last year was a wake up call for the band: "Finishing last at the finals was a shock and it meant looking at several things afresh. I must give a huge pat on the back to bandmaster Jon Small. For me, this is brass band piece first and foremost. Playing Eric Ball's music is never easy and we have worked hard and everyone is pleased. It really came off for us today and I think it was a deserved victory."
On a mission

Meanwhile, Dr Nicholas Childs appears to be a man on a mission. Butlins apart, successes have come with Eikanger at the Norwegian Nationals and Yorkshire with Black Dyke and with qualification the name of the game here, SWT Woodfalls second place with a cracking display can just about be deemed a 98% success too, even if he won't be totally 100% pleased.
It was typical Dr Childs all the way: tight controlled playing, impressive ensemble and solo work - and all inspired from the man in the middle. The opening to the 'Impromptu' section was truly magnificent and the best of the day, and overall it was very impressive stuff. It was a performance worthy of a London qualification place.
Sympathy

That said, you've got to have a huge amount of sympathy for PolySteel though. Philip Harper's reading was excellent with the two outer movements in particular worthy of the highest praise.
Chris Howley on Principal Cornet was in fine form and there were not many better horn players than Vicki Reynolds either. The 'Romance' though bordered on the self indulgent (bordered but never crossing we must add) and it seemed to be an unnecessary risk to take when all it really required was a touch of prosaic delivery.
They will be hugely disappointed, but given what the judges said they were looking for, perhaps it was understandable that it just missed out.
Outstanding

Stuart Chappell's St Keverne was nothing short of outstanding and having been promoted from the First Section they took to top section contesting like ducks to water.
Whilst not totally error free, the overall picture painted was truly in the right Mozart inspired style. The MD gave the band time and space, the dynamics were never over cooked and there was a real sense of freshness with the playing.
4th place is a magnificent achievement, and even though there will have been a few eyebrows raised when the results were announced this was quality stuff. Congratulations to all of their soloists, but without wishing to signal anyone out from anyone else, departing flugel player Andrew Bellfield certainly left his fine mark on the day though, that's for sure.
Congratulations

Warmest congratulations also go to Lydbrook under Tom Brevik. The Gloucestershire outfit came 9th here last year, but really found their feet this time around with a secure performance that was safe in its conception and very nicely executed. It also contained with some fine ensemble work with special mention to Phil Storer on principal cornet who was arguably the best of the day, ably supported by Robert Morgan MBE on bumper-up.
This was a real team effort all round (the MD was excellent too) and it certainly paid dividends. To feature in the top six was well deserved.
Mystery

Camborne's sixth place was a little bit of a mystery. Drawn to play first, the dapper looking Frank Renton delivered the most coherent reading of the whole contest.
There was the odd moment in the 'Overture' that wasn't quite as it should have been, but the two remaining movements were top draw, delivered in typical Renton style, with fine dynamics allied to plenty of time and space. It didn't appeal in the box though. A special mention too for Paul Saggers who did a fine job in the flugel chair after switching from cornet due to Andrew Mitchell unfortunately suffering a perforated eardrum in the run up to the contest.
Outside top six

Dr Roy Newsome also created a very fine reading for St Austell but it was a little off the pace especially as tiredness crept in towards the end. It did contain some wonderful little cameo moments though, from the soprano in particular, but overall they could have no complaints in finishing where they did.
Yeovil, led with real purpose by the jacketless Dave Barringer was going along very well too until the errors started creeping in as stamina waned. The reading was very good and it was evident plenty of thought had clearly gone into it from the man in the middle. However, those tiny clips became more noticeable and it fades somewhat in the closing 'Impromptu'.
Phil Randell's reading for Poole Borough also was very well executed but for Poole read Yeovil, as again, it started off with all good intentions only for the error count to creep upwards and take the gloss off what promised much.
Retirement

It just didn't happen for Major Peter Parkes and Bournemouth. The reading was very noteworthy but it was at times the execution was a touch scratchy within the ensemble and at the ending of phrases and it just never seemed to gel on the day. It was a rather down beat way for their soprano player James Cooper to end his tenure with the band as he headed for retirement – a superb player and great servant to the band.
Hyde under Peter Wise produced an unspectacular account that needed more dynamic contrast, time and space. It was steady stuff, but it did stretch them at times and the MD clearly wanted to keep as a tight a reign on the playing as he was able too.
Finally, it just didn't come off understandably for Melvin White and Aldbourne either and perhaps the combination knew it wasn't meant to be by the end of the first movement. There were errors and a few nasty ones too, and even though they perhaps can feel a touch aggrieved to have come last, they never sounded totally comfortable with the music in front of them.
Overall all the bands made a good fist of 'Festival Music'. The debate will go on for a while longer yet as to the rights and wrongs of who is heading for London, but given what the judges wanted it was understandable to why they picked whom they did.
The only thing left for Mount Charles to do now is find a solution as to end that dreaded curse in 2009.

Malcolm Wood