2008 West of England Regional Championship - Retrospective: First Section
12-Mar-2008
The storm clouds gathered both outside and inside at Torquay on the weekend, but it was Helston that made the most of their musical journey on the high seas.
---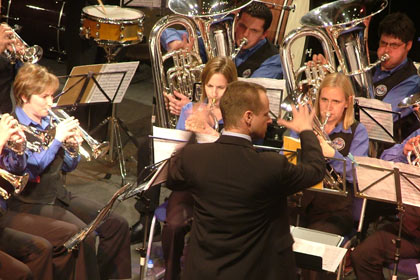 Helston Band in full flow...
Whilst the storm clouds and high winds didn't batter the South West of England until Sunday night and early Monday, metaphorically they actually arrived on Saturday afternoon inside the Riviera Centre at Torquay.
'James Cook-Circumnavigator' once again proved to be a torrid test for the bands, and in the case of a fair number, they found it tough going with many glad to reach dry land at the end of their performances.
Battering

The bands also took a bit of a battering from the adjudicators, Colin Hardy and Alan Hope as well. It was firm, straight talking stuff from the gents from the North of England - and they told it as it was. Colin was part of the Black Dyke band that won the British Open in 1974 on 'James Cook', and he knew exactly what he was looking for (as did Alan Hope) and they openly admitted that they had told it as it was too on their remarks sheets. Some bands will have to read their adjudications with the lights dimmed and curtains closed we are sure.
At the top end, the standard was very good, but elsewhere it was mediocre at best with many not up to mastering what in fairness was a very tough set work for this level.
Was there a reason for this then? Yes there was.
Interpretations

The interpretations from the men in the middle were the crux of the problem, and more research into Vinter's music could have been beneficial. James Cook is a difficult but not insurmountable piece at this level but it does help when MDs don't try and reinvent it into something it certainly isn't.
The tempo's at times were way too fast (we are sure his ship wasn't turbo powered), so the detail never came through.
In addition, many bands never really captured the various moods of the score either, and it's not an understatement to quote Private Fraser from Dad's Army, 'We're doomed, I say doomed' long before the end of the piece itself. The body language on some players spoke volumes – they looked physically as well as mentally shattered by the experience.
Not so Helston Town.
Authentic

John Hitchens' band won here two years ago, came third last year, and now the Championship Section beckons. They won in style with a wonderful performance where all of the tempo markings and dynamics were meticulously observed and nothing was ever overdone.
There was no over-blowing, no major slips or unforced errors and the clarity of detail was of paramount importance. This was a quality show that even from the number four draw was going to take some beating.
Helston was perhaps the only band of the day to play the piece with a real sense of conviction and perhaps the only band to play the Heroic March with a sense of real pride and honour. If they play at Harrogate as they did here, they could be saying goodbye to life in this section with a nice fat cheque and even a cup to boot.
Invigorating

Lt-Col Chris Davis OBE, looked very thoughtful as he awaited the green light to come on for Otterbourne, but as soon as it got going, like Helston, it was very polished stuff.
It was truly invigorating in style and benefited from the energy and electricity from the man in the middle. Nothing though was ever over done and it was a nautical journey that left the audience and most importantly, the judges, very satisfied, that after ten bands, they could slot it into second place behind Helston.
Sherborne had the unenviable task of following the eventual winners on stage and they gave a fairly solid interpretation that did have a few rocky moments along the way but maintained its focus right until the end. The style was good with excellent tempi, but it was those touches of uncertainty at times that meant they had to settle for third place.
Lympstone South West Telecoms didn't have to make a SOS call at anytime during their performance and for the most part it was on a par with Sherborne. In fact the only real difference was the error count, which started to creep in earlier and knock the points off, but it still had enough about it to challenge for a well deserved podium place.
Shipmates

St Dennis's shipmates did a cracking job led by 'Captain' Brian Minear. Interpretation wise it was one of the best of the day but it was the error count again that cost them a place at Harrogate for us. But for those errors, it could have been a different story, but they could head home with their heads held high. 2009 could see the band competing once again in the Championship Section – a superb achievement in itself.
Nick Grace's Ocean Brass had a bit of a bumpy ride at times but they kept everything nice and steady with the tempos and dynamics, and although there were touches of sea sickness along the way in the solo lines, they gave it a good go and survived the journey.
Choppy waters

For the remaining eight bands though, this was where things started to get into seriously choppy waters and some only survived the experience by the skin of their musical teeth
Portishead started off fairly well and the overall picture was steady and impressive, but the tempo's were out of kilter and from the half way point they never seemed comfortable with the piece. If they'd done in the second half, what they achieved in the first, things could have been a lot different.
Meanwhile, Steve Tubb's Chalford was one of those curates egg of a performance where things were going ok but then they just shot themselves in the foot with the style, the dynamics and the general feel of the piece and it just never came off. Bodmin too just took too long to start steering their ship in the right direction and even when they did, it was one of heck of a bumpy ride at times, and they made it to the end having suffered a fair few musical cuts and bruises.
Stretched

Woodfalls Concert Brass was stretched to the limit at times and it never sounded right at all, with the tempo's pushing the band to their limits. A more sensible approach to the tempos may well have benefited them.
City of Bristol and Lanner also really struggled with the piece perhaps being too much for them, although both did well to survive the journey and reach dry land.
It was also a similar story also for Swindon Pegasus and Cinderford, although they can't really have too many complaints about their lowly positions. It was a case of everything mentioned above and more.
What 'James Cook-Circumnavigator' proved once again though was it tested the bands to their very limits – and beyond. Too many shot themselves in the foot right from the off whilst those who did well, succeeded because of their approach and delivery.
As for Helston, two years ago they were singing the 'Furry Dance' all the way home (it's the authentic version of the Floral Dance) having won, and judging by the smiles of delight on their faces at around 7.30pm on Saturday, they'll have been singing it again on the three and a half hour journey home again.

Malcolm Wood