2008 Welsh Regional Championship - Postcard from Swansea
11-Mar-2008
Success at rugby and now football? Welsh banding had a lot to compete with on the weekend, but may see the benefits in 2009 as a result.
---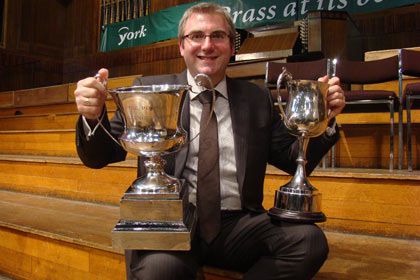 Holding the silverware: Tredegar's Ian Porthouse has his hands full in Swansea

As always in Wales, rugby takes precedent over everything else – including brass band contests.
It therefore came as little surprise then that on the Saturday afternoon there were just as many people in the bar as there were listening to the bands in the Second Section in the Brangwyn Hall.
It's a pity of course, but when your national team is tucking the ball up its jumper for the final two minutes of a bruising encounter at Croke Park against the Irish as they seek to win the mystical triple crown (which strangely is a big silver serving plate and not a crown at all) then you can possibly understand why. The poor old Rogerstone Band even had to put up with a final 10 second countdown to victory too.
Grand Slam

This is of course not unchartered waters for the Welsh Regional contest, as a few years ago there were even greater scenes of rugby mayhem as Wales were winning their way to their first Grand Slam title for 26 years, but what made this particular weekend special was that on the Sunday the usual rugby celebrations were changed for football ones as Cardiff City reached the FA Cup semi finals for the first time in 80 years!
It also meant that one particularly fervent football supporter missed out on his team possibly reaching the semi finals too – except his was Middlesboro and the man in question was Alan Morrison. You wondered whether he was more disappointed on Sunday on missing out on a trip to Wembley with his football team or on a trip to the Royal Albert Hall with Brighouse & Rastrick?
As surprises go betting on Cardiff winning could have possibly got you better odds than two bands beating Cory into third place in the Championship Section later the same day, but even the longest runs of unbroken Welsh success eventually come to an end – just look what happened to the Welsh rugby team after Gareth Edwards and co retired.
Good odds

Tredegar were the last band to beat Cory at the contest – in 2001, and the record books show that they are the only two bands this Millennium to win the Regional title – although it is still 7-2 in Cory's favour.
It also means that there is a distinct possibility that if Cory end their long wait for a second European crown in Stavanger in May then Wales could be sending not one, not two, but three bands to the 2009 contest. Cory would go as defending champions, Tredegar as Welsh Champions and BTM as the second Welsh band according to EBBA rules.
Wales may not be a member of the EU at present but it could well be represented at its premier brass band contest.
Three at the European

Rule 8a states that the Championship will comprise the winning band from the previous year and the champion band and/or nominated band from each European country.
In addition the reigning champions will be invited back the following year to defend its title whilst the country of the defending champions will also be allowed to nominate one more band to participate in the Championship at which the champions are invited to defend their title.
That's a pretty open ended criteria if ever we have seen one. Still, that's for another day, but it would be one heck of a boost to Welsh banding.
Less rosy

At present though things are looking a little less rosy overall in the Principality (despite the real hope of contesting success with the bands that qualified here this year at both Harrogate and London). With one band dropping out on the day the actual number bands taking part was just 43 – something that must cause concern for the Regional committee.
Why the big drop from last year isn't entirely clear (player movement and shortages seemed to be one reason on many people's lips) but it is hoped that communication can be sent out to those bands that didn't make it this year to see what can done to encourage them to return.
Well run

The Welsh Regional event is a very well run one, which benefits from enjoying a superb venue given with the support of the local county council. The Regional Committee do a fine job here in making sure everyone is kept happy (not an easy task given the morose nature of the Welsh even when winning at rugby).
Nobody would really mind if the hall was occasionally emptied if it meant Wales winning a Grand slam every year but it would be sad if it was due to lack of bands taking part.

Iwan Fox