2008 Welsh Regional Championship - Retrospective: First Section
11-Mar-2008
It may have ended up the same old result but only Newbridge (Celynen) really enjoyed their trip on the high seas on the weekend.
---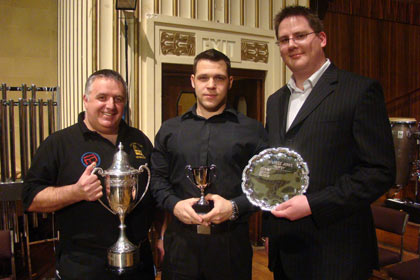 Trio of happy Newbridge mariners: The winners get their hands on yet more contesting booty
There had to be some sort of tenuous link to the rugby at the Welsh Regional Championships on the weekend - and it came with Newbridge (Celynen)'s triple crown win in the First Section.
With their counterparts doing the biz at Croke Park the lads and lasses under the direction of Paul Holland (who happens to be the diametric opposite in physical shape to the Welsh rugby coach Warren Gatland) produced an exemplary performance of 'James Cook – Circumnavigator' to gain qualification to Harrogate, promotion to the Championship Section for 2009, the best soloist award, the winning conductor platter for the MD, £200 in prize money, a four point wining margin – and their third successive Welsh Regional Challenge win in a row. That is some 'Triple Crown'.
Comprehensive victory

It was as comprehensive a victory as you could imagine, and fully deserved after they delivered the one truly authentic rendition of Gilbert Vinter's test piece. MD Paul Holland was of course delighted, but also aware that there was more hard work to come.
"We were a little disappointed when we came off stage as there were a few moments when we made mistakes, but overall I'm very pleased. It shows the potential as well as the character of the band that we won but still felt there was room to improve."
On this form however adjudicator Alan Morrison felt that they would be a band to fear come the finals. "It was an outstanding performance – very, very good indeed. I had no problem awarding them first place or by the four point margin. They will be a band to watch out for at Harrogate I'm sure - it really was championship section playing."
With a choice of either banding or sporting successes to witness the twin televisions in the bar at Brangwyn Hall held more attraction for an interested audience than in the main hall. That was a pity for those who did miss the eventual winners off the number 2 draw missed a performance that sent a message of intent to their rivals, not only here, but around the country - Newbridge will be one of the favourites at the International Conference Centre come September.
Brio and brilliance

The opening declamation was full of the necessary brio and brilliance and thereafter James Cook's musical journey to the antipodes (who, Alan reminded the Welsh, was a Middlesboro lad) was as solid and triumphant as the QE2 pulling into Swansea Marina.
Andrew Smith deservedly took the 'Best Soloist' prize for an accomplished piece of bravura cadenza playing (with the right amount of the indicated panache) whilst the impressive team of soloists, with Ellie Holland on soprano a sweet counterpoint to the powerful stoker room shovellings from Nigel Thomas on euphonium, Rob Nesbitt on flugel and David Osbourne in baritone, showing that the band was capable of a wide dynamic range and full palette of tonal colours, which brought the score to life with drama and atmosphere.
As a First Section performance it was out of the top drawer and wouldn't have been out of place in the Championship Section here either, although as the MD did state, there were a few moments when his good ship did take on a few gallons of seawater – with a sloppy trombone trio and some untuneful ensemble bringing a scowl to the captains face.
Set sail

Joining them in North Yorkshire will be Beaumaris, who set sail under Gwyn Evans with such brilliance off the number 6 draw that they were soon steaming ahead of even Newbridge in the race for the title.
It couldn't last though and an ever increasing error count (all minor, but eventual becoming a major hindrance) scupperred their chances of victory but still maintained enough about it to comfortably take a deserved second place.
This was a good band just losing focus too often, and they eventually dropped anchor in Botany Bay with a few too many small holes below the musical plimsoll line – nothing to put the bands chances in jeopardy, but enough for them to know that they hadn't quite performed as well as they knew they could.
With these two bands once again showing that they are a fair distance ahead of their rivals (as they have been at various levels now for a few years) there was a keen old fight for the final podium place.
Litany of errors

Perhaps the rest of the field knew that Harrogate didn't lie beyond the horizon for them before they even set sail. No other band really got close to overcoming the technical or musical difficulties of the piece and with a litany of unforced errors, wrong notes (troms in particular) and a general feeling of seas sickness in solo lines too many performances took on water before they left Swansea Bay.
Not all of the bands were completely sunk however, with Markham & District directed by Adrian Morton keeping their heads above the waves to make it to dry land and claim the final podium place. It did have it moments with an excellent piece of solo horn playing and solid trombones a feature. It held firm, just about, right through to the end, whilst the MD kept a tight rein on the ensemble, despite the occasional deck hand falling foul to a dose of musical scurvy.
So too Abergavenny under Gareth Ritter (who was conducting his third band on the day). Despite having to wait for the principal cornet player to shore to get his glasses they delivered a decent account that featured a swashbuckling lady on soprano and rock solid euphonium. The MD allowed the music to flow and his band responded, and although the overall quality wasn't quite enough to gain a podium slot it was an encouraging journey of discovery for all concerned.
Ships of convenience

After this came the bands who set sail in Panamanian registered ships of convenience – a flotilla of performances that may have looked the apart in the dry dock of the rehearsal room but on closer inspection were never quite up to the job as soon as they set sail.
Fifth place eventually went to Penclawdd, who started off as if they were determined to get to Australia faster than the Cutty Sark, but who soon found themselves with too many problems closer to shore. Gurnos Rees was the pick of the soprano players on a day when being asked to perch precariously from the crows nest (especially in the 7/4 section) saw too many lose their footing by not counting accurately.
The desire to stamp their authority on the piece at times made it too harsh to feel the lapping of the waves on the bow of the ship, and by the time the good captain ran into the hostile natives on Hawaii he was stabbed to death in a frenzy that made Norman Bates's efforts in 'Psycho' seem like a shaving nick in comparison.
Meanwhile Thomas Coaches Mid Rhondda cut their own throats after setting out an impressive opening that had the potential you felt to push Newbridge all the way. It wasn't to be though and despite recovering to deliver a very persuasive musical portrait of the journey to the south seas, the errors were nasty and noticeable (even if they were small in actual number). It was as if just when things were going along serenely, the GPS global satellite went haywire and sent them to Oz via Rio de Janeiro.
Pontardulais meanwhile continued to show potential under the impressive direction of Paul Jenkins, and whilst there were inherent troubles with tuning and ensemble precision there were also extended periods when things clicked together very nicely too.
Bet Lynch

The contributions of the two young ladies on soprano and solo cornet were amongst of the best of the day (perhaps it was the Bet Lynch butterfly earrings on the sop player that did it) and despite the result there were plenty more points than minus one to enjoy.
The RAF never quite seem at home on the sea at the best of times, but Alan Bourne and his band from St Athan did give it a pretty good shot at finding their sea legs. Not everything came off to plan, but a brave effort from the solo cornet and soprano (a lady who also delivered the best, and most audible, expletive of the day – as good as any deckhand after a couple of rums) showed that they were not too far away from overcoming a very difficult test piece.
Made it to port

Deiniolen meanwhile found life tough in coming 9th. It was a piece that stretched the band to its limits, and at times beyond, but Gavin Saynor kept a sensible check on the basics and was rewarded with a performance that just about made it to port.
Finally, Ammanford, and hats off to Ceri John and his depleted band for making it to the stage. It would have been very easy for them under their circumstances not to have attended the contest, but they did, and despite a musical performance that will not be remembered with any great affection in years to come, it should be as a performance of true grit and character.
There will be better times ahead for Ammanford we are sure, especially if they can keep hold of the talented MD, and when the good times do roll they can look back to Swansea this year and say it all started here with the decision not to throw the towel in.
Newbridge and Beuamaris will once againl represent Wales at Harrogate and on this form, both will be strong contenders for the title. James Cook – Circumnavigator in Swansea for Newbridge; James Hook – fly half for Wales in Dublin. Tenuous links sometimes pay the greatest of triple crown dividends.

Iwan Fox