2008 Welsh Regional Championship - Retrospective: Second Section
11-Mar-2008
They may be back slighlty greyer and with fuller waistlines, But Point of Ayr still know how to win a brass band contest.
---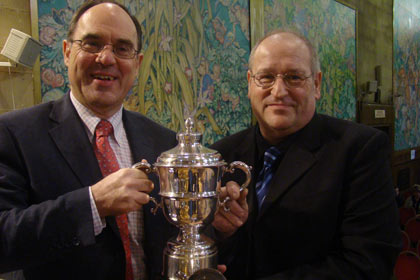 What do Points make? First prizes even after seven years away...

Sometimes much heralded returns never quite live up to expectations – just ask Kevin Keegan at Newcastle United.
However, Point of Ayr certainly lived up to the pre contest hype surrounding their first appearance back here in Swansea since 2001 by taking the Second Section title under the direction of MD Peter Christian.
In what was a disappointing contest in terms of overall quality, the North Walians, resplendent in black shirts and trousers and sporting natty blue, purple and silver ties rolled back the years with a performance that certainly showed that they had lost none of their hard nosed ability to secure a victory when one was clearly on offer.
Flecked by rust

Some of the waistlines may have expanded and plenty of the hairlines receded and greyed in the intervening period, but the quality remains, even if times it was flecked by a touch of rustiness in execution.
The Downie set work seemed to throw nearly all the bands off musical balance on the day with its unusual sense of style (reminiscent of Horovitz at his best according to adjudicator David Horsfield). 'Three Part Invention' it may be according to the composer, but to some conductors it was more like Frank Zappa's 'Mothers of Invention' at times, such was the way in which it was approached.
Many of Point of Ayr's players are of course old enough to remember those days, but they were also around long enough to remember just what it takes to win a brass band contest too.
Peter Christian allowed his band time and space for the ensemble to gell with cohesiveness, his main soloists enough meter to express themselves without over emphasised sentimentality. Simple stuff really, but when you have a band that can still recall at the back of their musical minds just how to do it, and do it well, it does make the task a bit easier.
Dave Roberts deservedly won the best instrumentalist award for his sterling euphonium playing, but he was not alone. Excellent contributions from soprano, cornet and flugel in particular was backed up by a full bodied ensemble sound. There were moments when the grey cells had a collective as well as individual memory lapse or two – there were a couple of nasty little moments when things didn't quite go to plan, but overall it was a performance that stood out.
There will be some raised hackles in the Principality over Point's win (they were graded to return at this level), but in truth it was still a Second Section performance – albeit by a potentially very good Second Section band.
Dave Roberts was of course delighted. "This was more than we could have hoped for really. We just wanted to come and enjoy ourselves and show that there is plenty of musical life still in Point of Ayr. We've really enjoyed playing together once more and although we are still be bit rusty as you say, we're determined to make sure this isn't a one off or a short term return."
Intelligent

Joining Point of Ayr at Harrogate will be Tylorstown Arriva Trains who perhaps were the only other band on the day to both technically and musically get to grips with the piece. MD Gary Davies directed a reading of understated style whilst his players delivered in the same vein: It was intelligent playing and conducting that asked for, and was given, just what was required, no more, no less.
Some excellent individual contributions from cornet and euphonium and a well balanced ensemble sound set them up nicely and it was little surprise that they eventually came home in a qualification place.
The top two bands were a good length or two in front of the rest of the field, and although there were a number of performances of merit none came really close to marrying both the technical and musical aspects as cohesively as the two eventual qualifiers.
Any permutation

That was evident with the four bands that battled it out for the final podium place, Rogerstone, Newtown, Lewis Merthyr and Llwydcoed, who could have finished in just about any permutation other than the one given by David Horsfield.
The Yorkshireman was generous in his appraisal of the overall standard he heard on the day – perhaps a touch over generous if truth be told, but he made a number of prescient points in his summing up: The need to get the basics of good brass playing right, the understanding of a style of writing not readily familiar to bands today, and the question of ensuring that internal balances were secure and relevant, especially when delicate solo lines were being performed.
David felt that the winners and runner up certainly did that, despite noticeable errors, but also felt that these other contenders failed to consistently do the same – and that was why they ended up where they did. It was a clear précis of what he was listening out for – and so no complaints from the bands where they came, even if they were disappointed.
Shouts of celebration

Rogerstone did just enough to claim the final podium place with a performance that owed much to the sensible direction of MD Mark Hutcherson as it did to a solid team of solo players and well drilled ensemble. They also did well to overcome the shouts of celebration from the bar area as the rugby fanatics counted down the clock to the final whistle from Croke Park in Dublin.
Newtown too benefited from well thought out direction from MD Steve Edwards, although they just faded away towards the end of the piece and accumulated too many little errors to really have come higher than they eventually did in 4th place.
Lewis Merthyr were perhaps a touch unlucky to miss out on a podium place after Gareth Pritchard delivered the most cohesive interpretation of the Downie score and was rewarded with a controlled performance from his band in return. It just became a little too 'clippy' perhaps in the final analysis to have made it into the qualification places, but 5th seemed a tad harsh.
It was much the same story with Llwydcoed – lots of little plus points, with a fine solo cornet on show in particular, but too many nasty little edges and rough corners took the gloss off and they had to be content with 6th place.
Purpose in mind

That just left the two bands at the bottom with Briton Ferry almost getting to grips with the piece with some smashing percussion playing on show, but also a high error count too. Christian Jenkins approach may have been a touch under tempo to start but it was done with a purpose in mind – and it nearly came off.
Finally Llanrug and a band full to the brim with youngster's knee-high to a timpani. They had a cracking young flugel player on show and the MD only asked of his band what they could sensibly deliver in return, and whilst it was a bit of a struggle at times, the potential for the future was very much on display.
As for the winners though? A band with a rich and proud past has now returned with a vigour and sense of enthusiasm that could well set it up for a prosperous future too. Perhaps given the number of 'experienced' campaigners in the ranks they could be more accurately called Point of Silver Hair, but you sense that a great bunch of people wouldn't mind at all. It's great to see them back and enjoying banding once again.
Iwan Fox