2008 Welsh Regional Championship - Retrospective: Third Section
11-Mar-2008
Sometimes its handy if you live in a place that sometimes resembles the dark side of the moon - because Blaenavon certainly made the most of it in winning here.
---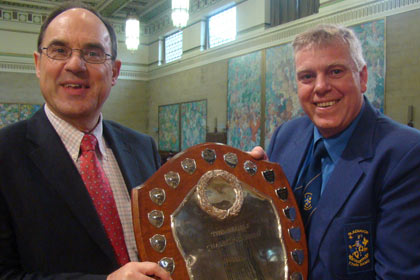 All smiles please: Blaenavon pick up First Prize from York's Alun Hughes and a ticket to Harrogate

Paul Lovatt- Cooper's 'The Dark Side of the Moon' provided the nine bands in the Third Section with a wonderful test of character and imagination on the weekend – a test that for the most part just about all of them overcame.
A dank old squall blowing off Swansea Bay welcomed the bands to the Brangwyn Hall, but despite the inclement weather outside, inside the performances warmed the cockles of even the coldest heart.
Welcome visitor

Interestingly the composer himself was there to hear his composition being played whilst another interested listener was Professor Philip Wilby, who took the opportunity to cross over the Severn Bridge and pay a welcome visit to the contest.
Paul was also asked to deliver a short speech, which very nearly turned into a personal adjudication before the announcement of the results, but was very well received by an appreciative audience who certainly enjoyed his work with its filmatic inspiration. Paul certainly enjoyed himself and the lucky man was off the next day to have Sunday lunch with the composer Karl Jenkins too. Lucky chap.
In the end the contest saw victory go to Blaenavon Town conducted in splendid fashion by Lyndon Price. The players and supporters were delighted with their second regional victory of the Millennium and their first qualification since they took this title and went on to play at Torquay in the 'never ending' finals of 2002.
Great job

Paul Miles told 4BR that the result was a great boost to the band that hails from the World Heritage town north of Pontypool. "Lyndon has done a great job since he came here and has built up the band again. The players have put in such a great deal of effort and work in preparation for the contest and really enjoyed the piece too. It's great to get back to the finals, but we hope we won't have to play at 10.30pm at night like we did last time we were there!"
Blaenavon set the early marker in the morning off the number 2 draw and it was enough to persuade adjudicator Alan Morrison that it couldn't be beaten. Alan himself was impressed by the general standard of the bands and felt that there were two or three very good performances with a number that created the required sense of atmosphere as well as the drive and menace in the music. Some bands he felt did get too loud too soon, but overall most of them delivered balanced and dynamically controlled performances of a work he described as "…very good indeed – it's got everything a great test piece needs at this level."
That was certainly the case with Blaenavon, as Lyndon Price, resplendent in space age glasses and hair as dark as a raven's wing, pulled out all the stops with an enjoyable performance full of good ensemble and fine individual contributions from the flugel, soprano, cornet and percussion. The MD's tight control enabled the band to keep plenty in reserve for the final re-entry to earth and they rounded off their performance with a real flourish to book their place at Harrogate in September.
Into orbit

Joining them there will be City of Cardiff (Melingriffith) who many felt had possibly pipped Blaenavon to the title with a robust performance under the direction Gareth Ritter. That it didn't may just have been due to a few little clips and blips along the flight path into orbit, but the sound of the band was warm and balanced whilst the solo contributions, especially from Alan Gwynant on solo cornet, were of a high standard.
Both bands will head north later in the year confident of representing the Principality very well indeed.
Missing out

Just missing out on that particular trip was Royal Oakeley directed by John Jones, who produced a well constructed performance off the number 1 draw that very nearly held its own right to the end of the contest. A fine flugel and excellent middle band sound gave it a balanced feel, and whilst the main solo lines were not perhaps as secure as their rivals, it wasn't far behind.
Gwaun Cae Gurwen took 4th place after they lifted off from mission control in Swansea at a tempo that certainly had the booster rockets on turbo charge. It soon settled down to a more sedate trip in space however and as a result revealed lots of good playing. That blast off though may have just cost them a point or two.
Unlucky

Meanwhile Goodwick could possibly count themselves a touch unlucky not to have come slightly higher than their eventual 5th place after Gareth Ritter (he was a busy chap all weekend) allowed his young band the time and space to enjoy themselves. It's was a vibrant and colourful account as a result with some fine soprano and excellent cornet playing from Luke Jenkins which deservedly won him the 'Best Instrumentalist' award. Just a general lightness in the ensemble possible meant that Alan couldn't quite put them any higher, but there is a band full of potential here for sure.
Ynyshir Clarity DOS found tuning problems their Achilles heel – as if the rocket engines had been tuned by the local Kwik Fit branch rather than NASA at the start, but it soon recovered under Graham Sheppard and although nervous in places was still a decent trip to the stars by its end.
Bumpy ride

So too Ogmore Valley and Royal Buckley who both delivered enjoyable performances that just contained too many structural problems to have reached qualification orbit. Ogmore did suffer from poor tuning which robbed them of points whilst Royal Buckley had a bit of a bumpy ride at times with a disjointed feel to the flow of the music.
Meanwhile Porthaethwy Menai Bridge gave it their best shot with an additional baritone playing and sitting in on second trombone. It was going well and there were extended periods when it all clicked, especially when a talented solo cornet player started to show his potential, but it just ran out of steam to end. Overall though it was a good effort.
Blaenavon may be a town that has nestled in an industrial landscape that looked very much like the dark side of the moon over the years, but that experience must have come in handy, because on the weekend they used it to literally be over the it in celebration come the announcement of the results.

Iwan Fox