2008 Welsh Regional Championship - Retrospective: Fourth Section
11-Mar-2008
There may have been less numbers here than the Welsh pack of forwards at Croke Park, but Cross Keys still stamped their class in retaining their title.
---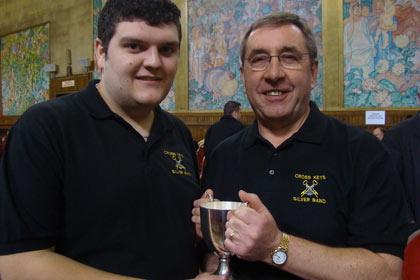 Not letting go: Keri Bowden holds onto the Fourth Section Cup for another year

A small field of just seven bands provided an enjoyable aperitif of brass band contesting in the Fourth Section on the Sunday morning prior to the Championship Section battle later in the day.
Adjudicator David Horsfield was impressed by what he heard, even though he would perhaps have enjoyed a few more performances on the day to compare and contrast. "This is an interesting work," he told the audience. "It's very descriptive music full of character. It does bring the various senses of musical culture to life – especially the flair of the French – and we all know what they are like!"
David may or may not have been alluding to their rugby skills or musical ones we don't know, but as he said it with a glint in his eye you sensed that you knew where he was coming from.
Character

He also made a much more acute point however with the question of the waltz itself, in that he felt bands had great difficulty in playing it with the required sense of lilt and style. Overall though he felt that standard on show was comparable with what he heard in Bradford a week before – something that brought a murmur of approval from even the most committed Welsh francophiles in the hall. The winning band he felt were very good indeed and there were at least four other performances of real merit.
It was Cross Keys that eventually found favour with the man in the tent and retained their Fourth Section title with a performance full of character, solid soloists and cohesive ensemble. Keri Bowden directed his troops with a firm hand on tempos and balance, but still allowed them time to express themselves too – something done with wonderful composure by his impressive soloists.
Even with a number of good performances that followed it there was never any doubt that it was a deserved winner. The MD was of course delighted. "It's nice to win again and we hope to go to Harrogate and do even better this year. We are a stronger band now and that experience will have done us a world of good." On this form they can look forward to the trip with real confidence.
Joining them there will be a band that has certainly battled through periods of struggle over the years and fully deserved it success on the weekend – Severn Tunnel.
Their performance was solid and detailed right from the word go and even off the number 1 draw the prospect of opening up the contest day didn't phase them. It was a fine show with some neat contributions from just about every section of the band that certainly caught the ear of the man in the box. The band also provided the youngest player of the weekend too, 10 year old Molly Williams.
Missing out

Just missing out was a vibrant account from the youngsters of Newport Borough (they did have a few older heads in the ranks too), which featured excellent cornet playing from Kelly Phillips that fully deserved the 'Best Instrumentalist' award. It just tired towards the end in the Moscow cosaack dance, but overall it was a performance rich in promise.
So too Ebbw Vale conducted without the aid of a score by Chris Thomas. They too had plenty of youngsters in the ranks and benefited from some lovely playing from the solo trombone and euphonium in particular. The MD kept things very much under control from start to finish and perhaps it was just the need for a bit more flow to the music that cost them a possible podium finish.
Enjoyable

One of the most enjoyable performances of the whole day came from Knighton Town Silver in 5th place. Directed with undemonstrative precision by the MD it was almost perfectly balanced and in tune from the very first note to the last, but was also played at a dynamic level that never rose above mf! That lack of dynamic contrast must of cost them points of course but overall it was a performance of merit and hopefully won't be the last we hear from them at this contest – there is a very good band just waiting to blow out here!
Upper Rhondda also showed plenty of potential under the direction of Andrew Jones with a youthful enthusiasm and buoyancy that captured the essence of each of the movements even if the execution was a little hit and miss at times. A special mention too for their bow ties, which looked fantastic and reminded you of a particularly exotic breed of South American fruit bat nestling under the players chins. Perhaps they breed them in Treorchy nowadays? Still, it was a good effort from a band with bags of future potential.
So too Crwbin who were a little down on numbers maybe but more than made up for it in enthusiasm and commitment to the cause. You sensed they were enjoying themselves as the MD conducted with a smile on his face from start to finish even though he had to work hard a few times to stop his band running away with itself as the adrenaline pumped through the veins.
In the end though it was Cross Keys and Severn Tunnel that will travel north in September to represent the Principality in Harrogate – and both will do so with pride and no little amount of confidence of doing very well indeed.
Iwan Fox