Band under the spotlight - Carlton Main Frickley
6-Mar-2008
In the third of a new feature, 4BR puts a band under the spotlight to find out more about them and whether or not we think they can be successful in 2008. This times its Carlton Main Frickley one of the most famous names in banding history.

---
Band: Carlton Main Frickley
Website: www.carltonmain.co.uk
Region: Yorkshire
Major Honours:
British Open Winners: 1922, 1958
Mineworkers National Champion: 1962, 1963, 1966, 1978, 1981
Granada Band of the Year: 1978
Grand Shield Winner: 1999, 2003
Yorkshire Regional Champion: 1957, 1971, 1982, 1999
BBC Best of Brass Winner: 1983
Edinburgh Festival Champion: 1957, 1959, 1960, 1967
---

South Elmsall Village Band circa 1890: Everyone in a cap!

Band History:
The band was originally founded in May 1884, consisting of mostly farmers and miners from the nearby South Kirby Colliery in the West Riding area of Yorkshire.
They were originally known as the South Elmsall Village Band but with the opening of the Frickley Colliery the link between South Elmsall and the coal industry began, and subsequently the band name was changed to South Elmsall and Frickley Colliery Silver Prize Band.
The band enjoyed its first major success in 1922 winning the British Open conducted by Noel Thorpe and a year later it changed its name to the Carlton Main Frickley Colliery Band, moving to its present bandroom in 1933.
It was the appointment of Jack Atherton as MD in 1954 that saw them become one of the most formidable contesting outfits in British banding, winning the British Open for a second time in 1958, as well as the Mineworkers National titles of 1962, 1963 and 1966. The band continued to prosper in later years, winning the Granada Band of the Year title in 1978 as well as remaining strong contenders at the Mineworkers, British Open and National Finals.
The advent of the 1984/5 Miners Strike however changed things dramatically and at one point the band was down to just six players.
However, with the immense hard work of Brian Rostron and later John Hinkley, the band intermittently posted results of note, including wins at the Yorkshire Regional Championship in 1999 and winning the Grand Shield in both 1999 and 2003.The band have also performed over 200 BBC broadcasts, appeared on television on numerous occasions and received a Silver Disc for "Capstick comes Home" which rose to number two in the hit parade.
Today a rejuvenated Carlton Main are enjoying another period of success under the baton of Russell Gray and at the Yorkshire Regional Championships booked its place at the National Finals once again.
---
Statistics:

Current 4BR Ranking: 13

2007 Contesting Record:
Yorkshire Regional Championship: 4th
All England Masters: 2nd
English National Championship: 8th
British Open: 12th
Scottish Open: 3rd
2008 Contesting Record:
Yorkshire Regional Championship: 3rd

2007 Prize Money won: £2,500
2008 Prize Money won: £75
---
4BR Seven Year Ranking Progress: (World of Brass/4BR ranking at the end of each contesting year)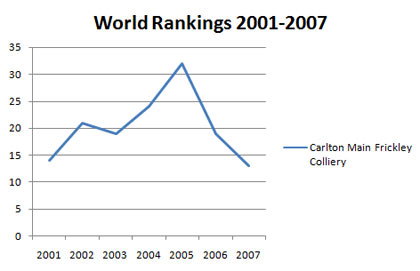 At the end of the 2001 Carlton Main were flying high, ranked 14th, but subsequently they dropped to 21st at the end of 2002, before recovering to 19th at the end of the 2003 season.
In 2004 they dropped to 24th and then to a low of 32nd at the end of 2005. They have since recovered to be ranked 19th at the end of 2006 and 13th at the end of 2007.
---
Personnel: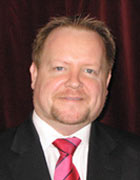 Musical Director: Russell Gray

Russell was born near Glasgow in Scotland in 1968, and an early interest in music saw him pick up his fathers trumpet by the age of 9. Within a few years he had won many national solo prizes including the under 17 solo championship of Great Britain by the time he was 12.

Russell moved to Yorkshire to study music and soon after joined Black Dyke where he stayed for two years. He subsequently became principal cornet of Fodens and Leyland bands

Russell's conducting career started when he was appointed resident conductor of the Stavanger Band in 1998. Russell moved back to England in 2001 to take over as conductor of the Ransome Band leading them to second place at the National Championships in 2000. In 2002, Fodens Richardson Band approached Russell to conduct them and within the first year had obtained three first and two second placings in five contests.

2005 was one of Russell's most productive years, winning six out of eight competitions culminating with the National Brass Band Championships on Great Britain with Leyland.

Since 2003 Russell has been freelancing as a conductor and player, and this has continued to take him around the world. At home, Russell teaches at the Salford University, the Royal Northern College of Music and is a "Besson" endorsed artist.

One of the best: Principal Cornet Kirsty Abbotts

Current Players:
Principal Cornet: Kirsty Abbotts
Solo Cornets: John Kendall, Jonathan Sanderson, Fraser Hill
Soprano: Dave Bird
Repiano: Dave Jones
Second Cornets: Martin Swan, Helena Walters
Third Cornets: Roy Walters, Andy Till
Flugel Horn: Janet Lewis
Solo Horn: Leah Williams
First Horn: Mandy Brader
Second Horn: Andy Dickinson
Euphoniums: David Belshaw, Toni Howden
Baritones: Bob Archer, Lee Durant
Trombones: Rebecca Lundberg, Ben Knowles,Phil Spencer
Basses: Roy Batty, Ray Sykes, Ben Dixon, Paul Davies
Percussion: Mark Gregory, Mick Godber
---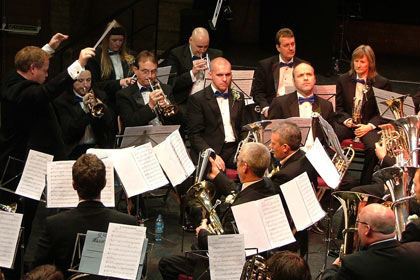 Rejuvenated: Russell Gray leads the band at Cambridge in 2007

2008 Aims and objectives:

Contests:
"At the beginning of 2008 we earmarked a return to the National Finals as a major objective – and this was been achieved. We also hope to improve on our results at the British Open and challenge for prizes there as well as provide a strong challenge at contests such as the English Nationals, Masters and Scottish Open."

Non contesting front:
"Looking forward to this year the band hope to continue and improve the development that has taken place over the last couple of years, have stability with Players, find a good resident conductor and above all else enjoy their Banding and bring pleasure to the audiences it will play to."
---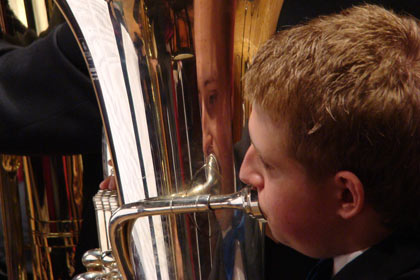 Tuba close up: Carlton Main wil be looking for success in 2008

4BR Predictions:
Carlton Main has experienced so many ups and downs in recent years that it is one band that knows just how fickle the contesting fates can be.

However, there appears to be a solid foundation to their recent revival and the organisation of the band is in solid and dependable hands. That has in turn allowed them to make sensible plans for the future and progress has been steady and well maintained.

Russell Gray remains central to those plans, as the talented conductor has the happy knack of drawing the very best out of his players – something seen to fine effect at Bradford recently. Carlton Main now has a very strong stable of solo players as well as strength in depth in the back up positions that will prove invaluable as the season unfolds.
They could well be strong challengers at each of the main contests they attend, and if they do play to form could well be in with a shout for top six or even podium finishes at the English Nationals, Masters and Scottish Open in particular.
It may be asking a bit much for them to reclaim a third British Open title or even a first National but other rivals will be very wary of them now and will be watching out for them. That is a real compliment if ever there was one in banding.