4BR Interview - Rodney Newton
6-Mar-2008
Chris Thomas catches up with Rodney Newton, composer of Four Cities Symphony, and much, much more...
---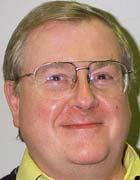 Chris Thomas: Can we start by taking you back to your early years? What were your earliest musical memories and influences?
Rodney Newton: My father's collection of "78" records was the main source of my early musical appreciation, that and the radio ('Housewives Choice' and 'Music While You Work' provided the musical background of my pre-school years). My mother also played the piano a little and my father sang in a male voice choir.

Their taste was firmly middle-of-the-road and very conservative. Additionally, one of my uncles sang in a Gospel group and another played the acoustic guitar. There was always music of one kind and another around and as a small child, I used to serenade the local butcher with my rendition of "Hear my Song, Violetta", learnt from a recording by the Irish singer Josef Locke, in my father's record collection.
Chris Thomas: You spent many years as a professional percussionist. Were you composing consistently throughout your years in performance?

Rodney Newton: I began to write music around the age of 13 or 14, producing a rambling symphony (subsequently destroyed) by the age of 16! The orchestra was a constant fascination and I studied composition at Birmingham School of Music as co-first study along with timpani and percussion.

The works which now stand as Symphony No. 1 and Symphony No. 2 were written between 1967 and 1970 while I was a member of the BBC Training Orchestra in Bristol, along with music for the BBC World Service and a few chamber pieces for friends in the orchestra. On leaving the BBC in 1970, I returned to Birmingham to freelance for a while, also conducting a church choir for which I also wrote a couple of pieces. From the time I joined Sadler's Wells (English National) Opera in 1974 up to the present day, I have composed constantly.

Seven of my 12 symphonies were written while I was a member of ENO and I also wrote a number of pieces (both vocal and instrumental) for lunchtime concerts we put on every season at the London Coliseum. In that way, I developed my style as a composer until I left the opera company to pursue a career as a professional conductor and composer in films and television.
Chris Thomas: Your interest in brass bands came fairly late by most standards. What was it that sparked that interest and your subsequent growing catalogue of compositions for band?
Rodney Newton: I was introduced to brass bands by a neighbour, Wilf O'Connor, who played the trombone in Sparkhill Salvation Army Band. Some while later Howard Wilson, principal euphonium of City of Coventry Band, asked me if I would 'help out' at the 1971 British Open. T

his was my introduction to the 'sharp end' of brass banding and I was very impressed by the experience, as I was with my first live encounters with bands like Black Dyke, Fairey and Yorkshire Imperial. My involvement in writing for band did not occur until much later, around the 1980's in fact, when my old friend Ted Tarling introduced me to Stacksteads Band in Bacup, which he conducted at the time. I tried my hand at writing a few pieces, none of which were very successful.

However, it was my ten year tenure as percussion tutor of the National Youth Brass Band of Wales that really started the ball rolling. I had already written a tuba piece, which is now known as Capriccio, for James Gourlay and Edward Gregson encouraged me to score it for brass band so that Jim could try it over on the course.

Still very inexperienced at brass band scoring, I think I must have revised it four or five times before Jim gave the first public performance with the Hampshire County Youth Band under the baton of the late Leighton Rich.

That was the real beginning of my brass band composing career, which developed thanks to the encouragement of Jim Gourlay, Bob Childs and many others in the brass band movement.
Chris Thomas: You have enjoyed residencies with a number of bands, notably The Fairey Band and Cory. Thinking of a work such as The King of Elfland's Daughter written for Cory, have you consciously tried to model any particular aspects of the music around the particular characteristics or sound of the band concerned?

Rodney Newton: It is always a thrill to be able to write for a great band and superb soloists (something I was fortunate enough to experience during my years in films and television where I was always able to use the very best players).

When I write a piece for a band like Cory, I am always conscious of the wonderful principal players at my disposal and I try to give them something substantial which plays to their strengths.

The overall sound of the band also influences the way I score the big climaxes. Similarly, my work with Fairey led to the discovery of just what the low end of the band could do, thanks to the example of people like Shawn Crowther, Geoff Harrop, Gareth Johnson and Derek Jackson. The way I now score for the basses is a direct result of exposure to that mighty quartet.
Chris Thomas: Are there any particular composers or musicians that you would acknowledge as a major influence on yourself or your music over the years?
Rodney Newton: I suppose I am influenced by almost every composer whose work I encounter, either positively or negatively and the many fine players and singers with whom I've worked during my 41years as a professional musician have been a constant inspiration. The list is endless and I wouldn't know quite where to start or finish!
Chris Thomas: Your professional life has always been diverse, encompassing performance, composition, teaching and writing. Although performing is no longer you main vocation do you still play percussion at all?
Rodney Newton: Due to the continuing effects of a cerebral haemorrhage which I suffered 10 years ago, I am unable to play any longer, so that phase of my career is over until such time as I regain the full use of my right wrist and hand (if ever). However, I still keep in touch with my former colleagues and frequently attend dress rehearsals at the Royal Opera House as a guest of my old friends in the percussion section.

I am also engaged in researching the historical aspect of timpani and percussion playing, along with my good friend David Searcey (former principal timpanist of La Scala, Milan).
Chris Thomas: Your ongoing output of symphonies is exceptionally substantial by modern standards. Do you have any ambitions to reach a certain figure?
Rodney Newton: I write symphonies as they occur to me. I have no particular ambitions to write any more than I have already planned out which, when completed, will bring the number to 15. After that, who knows?
Chris Thomas: Are there any aspects of your work in writing for film and television that you have been able to transfer to your wider compositional work?
Rodney Newton: Yes, my flugel horn solo, Dimitri, is based on the theme for a short film which I scored about 12 years ago. I have also adapted a concert overture from my score for a BBC TV feature-length film called The Pyrates, which was screened in 1987.
Chris Thomas: Given that you have conducted your own music on numerous occasions in the past do you harbour any ambitions to conduct brass bands in the contest arena at any time?
Rodney Newton: I have no particular ambition to be a contest conductor - I leave that to the experts and the last time I was engaged to take a band to a contest I ended up having a stroke during rehearsals, so I do not have a very happy record on that score! However, I think I would probably like to try it at least once, just for the experience.
Chris Thomas: Can we turn to "Four Cities Symphony", the work you have written for this year's Fourth Section Area Championships? Do you find writing for lower section bands to be a satisfying experience from the composer's point of view?
Rodney Newton: For me, the satisfaction which comes from writing for Lower Section or youth bands lies in knowing that I'm contributing (hopefully) to the continuing enjoyment of those for whom music is not a profession, but a means of enriching their lives and providing a deeply satisfying pastime.

I am very much in favour of composers being 'useful' to the community and in my case, this sense of being of use to the brass band community creates great satisfaction.
Chris Thomas: Given that technical ability is a consideration how do you initially approach writing a work that is to be played by lower section bands?
Rodney Newton: Obviously, when writing for the Lower Section or youth bands, one has to restrict one's muse and limit oneself to what can be reasonably expected of the players.

I try to write with consideration for the player, whilst providing something that will stimulate their imagination and help them interpret the music.
Chris Thomas: What will you be listening for from the performances of "Four Cities Symphony" to be heard at the forthcoming Area Championships?
Rodney Newton: In short, musicality. Naturally technical aspects like rhythm, tuning and balance are important, but I'll be on the lookout for expressiveness and an awareness of what the music is all about.
Chris Thomas: Thank you for talking to us.