2008 Yorkshire Regional Championship - Postcard from Bradford
5-Mar-2008
This year Yorkshire had a bit of everything - from great performances to great grub and even a 41 year old youngest player...
---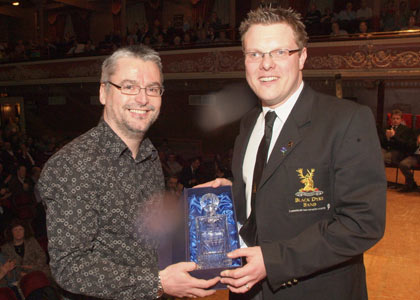 Something to celebrate with: Richard Marshall picks up the 4BR Award for Solo CD of the Year
Picture: John Stirzaker

The Yorkshire Regional Championship invariably does itself proud, and this year was no exception.
There were some great performances from the bands, welcome innovation from the organisers, lovely grub from the back stage cooks and even a touch of the weird and wonderful about things too.
The great performances came in all the sections – from Black Dyke's thrilling winner late on Sunday night, to Lofthouse 2000's cracking Fourth Section topper on the Saturday morning. The innovation meanwhile came from Peggy Tomlinson and her team who supported a wonderful Children's/Youth Adjudication Panel for the Third Section, whilst the weird surely came with Meltham & Meltham Mills drawing number 1 at the contest for, wait for it – the seventh time in eight years.
Wonderful

As for the wonderful – that came with the unintentional little slip from Peggy when she announced that the youngest player in the Fourth Section was born in 1966 instead of 1996. Young master Jacob Lusk, aged 11, from the Friendly Band Sowerby Bridge, looked a touch perplexed as it dawned on the audience that they were perhaps looking at a 41 year old midget percussionist instead of a talented young star of the future. He didn't seem to mind though as he picked up his trophy and he has now got 30 years of contesting to enjoy before he perhaps gets another mention off the stage!
There were also a number of quite excellent adjudicator remarks from the podium too – from Peter Bassano's cultured potted history to Barry Thompson's remembrance of lost boudoir passion – all the judges enhanced their reputations. A word of appreciation also for Alan Hope with his Music Panel hat on. He didn't duck the issue of the poor printing quality of the Second Section test piece - a fact appreciated by the tough 'value for money' Yorkshire banding folk.
Luck

Luck of course does play a part in any brass band contest, but Meltham's rep had none of it as he forlornly picked out Kelly's Eye from the bag at the draw. His heart must have sunk like a lead balloon, whilst in the top section draw the last two numbers in the bag were numbers 1 and 12. Brighouse picked 1 and Black Dyke picked 12 – what would the final result have been on Sunday night if it had been the other way around we wonder?
Serendipity does play a part in brass band contests – good or bad. Not even Fox Mulder from the X Files could perhaps explain the mysteries of the draw or the odds on seven in a row, but the fodder – authentic Yorkshire pud and roast beef, gravy like you mam makes and a nice cup of tea on tap from 9.00am to 9.00pm made sure the lucky press corps have never been fed so well.
There was also a touch of intrigue on the weekend too, as Black Dyke took to the stage with Bert Van Thienen on soprano. The Belgian ace from Brass Band Willebroek took the place of Paul Duffy and the decision to allow the young Dyke star to sit this one out may have caused more than a few eyebrows to be raised.
Long term planning

With typical Nicholas Childs planning however, he told 4BR that when Paul took over from Peter Roberts he wanted the young player to be the long term – and he does mean, long term, replacement, and so a touch of selective development has been put in place for now. It was a decision that paid off big style but it was nice to see the MD take the time to ensure that Paul was very much part of his thoughts even when the regional trophy was being displayed with such vigour on the stage at St George's Hall accompanied by the chant of 'We've won our cup back'.

It rounded off a great Sunday for the band as David Thornton and Richard Marshall picked up the main solo prizes, whilst the band and their Princiapl Cornet received their 4BR Awards for their winning CD releases - 'Vienna Nights' and 'Eminence'.
The top section did prove to be a fine climax to an enjoyable weekend of music making, but there were also encouraging signs that there is growing strength in the lower sections too.
The First Section bands did struggle to get to grips with James Cook – but then again they won't be alone in that over the coming weekends. Elsewhere the well chosen test pieces proved both popular especially with the audience. The result was a pretty full hall over the two days with a great crowd in for the Fourth Section on Saturday morning in particular.
Childrens Adjudication Panel

The Children's/Youth Adjudication Panel was a great success (the full results and remarks for all the bands will appear on 4BR in the next couple of days) and 4BR has to thank Peggy and especially Stuart Warriner for all their help in making it an innovation that hopefully will be continued here, and copied elsewhere.
The input of Robert Childs, Paul Lovatt-Cooper and Mark Bousie give the youngsters a real insight into the piece and the adjudication process and their written remarks and perceptive analysis was proof, if any was needed, that they took to the task with real aplomb. Peggy should have no problem booking her judges for 2018!
2009 problems

Peggy may however have a problem booking her judges for 2009, after it became clear that next year's contest will fall on the same weekend as the North West in Blackpool. David Read was a very brave man indeed in asking his wife to postpone their Golden Wedding anniversary celebrations so that he could adjudicate the top section here, but at least he only had to decide between four enjoyable hours of music making or a possible candle lit dinner.
Peggy and David will not be alone, as Glyn Williams's fine achievement in steering Marsden into sixth place will now mean that he will be faced with the impossible choice of either conducting his band in Bradford or playing solo euphonium with Fodens in Blackpool? Can something be sorted out to help all concerned – the top section on Saturday in Bradford perhaps?
That's for another day, but you can be sure, Peggy and her team will think of something to benefit her beloved Yorkshire bands. Given that they have just about sorted out everything else to make the St George's Hall experience one to savour, you wouldn't put it past them to do just that.
Iwan Fox