2008 Yorkshire Regional Championship - Retrospective: First Section
5-Mar-2008
Nostalgia isn't what it used to be - but it was good enough for Skelmanthorpe on the weekend.
---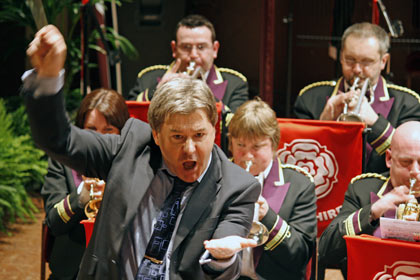 Give me more! John Roberts tells his band just what is needed for victory
Picture: Alan Edmond

If I can be forgiven for being personal for a moment, Sunday afternoon's First Section contest was a nostalgic trip down memory lane for your reviewer.
James Cook - Circumnavigator was the first piece of brass band music I can vividly remember – the 1974 British Open, and prior to Sunday, I'd not heard it live since Leyland under Richard Evans performed it at the Sheffield Festival of Brass in the early 1990s.
The one thing that can safely be said about Vinter's great work is that First Section bands will be relieved when the regional contest is out of the way. It remains, some 38 years after it was written, a very difficult work to pull off and as Dr Robert Childs alluded too in his summarising comments, it's one that that could easily still be used in the Championship Section.
Big blow

James Cook is a big blow for any band and those that did well were able to maintain their stamina, pulled off the soft dynamics, played in tune and adhered to the markings on the score.
Too many bands treated it as a Round the World Yacht race and ran out of steam way before they reached the finishing line. Over zealous tempi also meant detail was lost. For some bands, James Cook never sailed out of the harbour at all. It was a tough ride for many.
The bands that did well were sensible in their musical approach and even with errors had enough conviction in their performances to find favour with the judges, Dr Bob Childs and James Scott.
All of the soloists will certainly be glad its over. Principal cornet, euphonium and soprano players will all have been having sleepless nights in the run up to the contest and whilst some came through with a real degree of calm authority, others suffered from touches of sea sickness.
Best performances

The best of the performances came late into the draw.
Skelmanthorpe and John Roberts once again proved that they are the band to beat at the moment and having won Butlins in January they maintained their fine form here.
Drawn 11 they had the confidence of Ellen MacArthur on one of her nautical challenges and as a result it was a performance that displayed good ensemble and excellent soloists – especially the principal cornet, euphonium and soprano. The tempi's were sensible logged, so detail was heard, and conductor John Roberts pulled every ounce of emotion out of his band.
The heroic march had a majestic swagger about it, but it was the very persuasive overall musical picture that left little doubt that they were worthy winners.
Derek Renshaw's Stannington will join them at Harrogate in the autumn and whilst it wasn't as clean as the winning performance, there was enough quality on show to hold sway with the judges. The tempos were again sensibly logged, the dynamics accurate and balanced and they dug deep to maintain their stamina through to the close.
Having been promoted up from the Second Section, Wakefield Metropolitan and Norman Law can consider themselves unlucky not to be making the trip from West to North Yorkshire in September.
Minus a score, Norman conducted an invigorating performance full of excitement and firm control on the rudder. Nothing was overdone, and there was attention to technical detail in terms of dynamics and tempi. The band's principal cornet Richard Larder took the best instrumentalist prize with a superb display of controlled playing. Wakefield is a band to keep your eye on as the partnership of MD and band continues to flourish.
Impressive

Old Silkstone and Alan Exley also played late on the day (12) and they took the opening section a little quicker than some. However the detail remained vivid and the former Yorkshire Imps man knew where all the foible's were in the score ensuring his band didn't come unstuck too often as they dug deep to pull an impressive interpretation out of the bag.
Sympathy can be given to Yorkshire Co-op and Michael Fowles for not finishing higher than fifth on the day with a performance that certainly had the makings to be a serious challenger.
This was an interpretation full of vibrancy from the MD that was matched by the band. The music really came to fore with all the soloists pulling out the stops and the overall picture was extremely polished and very satisfying to listen too.
Dennis Hadfield's Hebden Bridge was the first band to give a performance of real conviction from the number five draw. The musical portrait was laid out neatly with excellent attention to the subtleties within the score and although there were times when not all of the sections gelled together, everyone dug deep on the day.
Standard dip

From seventh downwards the standard started to dip for varying reasons and none of the bands could have gone home complaining that they were not in the mix for the podium prizes.
Kevin Belcher's Drighlington started off exceptionally well, but as things went along the error count started to increase and if they could have eradicated the majority of these, it could have been a different story.
Grange Moor meanwhile will probably be another band that head back to West Yorkshire just wondering how things could have panned out differently but for some uncertain moments and touches of tiredness.
Kevin Wadsworth put together a fine interpretation of the score that showcased the strengths of the band. The dynamics were effective and if they had been able to sustain things right to the close they could well have finished in the top six.
Passionate

Barnsley Building Society's performance was conducted in the typical passionate style of Billy Rushworth. No prisoners were taken and this was real full-bloodied commitment from the MD. They didn't quite always sound comfortable during some sections of the piece but it was colourful and committed and painted a truly vibrant picture of its musical inspiration.
Simon Wood's Hade Edge produced an excellent show last time 4BR heard them at Pontins in November, and once again the young band can hold their heads up high.
With the players sat compactly together and as close to the stage front as was possible, Simon directed a performance that made sure none of his players came unstuck on the voyage and fell overboard. Tiredness did creep in but they really did draw on every last breath to get to the end.
That just left four bands and they were the first four bands drawn to play.
First four

South Yorkshire Police and Knottingley Silver both struggled to stay afloat right to the end of their performances. South Yorkshire didn't really start off well and as a result they were on the back foot. They did recover and gave it their all, but tired significantly towards the end. The same can be said for Knottingly too. It wasn't the greatest of starts and the tempo's were more than a little brisk, so they simply ran out of steam before the end.
Meltham and Meltham Mills must wonder how many black cats they've ran over within the band because with the exception of 2007, they've drawn number one every year since 2001, regardless of which section they've been in.
Once again, they cursed their luck and went out and played number one with a performance that wasn't too bad at all. Stuart Fawcett kept everything as simple as he could but the band just suffered trying to deliver the dynamic contrasts required in the right places and maintaining stamina right through to the end.
Aggrieved

That just left Lindley and they may feel a touch aggrieved to have finished bottom especially as there wasn't much to separate the final four. They gave it everything but they never sounded at home with the music at times and it was a bit touch and go in places.
The 14 bands certainly provided an enjoyable four hours entertainment that went in the blink of an eye. James Cook - Circumnavigator really does test the bands to their limits but it was Skelmanthorpe (who enjoy anything to do with the sea it seems) that successfully navigated their way to victory.
Malcolm Wood