2008 Yorkshire Regional Championship - Retrospective: Third Section
5-Mar-2008
Everyone had a great time in the Third Section - the bands, the players, the conductors and especially, the winners...
---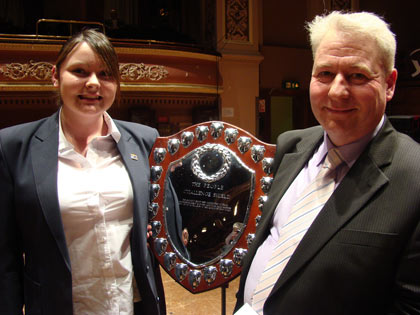 Reflecting on victory: Frank Hoyland holds the shiny Yorkshire Shield after Rockingham's victory


The Third Section contest on Saturday afternoon provided great entertainment for the players and conductors of the ten competing bands, as well as the audience, judges and the Children's Adjudication Panel that sat in judgement on the first tier of the hall on the day.
Paul Lovatt-Cooper's test piece was perhaps the reason why: Colourful, tuneful and exciting, it asked plenty of questions of just about anyone who took an interest in it – and just about all of them were answered in the affirmative.
Questions and answers

Was the piece hard enough? Yes. Was it good music? Yes. Was the last part of the piece a rip off of 'Jurassic Park? No – but then again the composer had to do a nifty bit of snakeoil salesmanship to convince the film buffs in the hall on that one. Will the players and conductors have enjoyed preparing it for a contest? Most definitely given that we got to hear ten decent shows as a result of their preparation work – a rarity at this level at times.
The overall standard did vary and you had to agree with Robert Childs that it would have been very easy to pick out the fastest, or loudest performance on the day. All the bands gave it a good lick, but some took the need to blast off into outer space a bit too literally, and as Bob said, at least one band very nearly parted his hair with their volume.
You also had to agree that there were four good performances that found their way to the top of the prize list and that it was pretty tight between the rest – right down to number 10. Bob said they could only judge what they heard – and at St George's Hall they heard the lot, as the acoustic is pretty good for a brass band contest.
Philip Harper also made a number of excellent points, most notably about the need to help try and create atmosphere through the use of intelligent percussion playing, and the need to keep tuning in check. Give time in rehearsal to get both of these aspects right he said and you were half way to conquering the piece. Spot on stuff.
Spot on stuff

The top four bands certainly did that – and more.
Rockingham was drawn last, but after they delivered a very well constructed account under Frank Hoyland there was little doubt that they were perhaps the band to beat. Some fine solo contributions from a lovely sounding flugel horn and quality solo cornet (congrats to the bumper up as well) it ticked all the appropriate boxes for the two men in the box.
The ensemble playing was controlled and the decision to have the percussion stood a few extra yards back also worked as their contribution added significantly to the performance. We had them in 2nd place but there was little doubt they deserved to be making arrangements for the trip to Harrogate in September.
Joining them there will be Garforth directed by Steven Bailey with a performance that was bold and colourful and which featured solid contributions from all the main soloists allied to a compact ensemble.
It perhaps lacked a little dynamic variance at times, but it was certainly exciting. We had them in 4th spot ourselves but that extra bit of rocket ship turbo power that they held in reserve right to the end found favour with the all important judges.
Unlucky

Unlucky to miss out for us was 3rd placed Elland Silver under the direction of Phil Shaw, who delivered a cultured account of the test piece that benefited greatly from some wonderful solo cornet playing from Sam Harrison who deservedly took the 'Best Soloist' prize, and some lovely little touches from the soprano.
It was perhaps an untidy start that robbed them of a chance of making it to Harrogate as thereafter an enjoyable reading from the MD was so well presented by his band. Unlucky.
Perhaps also a tad unfortunate were Emley under the excellent Garry Hallas, who encouraged his band with a masterclass of non verbal communication. He was twitching like Dustin Hoffman in 'Rainman' at times, but at this level such interaction is invaluable and each little nod or wink was one of encouragement – and his band responded.
Off the number 1 draw they produced a solid no nonsense account that featured a fine sounding solo cornet and flugel as well it must be said, a couple of less solid solo lines too. In the end that was perhaps the difference between them getting to Harrogate or not (we had them 3rd), but keep an eye out for this pairing.
Class above

These four bands were a class above the rest on the day, and even though we may have slightly disagreed with Bob and Phil about the final placings, you couldn't have any real cause for complaint.
Behind them came six bands that just about sorted themselves out in the right order without too many problems.
Gawthorpe Brass eventually came 5th with a performance that certainly resonated with some members of the 4BR Children's Adjudication team sat in the hall.
Steven Bradnum seemed to take his shirt inspiration from a pint of Guinness, and his reading of the score was certainly full bodied and tasty, even if it did meander a little too often off the straight and narrow. There was plenty of good playing on display (including a very effective side drummer who cleverly used his finger tips in the quiet passages), but there were too many little errors and it got a little harsh and brash to end. We had them in 6th, but the judges just felt it was a tad better and placed them 5th.
It was Gawthorpe Brass 85 that took the last top six place (we had them 8th) with a performance under the direction of John Edward that contained too many basic problems that undermined a fine reading from the MD and some great extended periods when the band really brought the music to life. More plus points than minus ones we thought, but on the day they weren't enough to push them any higher up the prize table.
Outside the prizes

We had West Yorkshire Police a touch higher than the judges in 5th place (they were placed 7th) after they produced a performance that recovered from a poor start to really find its feet with some fine individual playing from the solo cornet and excellent flugel allied to a warm ensemble sound.
That start though just robbed the atmosphere (it sounded as if the rocket had engine failure) but when they were in orbit it was pretty fine playing especially on their return journey home.
MD Billy Rushworth certainly put heart and soul in Oughtibridge's performance and for the most part was rewarded by a decent account from his charges. Tuning problems perhaps undermined their chances of coming any higher (8th from the men in the box, 7th for us) but it had its moments and the band had a chap who certainly looked like a space scientist on the back row cornets – remember Professor Heinz Wolfe from the Great Egg Race?
Bottom two

That just left the two bands at the bottom – Crofton Silver and Huddersfield and Ripponden. No complaints we feel from both.
Crofton got off to a poor start and took time to recover and whilst there were some neat moments of quality from the solo cornet and flugel in particular it was the untidiness in the ensemble and the poor tuning that meant they never quite sounded at ease throughout the piece.
The same could be said of Huddersfield who put up a brave show with plenty of youngsters in the ranks. It just had too many basic flaws to have come any higher but there were a number of occasions throughout when your attention was caught by real potential in the shape of a fine young cornet player on bumper up who played the solo and fine flugel horn. The potential for future success is there for certain.

Iwan Fox