2008 Welsh Regional Championship - Introduction
3-Mar-2008
They may be back to winning at the rugby, but Wales needs to ensure that it doesn't lose any more of its bands.
---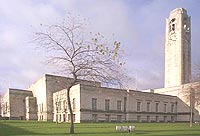 These are slightly odd times for Welsh banding. The continued contesting excellence of a number of its bands at different levels is being balanced out by the temporary or more permanent loss of some competing outfits.
This year 44 bands are due to take to the stage – just 1 down on twelve months ago, but that doesn't tell the full story.

The welcome return of Point of Ayr and the debut of Knighton must be offset against the loss (hopefully temporary) of the likes of Harlech, Hollywell, Treherbert, Pontypool, Abergynolwen, Blaenafon Concert, Gwernaffield and Cwmbran.
Thankfully we also see the return after short sabbaticals for the likes of Abergavenny, Llanrug, City of Cardiff and Royal Oakeley, so the equilibrium is being maintained even if a few ripples of trouble have been cast over what for some time has been the pretty settled waters of Welsh banding.
The contest here in Swansea provides the litmus to test whether things are looking rosy or not and this year there are still signs of optimism despite the state of flux. The recent success of the Porthcawl contest and the continued survival of the Welsh League means that the contesting calendar is still pretty full, whilst the bands in North Wales have perhaps got over the worse of times too.
It should all make for the usual great atmosphere here - hopefully enhanced by a Welsh rugby win. It's a very well run and supported contest and whilst there are the occasional gripes about it being situated here, in truth there is no better concert hall in Wales (just ask William Relton) and the well placed local hostelries all tend to do a roaring trade.
Championship Section:
The battle for the European qualification place to Ostend in 2009 is the cherry on the cake, and means that even though Cory have won the contest for the past six years, they will come with all guns blazing.
With the heavyweight champions once again coming in the top four at London, three Welsh bands will make the trip to the Albert Hall once more, whilst if Cory can finally rid themselves of their European jinx then there is a real possibility of a second Welsh band joining them on the hovercraft to Belgium next year too.
Lots to play for then and lots for Alan Morrison to enjoy in the box (Wales still only has the one man to make the decision) and the battle should be closer than it has been for a number of years as bands such as Tredegar, BTM, Parc & Dare and Tongwynlais in particular have shown good solid form of late.

First Section:
There is really strength to be seen and heard in the First Section this year and a keenly fought contest is likely to give Alan Morrison plenty to think about on the Saturday afternoon.
With the two bands that walked away with the Second Section in Harrogate, Newbridge and Beaumaris promoted, there is sure to be a keen fight between them and their rivals to see who can get back to North Yorkshire in September. Last year's qualifiers did well at Harrogate too, coming home in 2nd and 11th place, so much to try and better for the lucky winners.
Second Section:

The Second Section may also be a hard one to call with a number of well matched bands for David Horsfield to sit back and enjoy.
After the success of Newbridge and Beaumaris last year at Harrogate where they filled the top two places, these bands have a lot to live up to, but there is plenty of quality on show, and the test piece should be within nearly all their grasps. It will be something of a fairy tale if Point of Ayr return and win, but they may well just do that if their rivals are not at the top of their form.
Third Section:
An interesting match up of bands appears in the Third Section, and it will be interesting to hear how the Welsh get to grips with the trip into lunar orbit – which according to Max Boyce saw Morgan the Moon follow Neil Armstrong to the surface of the old rock in his 'Live at Treorchy' song of 1973!
Last year's qualifiers didn't set Harrogate on fire as they came 16th and 18th respectively, so whoever gets the nod this time around will be looking to better that. The two lowest sections in Wales are not the strongest in terms of overall quality but there are signs that things are improving.

Fourth Section:
Down in numbers this year from 12 to 8, the Fourth Section should be a decent contest once more, even though it would have been nice to see more bands taking part.
Last years qualifiers found life pretty tough come the finals (they ended up in 15th and 17th places) so there is room for improvement there too. Lots of little dwts and youngster galore and the talent is there for everyone to enjoy – even if this year it is a bit thin on the ground.