BBC Young Musician of the Year - Brass Final: Retrospective
25-Feb-2008
Four of the most talented young brass players in the country locked horns in Cardiff to see if they could get through to the Concerto Grand Final in May.
---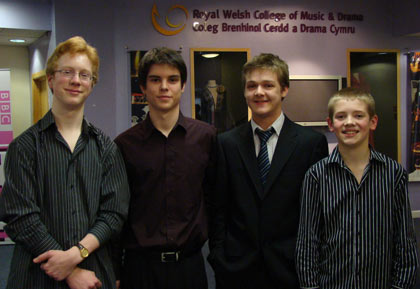 Brass line up: The four finalists take time out for a photo shoot


The BBC Young Musician of the Year Brass Final took place at Cardiff's Royal Welsh College of Music and Drama on Thursday night when four highly talented young performers set out to try and book their place in the televised Concerto Final to be held at the magnificent Wales Millennium Centre on the weekend of the 10th May.
Press Embargo

Due to a press embargo by the BBC, we can't reveal the actual winner's name as not to spoil their coverage of the final, but given the organisations woeful coverage of the preliminary competitions, the rather pathetic public relations work that has gone into promoting it both locally and nationally, and the resultant sparse attendance at the category semi finals and finals in Cardiff, you can feel we may be justified in sticking two licence paying fingers up at them and just telling you exactly who won.
This has been as shoddy a promotion of what was once a flagship cultural broadcast as the Blue Peter sticky back plastic stage props that were the backdrop display to the Bute Theatre at the college. We know the Beeb needs to save a few quid here and there to pay for the extravagant Bruce Forsyth 80th birthday celebrations, but the status of the event has taken a bashing this year.
Both David Jackson, Head of Music at BBC Wales and Menna Richards, its overall controller, should be more than a touch shame faced at present, and we can only hope that the overall excellence of the competitors this year is reflected properly in the broadcast coverage from May 4th onward and the Final itself.
We are told that there will be a 60 minute documentary on BBC2, plus an hour long programme each night on BBC4 highlighting the category finalists. The Grand Final will be broadcast on BBC2 (not live however) in a two hour special on Sunday 11th May. BBC Radio 3 will also be featuring each category winner in the lead up to the final as well as the actual concerto performances on Monday 12th May.
Sounds great – but not many licence payers knew that before hand did they now. However, we bet they knew bald Brucie and his hairpiece were going to get and all expense spared primetime bash though – because that was stuffed down out throats for the past few weeks.

Quartet of talent

Enough of that and back to Thursday night and the talented quartet of Matthew White, Alexander Edmundson, Henry Lindsay and Peter Moore, all of whom had battled through the preliminarily rounds to reach the Brass Final.
There is little doubt that all four are gifted young musicians, but the evidence of the semi final was fairly clear – this hasn't been a vintage year for the brass, although the potential was there for all to hear.
Matthew White and Peter Moore are well known to the brass band fraternity, and once again represented their bands, Leyland and Wingates, as well as their families and supporters in fine style. On a night when not all the contenders performed as they would have wished, these two played well above themselves.
Mathew was first up and delivered a recital of three works that showcased his burgeoning talent.
Nigel Clarke's 'City in the Sea' was a brave opener, what with its immensely difficult low start and ferocious technical hurdles, whilst Bozza's 'Aria' was a subtle, lyrical counterpoint. The final 'Zeibekkos' from Wilby's 'Concerto for Euphonium' was bright and colourful (and had a perfect plate smashing ending too).
Mathew displayed a mature sense of musicality throughout, some stunning technique and a fine sense of style, although once again his rather light sound meant that the extremities of the music were perhaps left untouched. The Bozza 'Aria' though was quite sublime and confirmed the thought that here as a player who is maturing quite delightfully under some expert tuition. There is much more to come from this young man.
Ambitious

Alexander Edmundson was perhaps the most ambitious of the quartet, and the talented French horn player once more revealed his prodigious, if somewhat wayward talent.
At times his playing, especially of the first movement of the Madsen, 'Sonata for Horn and Piano' was thrilling, yet too often it was undermined by the performer just over reaching himself. Seiber's immensely difficult 'Notturno' was again full of ambition and extended elements of the highest quality, but it was also flawed too in execution.
The final Morais 'lollipop' 'Le Basque' just confirmed that here was a player richly endowed with musical gifts, if at present just lacking a touch of self-discipline.
Gifted

In contrast we then heard Henry Lindsay, a very gifted tuba player from the Purcell School who had made such an enjoyable impression in the semi final. Here though he perhaps picked two works that didn't reveal enough of his strengths but illuminated his most obvious weakness.
The opening movement of the Arutiunian 'Concerto for Tuba' was neat and compact, but perhaps lacked for depth and tonal shade, whilst the more oblique and percussive 'Terrains' by Thomas Gold was delivered with mature thought if slightly strained execution. Perhaps we needed to hear more of his lovely sense of lyricism on this occasion as well perhaps as something a little more extended in time.
Stunning

That left 12 year old Peter Moore and a quite stunning recital of three works – all without music (the only performer to do this on the night).
The opening movement of Richard Peaslee's 'Arrows of Time' was delivered with such clarity and assuredness that it was hard to believe that we were listening to someone so young, whilst the playing of Sandstrom's 'Sang till Lotta' held the audience captivated. It was stunning playing, even if it was understandably perhaps lacking in sheer dynamic contrast.
Finally a romp through Rota's first movement from his 'Concerto for Trombone and Orchestra' which was as cleanly shaven as the young man's chin and delivered with such clam authority.
The applause at the end from the audience told its own story, whilst Alison Balsom, one of the judges, told 4BR that she felt it was playing that was 'so natural and beautifully delivered', from a player who she described as 'a fantastic talent'.
After an extended break for the three judges, Ben Foster, Julian Plummer and Alison Balsom to make their minds up, the result was announced – and was universally well received.
We can't say who it was, but the final should be well worth tuning in for, even if it does mean missing Brucie on the Saturday night.
Iwan Fox