Gizmos & Gadgets - February 2008
18-Feb-2008
From the latest high wonder products to the simplest little bits and bobs and a few that are truly weird and wonderful. 4BR has been out shopping and testing out what's on offer this February.

---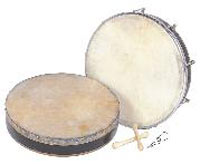 Percussion Plus PP1141 18 inch Bodhran

Price: £24.91 inc VAT

Irish diddly diddly music is everywhere now. From plastic Emerald Isle themed pubs to airport lifts, Tesco to Timbuktu you just can't get away from the incessant beat of a well placed bodhran and dancers who don't use their arms.
So why not join the club, so the next time you have to play 'Riverdance' your percussion section can at least sound as if they know what they are doing.
This 18 inch beauty looks as well as sounds the part and is fairly self explanatory to play as well.
Remember though – it doesn't give your percussionists the green light to start wearing bug eyed glasses a la Bono, declaring that they want to save the world or put on tap shoes and dance around the stage at your next concert like Michael Flatley.
More Information:
http://www.normans.co.uk/Items/Item.aspx?SKU=PP1141/9


---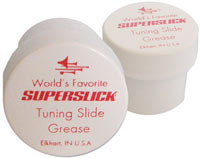 Superslick SSTSG Tuning Slide Grease
Price: £1.37 inc VAT
Just what every player should have in their instrument case.
A brass instrument should be a well oiled, well greased precision piece of engineering that should not require the use of a 2lb lump hammer or the brute force of a silverback gorilla to keep its moving parts in order.
Cheap, cheerful and guaranteed to allow you to move your tuning slides that fraction of a millimetre to appease the most demanding conductor who thinks you are playing flat. This is the stuff that should be used – not your mum's Vaseline from the bathroom cabinet.
Remember – grease is the word. Not to be used to help eradicate nasty rashes either.

More Information:
http://www.normans.co.uk/Items/sstsg
---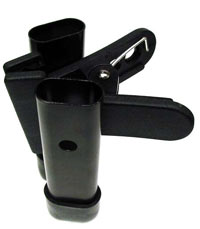 Stagg DSH Drum Stick/Beater Holder
Price: £3.50 inc VAT
Just the thing every percussionist needs – somewhere to put his varied multi coloured sticks and beaters instead of leaving them all around the place for bass players to crush under foot.
A dinky piece of kit that can clip onto a cymbal or high hat stand, it hold two pairs of sticks for budding Cozy Powell's to grab hold off without the player panicking and looking like Frank Spencer in an old 'Some mother do 'av 'em' episode.
It won't stop percussionists still smashing the hell out of the drum kit, but at least it will make them look a bit more respectable…
More Information:
http://www.normans.co.uk/Items/dsh?
---
Mollard conductors batons
Price: £21.25 inc VAT



The biz. Mollard make the very best batons around and in all sorts of sizes and materials to ensure the most demanding luvvie of a conductor has something in his hand that will enable a band to follow their beat.
Balanced and crafted and up to 14 inches in length (just to ensure those short sighted bass players at the back of the band can see what they are doing) they come in a selection of 8 exotic hardwood handles too.
So why not present you MD with a new baton with white plastic or birch shaft, oak, cocobolo, zebrawood or even purpleheart handle, and watch their little faces light up as they go home and start to practice beating 5/4 bars in front of the mirror.
They are not unbreakable however, can still be used as a deadly weapon to impale an errant bass trombone and will not make any conductor as good as Herbert von Karajan in time for the regionals.
More Information:
http://www.bandsupplies.co.uk/StockItem.asp?StockCode=606
---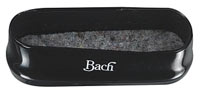 Vincent Bach Grime Gutter
£4.72 inc VAT
Bulk Buy Prices:
£4.25 per each when you buy 2 or more
£3.88 per each when you buy 3 or more
Just the jobbie for all the gunge that comes out of the bottom of your valves.
The exquisitely named 'Grime Gutter' does what it says it does on the tin and stops errant moisture getting all over your hands, clothes and even your shiny new instrument.
Cheap, cheerful and easy to use it won't make you a better player but at least it will make sure your band uniform doesn't look as if it has been washed in a sheep dip.
Remember though - Don't try and drink the contents or show to your mates the gunge on the back row either – that's not clever, even if it may be funny…
More Information:
http://www.johnpacker.co.uk/accessories/203222.htm