2008 Norwegian National Championships - Retrospective: Elite Division Set Work
13-Feb-2008
Odin proved to be a great choice for the best bands to get to grips with this year - and get to grips with it they did, in fine style.
---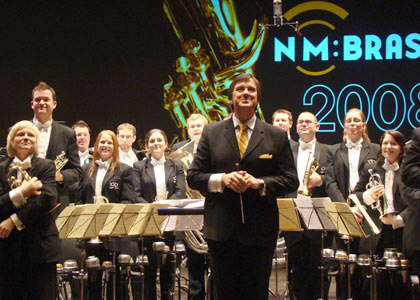 A job well done: Nicholas Childs and his band accept the applause after their performance of Odin.

It was somehow appropriate that this year the Norwegians had chosen Arthur Butterworth's 'Odin' as the test piece for the Elite Division.
A deeply imposing work, it was perhaps ideally suited for a contest such as this – 10 top notch outfits all on fine form and all with the technical as well as musical ability to deliver a series of well structured performances. There wasn't one below standard rendition all Friday afternoon, and as a result it left the contest wide open and all to play for come the Saturday evening.
Battle

In the event it came down to a battle between the two bands that many people thought beforehand would slug it out over the two days for the overall title – Eikanger and Stavanger, although there were one or two more that pushed them all the way.
For us it was Stavanger that perhaps had theirs noses in front at the end of the first day after their tremendously effective musical portrait directed by Allan Withington. Real tooth and claw stuff full of venomous intent, it was scintillating, with superb moments of ensemble playing all topped with red hot contributions from their impressive soloists. It was playing of a very high class indeed.
In contrast Eikanger were perhaps slightly more acerbic and precise in their rendition under Nicholas Childs.
It was heavyweight playing no doubt, compelling, edgy and sinister whilst the third movement had a real spitefulness about it all the way to a thrilling climax. Like Stavanger, it was hard to find fault, although the sheer brutal power of Stavanger didn't quite find as much favour in the box with Andrew Berryman, Torgny Hansson and Jan Fredrik Christiansen as it did in the hall.
It was Eikanger's sense of almost uncontrolled madness in their interpretation of Odin's character that just gave them the edge - it really frightening at times.
Polarity

In a performance of musical polarity however was Jaren Hornmusikkforening under the poetic direction of Helge Haukas, who eventually came in third place on the Friday evening.
If a musical portrait of the god of war, death and destruction can be said to enjoyable fare then this was it. It was as if the MD had decided to show the more caring, lighter side of a soul tortured by evil – patting his dog and giving his mother flowers on her birthday type of thing.
A very modern twist on an old tale, it may have lacked the power and venom of the leading contenders but it was nevertheless a taut, mystical account, which did reveal its darker side towards its climax. You always get something different from Helge Haukas and on this occasion he certainly did it again.
The one performance that did stand out for us, but didn't find favour in the box came from Manger Musikklag under Robert Childs.
This was visceral stuff with the blood, guts and gore on x rated display from the word go. It wasn't offensive however (although Andrew Berryman later told 4BR that somehow it came across overblown and harsh to the three men in the box) and the Bob Childs hallmarks of detail and effect made this a performance full of drama.
Sometimes you don't get the breaks though and they could possibly count themselves more than a little unlucky that it didn't come higher than 6th.
Contrast

In contrast Krohnengen directed by Ray Farr delivered a performance that fully deserved its 4th place.
This was an edgy, slightly callous musical portrait, darkly hued in timbre with a sharply enhanced sense of menace to it. This was a very deliberate reading from the MD, and very well thought out. It just got a little one dimensional in the final movement when the band obviously tired, but the quality of execution and that all important sense of hard edged realisation of the score from the MD made it very persuasive indeed.
These were the five performances that did stick out for the vast majority of people in the hall - and although there were varying opinions, most people we spoke to had a top three of Stavanger, Eikanger and Manger in a variety of orders with Krohnengen the nearest to them and Jaren as a bit of a surprise package. The rest had their fans, but no one really thought they had done enough to push themselves into the frame.
It would have been wrong to write off the chances of the other bands although there were a number of performances that did make you sit up and take note.
Molde Brass was the one that the judges did enjoy. Nigel Boddice produced a well defined account from the band, neat, precise and well paced, and although it didn't quite pack the punch of a true heavyweight there was an authentic cruiserweight brawler in the ring.
A poorish final section when there was one real nasty moment may just have cost them a point or two, but overall it was a performance to admire.
Warts and all

Sandefjord on the other hand produced a warts and all performance – a bit like the famous portrait of that other nasty piece of work, Oliver Cromwell, by Sir Peter Leley.
The menace was there right from the start – coldly so, but just when you thought it was going to be a hard as nails, no quarter given, those little flaws, imperfections and little errors just took the essential fear factor away. In the end it sounded a bit like a portrait of Odin's younger, slightly less menacing brother.
Oslofjord meanwhile took a little too much time in setting out their stall. Too many little imperfections once more robbed the portrait of its sense of intensity but it had the right intentions even if they were telegraphed a bit in execution.
It was all a little too deliberate at times – it was malice aforethought rather then heat of the moment stuff, but it grew in stature and complexity to a thrilling end.
Kick off

Tertnes and Ila had kicked the contest off earlier in the afternoon with two decent readings that gave the judges and the audience a change to appreciate the complexities of the Butterworth score as well as readily identifying where its acute problems lay.
Ila produced a performance of character and purposeful intent, a little wayward in execution at times, but still full of detail and with a lovely sense of foreboding in the mystic second movement.
Tertnes meanwhile delivered an opening marker for the rest of the bands to beat, which although enjoyable and making the most of resources by Bjorn Breistein just lacked for a darker more sinister feel and a heavy weight of delivery.
The contest was over sooner than many people expected (and also for a couple of the bands chances too) but it meant that there was still a great deal to play for the following day when all 10 came out with guns blazing in the own choice section finale. Odin himself would have been proud of the sense of intent and the heat of battle to come.
Iwan Fox