2008 Norwegian National Championships - Retrospective: Elite Division Own Choice
13-Feb-2008
It was all guns blazing on the Staurday, but it was Eikanger who blasted their rivals away in quite brilliant style to take the 2008 title.
---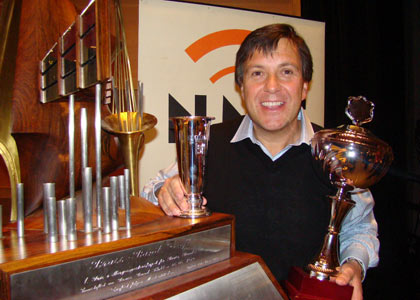 Winning smile: Dr Nicholas Childs has his hands full of Norwegian silverware


There are times when an own choice contest can resemble a particularly gruesome episode of the television programme 'Animal Hospital' with Rolf Harris.
We expect the Norwegians have had their own version of the show over the years, but to put everyone in the picture so to speak, it goes like this:
Rolf pokes his nose in as a beloved family pet has to be put to sleep to stop it living out the rest of its days in pain and causing great anxiety and stress to its owners.
In brass band terms he would pipe in and say; "Poor little 'Pageantry' (you can substitute any own choice test piece here). He been a great companion over the years, but due to being poorly treated by his owners, we've had to put the little fella down."
Musical euthenasia

It's a form of musical euthanasia that is becoming more and more acceptable nowadays – especially when you get bands and their conductors selecting test pieces that they have no hope of playing but still pick because they believe they can give it a good home.
The result, which we have now seen for many years in the UK, is a lopsided contest full of repeat performances of pieces that in the wrong hands should get an immediate visit from the adjudicators equivalent of the RSPCA. Great works deserve better treatment from owners who mistakenly think they have the skill and talent to look after them in the manner they merit.
Thankfully here in the Elite Section, that type of assisted suicide has been outlawed by an enlightened approach to the picking of the own choice family pet that bands have to parade on the Saturday afternoon.
No piece can be duplicated, so the 10 bands must be very careful with their list of preferences. If they don't get their first choice then their second must be equally as good – picking pieces that they believe may suit them just because somebody else may pick them instead is a sure fire recipe for disaster.
Highest quality

The result here was a contest to sit back and revel in as each band really did produce a performance of the highest quality – none more so than the eventual winners, Eikanger Bjorsvik.
Their 'Riffs & Interludes' was playing of rare brilliance – in fact, it is hard to say when we have heard this band play better (and they have produced quite a few belters here) over the years. After they had finished playing, it was fairly obvious that it was nigh on unbeatable and coupled with their two point margin from the Friday, so it proved. It was a street ahead of their rivals.
Such was the clarity and precision from all concerned, the degree of control and clarity of thought from the MD, and the collective musical ability to deliver such a complex work in such a transparent way, that it must rank as one of the finest performances of the past five or more years anywhere in the banding world. To say it was stunning was an understatement.
You could sense it was very special by the way the players and Nicholas Childs reacted at the conclusion – an almost reverential acceptance of their own achievement – then the applause and standing ovation for an audience who also knew they had heard something quite special too. This was Eikanger at their very, very best.
Stavanger on the other hand was not.
Their 'Concerto Grosso' never quite came off, right from the opening fanfares that lacked a touch of bite and the early solo lines that had hints of discomfort contained within them.
Thereafter there were extended periods of sustained breathtaking ensemble playing, but the death knell on their hat trick chances came in the blues section, which although beautifully styled contained some horrid moments in exposed lines. A final romp through to the end wasn't enough – and they knew it.
For it to come 2nd on the day was more than a touch fortunate and was just enough to secure second place overall. They can't have any cause for complaint though by being beaten by Eikanger in such emphatic fashion on the weekend – over the two days they were the better band.
Well deserved

In a well deserved third place overall (but 4th on the day) came Krohnengen who once again benefited from a classy reading of the score, this time of John Pickard's 'Eden', by Ray Farr.
This was so well laid out that even the more obvious technical shortcomings couldn't distract from the musical intent, with a beautifully realised ending the highlight of a performance of real merit.
There may have been an eyebrow or two raised at the results ceremony when Jaren were declared in fourth place, but they did just enough on the day to hold off the challenges of the bands behind them, despite a performance of 'Elgar Variations' that did them few favours.
Lacking in Elgarian reserve and as sweet to the taste buds as a can of Norwegian coke, it was almost diametrically opposite to the intentions of the score – and what Martin Ellerby so clearly states he doesn't want to hear. Helge Haukas just about got away with it on this occasion, but for a conductor who does inhabit the interpretation high wire it shouldn't come as a surprise that every now and again he suffers an almost fateful slip.
Ambition

If Selmer Simonsen could just have allowed himself to explore his darker musical side on the Friday perhaps it would have been Oslofjord taking fourth instead of fifth place overall. On the Saturday they produced another well maintained account – this time of 'Music of the Spheres' that found favour in the box, but could have really exploded into life if they had just been able to shed their safety first approach. It was fine playing all right, but just needed a touch more ambition.
Here is a conductor with such talent that you sometimes feel he is still a little unsure of being 100% himself rather than still maintaining a 5% influence of his obvious mentor David King. In the next few years though he could well become the leading conducting light in his country.
For the second time in two days the one performance that didn't resonate in the box came from Manger – this time on 'Vienna Nights'.
Another detailed and secure account showcased the diametric opposites of Wilby and Mozart to great effect, and whilst there were blips and blobs here and there the overall quality was at times thrilling.
Why it didn't score more highly was a touch mysterious once more – the adjudicators again telling 4BR that it sounded harsh, but the excellence of some of the solo playing and lead lines was as good as anything we heard at the contest. Sometimes luck doesn't go your way, and Manger had practically none on the weekend.
Impression

The one band that did make a real impression in the box was Ila who came 5th after a tremendously enjoyable performance of the fantastic 'Titan's Progress', which featured some outstanding soprano cornet playing in particular and excellent work from MD, Thomas Rimul.
This is some piece, and even though Ila obviously tired before its end it was some effort too. For it to really work though any band has to try and gain insight into the mysteries of Austrian wit and Mahler triplets – both of which were not quite as they should have been on this occasion.
Not enough

The bottom three bands delivered fine performances, but never quite suggested they would do enough to push towards the top six in this element of the contest, although Sandefjord may be disappointed to eventually have come 9th overall.
Molde delivered a 'Montage' that for the second time in two days benefited from excellent direction from Nigel Boddice. Sensible tempi, solid solo lines and compact ensemble made for a controlled performance from start to finish. It may have perhaps lacked the whiz-bang effects of others but as a contrasting reading it had so much to commend and suited the band to a tee.
Tertnes meanwhile could have been more ambitious in their choice (although it may have been a second or even third choice given the rules). 'Tallis Variations' was well enough played, but in this company it was never going to make more of a mark than it eventually did, although for the second time on the weekend we were left with a very satisfying impression of their MD, Bjorn Breistein.
Finally Sandefjord, with a fine account of a truly brilliant work - 'Extreme Makeover'. Garry Cutt produced a persuasive reading of the score and for the most part his players responded in kind (although the percussion team went OTT too often and destroyed the balance as well as the odd eardrum). It just lost a touch of focus as a result and the final section just tailed off, but it was one heck of a brave account nonetheless.
That was that then, and with the Gala Concert to look forward to all the talk was about who had won. 98% of the people we spoke to had Eikanger, and so it proved.
Over the two days they once again had shown that when they are at the very top of their form there are few bands in the world, let along their own backyard that can touch them. They were the deserved winners, and whilst the band took the honours (including the solid silver King's Cup), and the invitation to represent Norway at the 2009 Europeans in Ostend, Dr Nicholas Childs enjoyed the plaudits for a job very well done. Now he has to try and make sure Black Dyke get there too.
Iwan Fox.