2008 Norwegian National Championships - Retrospective: First Division
13-Feb-2008
A First Division contest that did exactly what it set out to do - and benefitted from some great performances as a result. British banding, are you listening?
---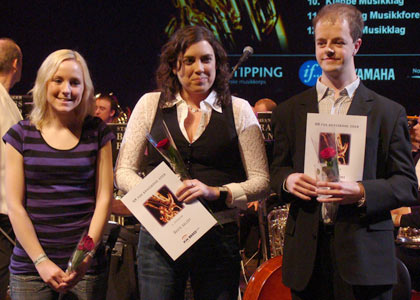 The final three: The top three bands representatives await the final outcome

If bands in the UK think that being categorised as being First Section somehow belittles them competitively then their conductors and band managers should make a trip out to Bergen to listen to this contest.
Here were bands that realistically know that if they are ever to compete at the highest level then they need to be both well prepared as well as talented enough to do just that. Taking part for the sake of it so that they can be called 'Championship' or 'Elite' doesn't cut any ice here with players, conductors or even the most ardent band supporters. There is a hard nosed realism about just how good they really are.
Very good indeed

And they are very good indeed. The top six bands here would not be out of place in the Grand Shield and on this evidence, the top two would not be out of place competing for a place at the British Open.
It was a fleeting experience that made such a mark on Robert Morgan of the BFBB who we met on his way out of the hall after listening to a number of bands on the Saturday morning. He was genuinely impressed by what he had just heard – not just the choices of the works, but the way in which they had been performed.
It was great to see Robert taking time out of a very busy schedule to listen (he was knee deep in EBBA meetings all weekend) and we think he left with a very positive impression of Norwegian banding. Let's hope something positive comes of it in the British context too.
The two performances that really did stand out came from the eventual winners, Oslo Brass Band conducted by Frode Amundsen, and Sorum Musikklag directed by Christian Tenfjord, whilst the judges also took the opportunity of highlighting the creditable showing from Tomra Brass led by Frans Violet.
For adjudicators Kim Lofthouse and Jan Roger Oren those top two performances were full of high class ensemble and solo playing as well as benefiting from excellent direction and attention to the basics of good brass playing.
Very high standard

Kim Lofthouse told 4BR that the overall standard from the bands was very high indeed, although he did feel that two or three towards the bottom of the prize list perhaps found things a bit more difficult. The top two were very close indeed for him, although fellow adjudicator Jan Roger Oren had them slightly further apart.
The winning performance from Oslo of '…Dove Descending' he felt displayed clarity and detail, and was in his words, 'quite exceptional'. He also pinpointed the high standard of each of the individual contributions too – no surprise then that it stood out so clearly for them as they sat, watched and listened to a fine rendition unfold before them.
There was also high praise for second placed Sorum Musikklag, who Kim also felt managed to make much more than just a good fist of 'Journey to the Centre of the Earth'. Again, it was the adherence to good basics of brass playing allied to clarity of execution that brought them reward.
Third placed Tomra was many people's favourites to return back to the Elite Division this year at the first time of asking, but it wasn't to be. Their performance of 'Music of the Spheres' had a great deal of confidence and much to commend, yet Kim felt that although very creditable it perhaps lacked the overall level of detail and control so clearly defined in the bands that finished above them.
Outside podium places

The bands that eventually ended up outside the podium places had much to commend too, with the performances from Sola, directed by the flamboyant John Philip Hannevik on 'Tallis Variations', Oster conducted with a bit more circumspection by Torstein Aagaard-Nilsen on 'Dances & Arias', and Radoy, led with accomplished composure by Tormod Flaten on 'Diversions on a Bass Theme', all delivering performances of merit.
Again though you had to agree with the two judges that although played with brio, verve and style, each lacked that sheen of extra quality that so stood out in the bands above them. These were three bands that played well above themselves but still were short of reaching that 'Elite' mark – next year may be a different matter though.
Outside top six

Finally, the bands outside the top six did fall into a somewhat predictable order and there was little to choose between the likes of Jolster and Tertnes. Both opted for pieces from the yellowing pages of the banding repertoire in 'Salute to Youth' and 'Pageantry', which Arvid Athum really did bring to life with a vibrant reading bedevilled only by too many unforced errors.
After that it did fall away with Askoy's 'Chivalry' and Kleppe's 'Elgar Variations' not quite capturing the essential and quite deliberate intentions of the Martin Ellerby scores. So too Lakesvag with 'Festival Music', which was perhaps a touch ambitious, although very stylishly played under Tom Brevik, and Haukas Musikklag with a slightly strained 'Journey into Freedom'.

No doubting the winners though, and Oslo, who have strengthened their ranks with players from the now defunct Gothenburg Brass Band certainly showed that they are one band that can quite comfortably encompass the step up in class to the Elite Division next year. If only the same could be said of as many bands in the UK.
Iwan Fox