2008 Norwegian National Championships - Retrospective: Fourth Division
13-Feb-2008
Who said getting fat was bad for you? Not here in the Fourth Division where aan ever expanding field is a true sign of a healthy banding movement.
---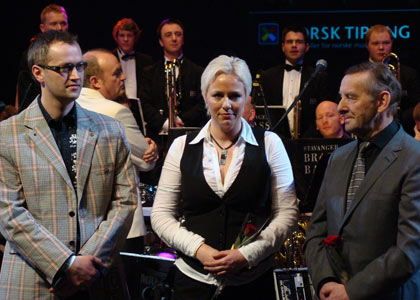 Who will it be in the Fourth Division? In the end it was the bloke with the odd jacket that celebrated the most...

The Norwegians are not an obese people – their diet of fish and high beer prices puts pay to most of that, but things are fattening up in the Fourth Division where a plump entry of 19 bands took to the stage at the Peer Gynt auditorium in the Grieghallen.
Not that there were many players who would have fitted snugly into the jackets of a few top section British bass ends either. Banding here tends to be a bit of a slim line game.
The Fourth Division now provides Norwegian banding with solid, but still lean foundation stone on which to build the future of its banding movement. There is still room for growth of course, but there is fast becoming a point where a cut off point may have to be made or another Fourth Division set up to accommodate the ever increasing appetite for banding. Potential brass band obesity never appeared so healthy.
Rapidly improving

The standard of contesting at this level is also rapidly improving too. A few years ago the spectacle rather then the musical end product was what this division was all about, but now it is certainly the other way around.
The winners this year, Torskangerpoll Musikklag were conducted by the fine musician Eirik Gjerdevik and he drew a performance form his band on their own choice selection of 'Kaleidoscope' by Philip Sparke that even just two years ago would have challenged for honours in the Third Division and possibly held its own in the Second.
The rest of the prize-winning competitors were not too far behind too with a fine performance of 'Gothic Dances' from Fjell Brass directed by Svein Henrik Giske that certainly made the first repayment of their 1 million Krone investment in them by their local community. On this form it won't be too long before they start making the second down payment too.
Third place also went to a band that once again delivered a fine performance – Manger Old Stars, the happy go lucky bunch of ex Manger (as well as other bands) players who come together here to enjoy themselves. They certainly did that on 'The Lord is King' by Ray Steadman-Allen.
Impression

These performances certainly made an impression on Bjorn Sagstad, who adjudicated the section with Paul Farr, and who thoroughly enjoyed himself listening to all 19 performances.
He told 4BR that he felt that the overall standard was very good this year and that the bands and their conductors had for the most part picked pieces they could do a very good job on. There were one or two that did struggle, but overall he was very impressed at both what he heard and what he had seen.
The aural and visual combination is one of the real delights here as it allows the judges to praise young players especially for their efforts, knowing that they do not have to second guess whether a main solo line etc has been transplanted to a much more mature and experienced player just for effectiveness.
Percussion efforts

Bjorn was particularly impressed by the efforts of a lone percussionist with one band who produced an Olympian effort to make sure just about all the percussion parts were played with his band. The best section award went to the percussion of Rosendal Musikklag, whilst the Solo Prize went to the euphonium player of Frei Hornmusikk.
Behind the top three came performances of merit from Frei, Hordvik and Randeberg to claim the final top six placings, with performances that Bjorn stated had many positives about them but just needed a touch more work on getting the basics 100% right.
After that there was a bit of a balancing act in the adjudication process with joint placings or the bands that came 7th, 9th, 11th, 13th, 15th and 17th.
Sensible

This was a very sensible approach from the two judges – why try and place the bands in a straight order when the differences between them in terms of performance were just about negligible?
It meant that performances were therefore rewarded rather than overtly penalised, with Floro and Nes certainly the best of the rest in coming joint 7th, Skeie and Stavanger Kommunes coming home on joint 9th and Fla and Rosendal claiming joint 11th.
Below them came Brummond and Hetlevik in joint 13th, Fagernes and Flora-Bremanger in joint 15th and finally Hof, Kaland/Lysefjorden and Rudsbygd in joint 17th.
All the bands though deserved a great deal of credit for the way in which they went about their task on the weekend. The standards did vary of course, but the sense of ambition and hunger to improve was once more palpable.
That hunger for self improvement may well lead to an even better feast of playing here next year. Who said getting fat was bad for you?
Iwan Fox.