4BR Interview - Arthur Butterworth
6-Feb-2008
'Odin Revisited' - Arthur Butterworth in conversation with 4BR's Christopher Thomas.
---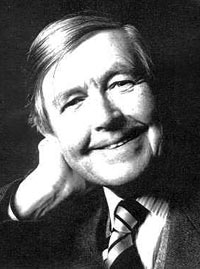 Cast your mind back nineteen years to 1989…..the year Mikhail Gorbachev was named Soviet President, Iran's Ayatollah Khomeini served Salmon Rushdie with a death sentence for The Satanic Verses, the Berlin Wall was finally opened to the west and Bobby McFerrin's Don't Worry, Be Happy was named Record of the Year at the Grammy's.

Oh….and a band from the Midlands sealed a hat-trick of victories at the National Brass Band Championships of Great Britain.
Yes, with Kennedy's Swinton Concert and Garry Cutt having walked off with the British Open title one month previously, 1989 was the year that James Watson and the Desford Colliery Band enjoyed their finest hour, the test piece; Odin: From the Land of Fire and Ice, by Arthur Butterworth.
Rumours abounded from band rooms around the land that the piece was unplayable (how many times have we heard that one before?!) although Black Dyke had already proved that particular point wrong having commissioned the work and performed it (seemingly unscathed by the experience) a few years previously.
The fact remains though that despite Odin being a work that fired the imaginations of players and conductors alike at the time, it has been scandalously neglected ever since.

It also happens to be arguably the finest amongst Arthur Butterworth's many compelling contributions to the brass band repertoire.
All the more pleasing then (not to mention apt given the inspiration behind the work) that Odin is to be utilized as the set test piece for the 2008 Norwegian National Championships in Bergen.
4BR's Chris Thomas spoke to Arthur Butterworth about his recollections of that day in 1989 and his thoughts on the work twenty two years after its first performance.
---
Chris Thomas: Could you tell us how it was that Odin came to be written?
Arthur Butterworth: The work came to be written as the outcome of a conversation with Peter Parkes, at that time musical director of Black Dyke Mills Band; he asked for a new work for the Band. The Band gave the first performance in August 1986 at the International Trumpet Guild meeting in London.

Chris Thomas: Odin was used as the test piece for the 1989 National Brass Band Championships. Have you any particular recollections of the performances on the day?
Arthur Butterworth: Virtually all of the performances on the day were technically absolutely assured; I do not recall a single one that was not in the best sense of the word "capable", so in this sense it was indeed somewhat difficult to choose between them. However, musical competition is not, or should not be, about mere technical accuracy but about that indefinable quality which transcends later verbal description, which we generally and somewhat lamely describe as "interpretation".

On that day there were three performances which, for no literally describable reason, seemed to transcend all the rest and in the final - personal - assessment it was frankly quite difficult to say which was "best". But this is what is required of an adjudicator: to say which in his (or her) opinion was the most compelling performance.

Chris Thomas: Looking back did you relish the opportunity to be one of the adjudicators on that occasion?
Arthur Butterworth: With regard to the previous answer the opportunity to be one of the adjudicators was an ambivalent one: honoured to be asked, yet over-awed and frustrated by this Solomon-like task. On balance the answer must be "No".

Chris Thomas: At the time the music was thought to be technically challenging in the extreme. Do you still see it as the challenge that many proclaimed it to be back in 1989?
Arthur Butterworth: In one sense "Odin" is still an extreme technical challenge to any brass band, amateur or indeed professional.

Yet there is no denying that its purely technical demands have since been exceeded by later composers insomuch as extra instruments are often demanded, more especially percussion; new and unusual concert platform layouts are required; more dramatic - theatrical – effects, sometimes even of a visual element are called for; oft-times overwhelming assaults on the listeners' ear and sensation, perhaps of a kind more associated with the aural equivalent of television spectacular effects.
Yet in a purely "musical" i.e. symphonic sense, I still believe "Odin" presents a challenge to intellectual (rather than purely "showmen") conductors and indeed players. In this sense it is worth stressing just how difficult it still is and always has been, to perform Mozart compared with - say - Berlioz..

Almost any conductor who is brash enough can make a great effect with Berlioz, Wagner, Richard Strauss, Mahler or Shostakovich but only the greatest artists of profound musical insight can truly make a compelling account of Mozart, simple on the face of it though the notes might be.

Chris Thomas: The fact that Odin is now to be performed as the test piece for the Norwegian National Championships in Bergen seems very appropriate given the Nordic inspiration behind the music?
Arthur Butterworth: It has always been my hope that "Odin" should be performed in the region of Northern Europe which truly inspired it; for to that region it is addressed and hopefully might achieve its true appreciation.

Chris Thomas: Could you tell us a little of the experiences that inspired you to write Odin?
Arthur Butterworth: Although it had been at the instigation of Black Dyke that the work was written there had been at the back of my mind for a couple of years previously, the notion that somehow I should like to be able to express what I had felt on a visit to Iceland. I had spent a little time there and had expressed these feelings in a series of oil paintings which I made in the mid-1980s.

But music is my prime mode of expression rather than painting. The experiences of travelling in Iceland, combined with a very long contemplation of the whole of Nordic culture, not just Iceland, but the sagas and ethos of the whole of the northlands (after all this had been expressed in the First Symphony, first heard at the Cheltenham Festival of 1957 played by the Halle Orchestra).

Chris Thomas: You have described Odin as a "Symphony for Brass Band". Given that much of your music is symphonically conceived do you feel that this should have any bearing on the way in which a conductor should approach the work?
Arthur Butterworth: Yes, that this is indeed a symphony and not a "show piece" should persuade conductors how to approach it. A show-piece, and there have been many such in the realms of brass band music in recent times, perhaps aims at some sort of spectacular presentation; but "Odin" for all its superficial flamboyance is not primarily concerned with programmatic titles other than the evocation of the atmosphere and elusive spirit of the region and how this might be evoked in sound.

Chris Thomas: You have said in the past that the last movement in particular is rhythmically influenced by the Finnish Poetry epic, the "Kalevala", the same mythological work that inspired Sibelius. How did you set about translating the rhythm of the poetry into music?
Arthur Butterworth: Rhythmically it does indeed resort to particular speech patterns familiar to those who inhabit those regions; in particular the Finnish Kalevala which formed the inspiration behind some of Sibelius's earlier expressive works.

Chris Thomas: From the composer's perspective, what would you hope to hear from the forthcoming performances in Bergen?
Arthur Butterworth: From a composer's view point the hope is that a younger generation of conductors might now see in it - and therefore unlock from it - the atmosphere which inspired it in the first place.

Chris Thomas: Finally, could you see yourself writing for brass band once more?
Arthur Butterworth: It is most unlikely that I should turn to the brass band again: perhaps I have said all that needs to be said; yet there remains some brass band music of mine still, for whatever reason, relatively unexplored and perhaps still not understood.

Some of this is not particularly technically demanding or sensational enough for present day tastes and therefore does not hold appeal for a younger generation. My interests now generally lie in more contemplative rather than sensational modes of expression; my orchestrations, whether band or orchestra, tend to be more slimmed down rather than demanding more and more instrumental and technical resources.

Chris Thomas: Thank you for talking to us.