2008 Yeovil Entertainment Contest - Retrospective
5-Feb-2008
Wales may have won at Twickenham for the first time in 20 years on the weekend, but the Yeovil Entertainment title remained firmly in the grasp of a very impressive English band.
---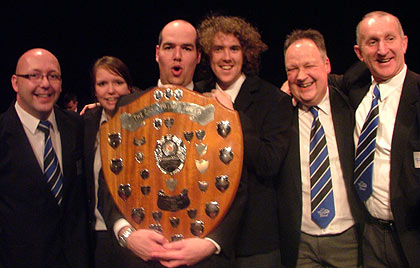 PolySteel celebrate their win
There was a sense of inevitability about the result at the 31st Yeovil Entertainment Contest on Saturday and with it, perhaps some worrying signs for the other competing bands as well.
PolySteel were comfortably the best band and after their fourth victory in six years they could set themselves up to really dominate this event over the next few years.
The West County outfit had the 'X factors' with a quality of sound, overall musicality and a varied programme that won favour in the box and with the packed audience in the Octagon auditorium. In addition they displayed admirable consistency from the opening moments of their first piece to the closing moments of their last, a feature commented upon by adjudicator David Hirst as a defining ingredient towards their victory.
On the back of the comments by Peter Parkes and David Read at Butlins about bands needing to show more innovation in their programmes, it was disappointing to report that there wasn't too much of it to be seen or heard on the day.
Bands opted for pretty safe musical programmes that in the most part set out to demonstrate their strengths and camouflage their weaknesses. Some got it right, some didn't. The age old problem of bands finding that combination of being able to deliver the goods to the man in the box whilst still entertaining an audience, is one that some bands continue to struggle with.
Far too many looked like the England rugby team against Wales on Saturday - bereft of ideas as to how they could win when plan A wasn't quite going to order, whilst some of the pieces also sounded like they'd been included in some programmes for no real purpose - a point noted by David Hirst.
However the adjudicator did praise the bands for their efforts, citing a number of excellent performances but also highlighting the intonation issues that affected a fair number of bands particularly in more exposed passages. At this level something of a cardinal sin and guaranteed points dropper.
The bands that featured in the prizes were all able to produce decent programmes built on musical momentum, especially the top three prize winners from the West Country. The closest band to PolySteel was a rather inspired Camborne whilst Mount Charles had a much more polished feel to them after their Butlins disappointment two weeks ago. There wasn't much in reality to separate the bands placed three-to-six but after that, the standard started to drop.
Terrific

Philip Harper and PolySteel were simply terrific. MD Philip Harper directed with his usual amount of energy and precision but it was the quality of the playing and clever programming that stood out and brought them the first prize of £2000.
They opened up with a neat arrangement of 'Blue Sleeve Step' that started off with the bass on stage on his own prior to the band finally taking their seats bar principal cornet Chris Howley playing off stage. Right from the off PolySteel had the audience and probably David Hirst intrigued as to what was coming next.
What did come next was a little gem. Philip Harper had come across the words and the tune used in the Communion Service in a Catholic School and came up with a delicate and thought provoking 'In Love for Me', featuring some stunning ensemble work and the delightful sound of Vicki Reynolds on horn.
Next up was the flugel voice of Danny Winder with the old George Michael hit, 'Faith' before the band officially (or that's what the audience was told) wrapped things up courtesy of a precise interpretation of Keith Wilkinson's arrangement of 'Capriccio Espagnol'.
PolySteel are well known for giving their audiences that something a little bit extra - sometimes it works, sometimes it doesn't - and this one certainly came off. The MD, walked off stage as the band went straight into the Wham classic, 'Wake Me Up Before You Go Go' complete with choreography – all carried off with just the right hammed up style. It was very classy.
Corker

There's not much you can't teach Frank Renton about building the right kind of entertainment programme and with Camborne he pulled off a corker that fully deserved second place. On this form confidence will be high for Torquay and the assault on London in four weeks time.
Set up with cornets and trombones in a more expansive format, the band hit the ground running with Michael J Garassi's arrangement of 'Funiculi Funicula' that was full of energy followed by the delicacy of a sextet of three flugels and three trombones in 'You are the Sunshine of My Life'.
A blistering romp through the march, 'Rolling Thunder' (a well placed pinch from the repertoire of Brass Band of Central Florida) led to the band's euphonium, Robert Jose giving an excellent performance of Paul Lovatt-Cooper's 'Donegal Bay'. A step back in time with 'Anyone Can Whistle' (revived by Desford amongst others at recent entertainment contests) and Camborne cemented second place with the 'Finale from Checkmate'.
Polish

Andrew Duncan's Mount Charles gave a reprise of their full Butlins entertainment programme, and it has to be said that it had that extra layer of polish upon it this time around.
The upbeat opening 'Be a Clown' was followed by John Small almost ripping a coat of varnish off the ceiling with his performance of 'Tanga' on trumpet, which deservedly gave him the Soloist Award. The momentum that had been built up in the first couple of pieces was maintained throughout and whilst it wasn't effective in Skegness, it certainly did the job on this occasion and third place was well deserved.
SWT Woodfalls had also been at Butlins two weekends previously and they also settled for a programme that was almost a total reprise of their efforts there. Top and tailing it with music from the pen of Paul Lovatt-Cooper in 'Walking with Heroes' and 'Vitae Aeternum' they packed in the middle section with Alan Fernie's arrangement of 'Zambesi' that sounded balanced and flashy. After the disappointment of Skegness this result will give them a huge boost confidence ahead of Torquay.
You've got to hand it to Friary Guildford and their dapper looking MD, Chris King for their very solid show on the day.
Having finished 4th at Pontins in November, there's now a sense of real confidence about the band. This was all about good solid music from the opening, 'Liberty Fanfare' through to some neat comedy moments in 'Lizsteria' which gave the percussion team the best section of the day, through to the MD's own tasteful take on the hymn 'Immortal, Invisible, God only Wise' and the well controlled 'Diversions on a Welsh Theme' to end.
It was impressive playing and should make a few people take note ahead of their regional assault in Stevenage in a few weeks time.
Disappointed

Tredegar will have made the journey home a tad disappointed to have finished sixth having put in a solid show from the early number 2 draw.
Soprano player Steve Barnsley, took the prize for the best soprano of the day aided by a cracking interpretation of 'The Lark in the Clear Air', whilst a vibrant, 'Dance Fever' prior the percussion feature of 'Dueling Xylos' and a solid account of 'The Fugue' from Sparke's 'Graduation Day' caught many peoples ears. It wasn't to be their day though (unlike Wales at Twickenham), but they can take heart from a performance of note.
Outside top six

Parc and Dare didn't have any snow problems to stop them attending this year and under Richard Evans they utilised a couple of pieces that the great man had directed with Brighouse at last year's Brass in Concert. In addition to 'Vitae Aeternum', Carl Saunders was in great form in 'I'd Rather have Jesus' in a programme that utilised the bands obvious strengths whilst cleverly making sure the weaknesses were not over exposed.
The final Welsh band of the contest was a rather below par BTM. The real moment of quality came from a new commission by the band's Composer-in-Residence, Tom Davoren, entitled 'Diversions on Calon Lan' for the band's Principal Trombone, Jonathan Pippen. It was a fine composition classily played by the soloist in his typically polished fashion. However, despite choosing music intent on sparkling, Graham O'Connor's band never caught fire on the day and they had to settle for eighth place.
Twelve months ago, Chris Davies OBE led Bournemouth Concert into second place, but this year they never had the same presence despite the rather curious decision to move their formation to the very front of the stage.
The opening 'Malaguena' showed potential but they never had any real consistency after that in their rather varied performance and Robin Dewhurst's 'Flight of the Wild Geese' sounded tired on the ear.
Consistency

Jaguar Coventry had the misfortune to draw number one and in fairness, they put together a well balanced programme in the circumstances. They just didn't maintain the desired consistency needed at 9.30am on a Saturday morning to stay fresh in the memory banks some seven hours later, although there was some quite beautiful playing in Evelyn Glennie's 'Little Prayer'.
Meanwhile Sovereign Brass's programme was littered with Stephen Roberts' arrangements and although they did produce a super full blooded sound their programme was also littered with far too many individual and ensemble errors too and they could have little compliant at their eventual outcome.
'Allerseelen' was a throw back to the MDs days at Jones and Crossland whilst the march, 'Blaze Away' was one of the few to be heard on the day. They finished with a touch of ragtime in 'Alexander's Ragtime Band', which was well handled but Saturday wasn't the bands finest hour and they had to take eleventh on the chin.
Zone One Brass emerged with credit (and for making a long drive weekend of it by heading to Preston the next day) and they certainly tried something different with a piece of contemporary music to open. That set the tone for a rather brittle performance that only seemed to relax in 'Valero' and just ran out of steam with the old pot boiler in the march from 'Pines of Rome'.
Finally, Melvin White's second band, Aldbourne put together a performance that like others never really had that consistency from the first note to the last to force itself into the prize giving reckoning, although there were moments of real quality especially in the march, 'Emblem of Unity.' No complaints though about their final placing we don't think.
No doubt

There was no doubting the result either. PolySteel showed their class and confidence and took away the honours – here is a band to look out for in 2008 if they can bring that sense of style and execution to the test piece format.
The audience once again enjoyed over seven hours of banding and you've got to give it to the good folk of Yeovil Town Band. The contest is slick and efficient and so well run – despite the odd grumble from some quarters and the voice of South West banding, Philip Hunt does a great job all day introducing the music. Getting thirteen bands on and off a stage is no mean feat, but they do it with no fuss at all and everyone will be back for more.
With the organisers also consulting the bands on their wishes for the contest any little gripes should be ironed out in time for yet another long but enjoyable day this time next year.
Malcolm Wood