Scouting Report - February 2008
31-Jan-2008
4BR has been out and about assessing the brightest and the best young brass players around to find out who are likely to be the superstar players of the future.

We've been to Wales and Yorkshire - now it's three of the best in the North West.
---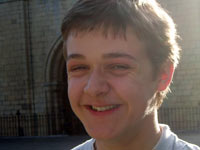 Matthew White
Age: 17
Occupation: Student at Chetham's School of Music
Instrument: Euphonium
Current Band: Leyland; NYBBGB
Previous Band: Michelmarsh Silver; Wingates
Matthew is currently studying Music, Music Technology and Maths at Chetham's School of Music in Manchester, where he is taught the art of euphonium playing by
David Thornton.
Matthew started playing under his father's guidance aged 7, before gaining acceptance into the hothouse atmosphere of Chetham's. His first band was Michelmarsh Silver before he moved to Wingates in 2003, initially on baritone. He soon swapped to euphonium and in April 2006, joined Leyland.
A gifted musician with oodles of talent 4BR has heard him in impressive action over the last couple of years where he has shone on the concert and contest stage with Leyland and NYBBGB, for whom he took the role of principal euphonium in 2007. He has been a finalist in the Harry Mortimer solo competition and also won a Concerto competition at Chetham's competing against string, keyboard and percussion students.
Last year Matthew reached the final of the BBC Radio 2 Young Brass Soloist of the Year competition, whilst later this month he competes in the Brass Final of the BBC Young Musician of the Year. Reaching the final against strong opposition reinforces the talent he already has in abundance – and the potential yet to be achieved.
Under the expert eye of his tutors Matthew is certainly a talent to listen out for (he also plays trombone and piano). There is still work to do with his all round playing – his light sound has yet to fully mature and he has to ally his burgeoning technique to his undoubted musicality, but the end result could be a very special player indeed.
Sound: 7/10
Technique: 8/10
Stamina: 8/10
Musicality: 8/10
Potential: 9/10
---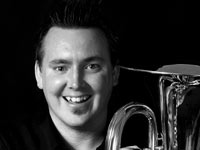 Name: Gary Curtin
Age: 26
Occupation: Peripatetic Brass Teacher
Instrument: Euphonium
Current Band: Wingates
Previous Bands: Mayfield Band; BHK Horden
Gary Curtin heralds from Cork in Southern Ireland and began playing the baritone at the age of 12 before developing his talent through the ranks of the Mayfield Band.

Whilst studying for his Masters Degree specialising in performance, Gary gained invaluable euphonium tuition from Robert Childs and David Thornton. A move to Manchester saw him study for a year at the RNCM where he gained a Pgdip in Performance and enhanced his playing through further tuition with Steven Mead.

Gary played with BHK Horden at the 2005 National Finals before joining Wingates in January 2006.
Since that time, he has continued top catch the ear with his performances on the concert and contest stage, and at last year's Senior Cup he won the soloist prize in helping Wingates take the title.
His love of music doesn't just restrict to him to playing the euphonium. He has played with the Irish RTE National Symphony Orchestra and has performed on Wagner's 'Ring Cycle' on bass trumpet with the National Youth Orchestra of Ireland. Gary has also appeared as guest soloist with many other international ensembles and has a burgeoning passion for four-part harmony.
Under the watchful eye of Andrew Berryman, Gary is certainly one to keep an eye on. He may be slightly older than many in our scouting reports, but development comes to different players at different times.
Much of the hard work has been done, although there is still a great deal of unfilled potential to be tapped in the years to come too, especially in terms of musicality and technique. A very fine player in the making.
Sound: 8/10
Technique: 8/10
Stamina: 8/10
Musicality: 8/10
Potential: 8/10
---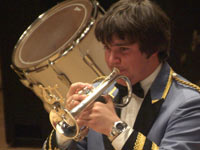 Name: Mark Harrison
Age: 18
Occupation: Student
Instrument: Soprano Cornet
Current Bands: Fairey; NYBBGB
Previous Bands: Astley Youth; Eccles Borough; Besses Boys; Ashton-under-Lyne

Mark heralds from a musical brass banding family. Oddly, he started playing on euphonium aged six, before taking decreasing steps via baritone, tenor horn and cornet before settling on soprano cornet.
At 13, he joined Eccles Borough and was taken under the wing of the experienced Kevin Donaldson, before joining Besses Boys in 2005 where he started to enter numerous solo competitions as well as becoming a member of the National Youth Brass Band of Great Britain.
His development as a player continued at Ashton-under-Lyne where he benefited from playing under the eye of Philip Chalk, before towards the end of 2007, Philip invited Mark to take the soprano seat at Fairey. In October 2007 he was accepted into the RNCM with a scholarship to study trumpet.
It has been in the short space of time at Fairey's that his potential as top class soprano player has started to be reached. With experienced fellow players to seek and help nurture his talent his playing has come on in leaps and bounds and he produced a particular ear catching performance at the 2007 Brass in Concert Contest. .
The long term prospects for the talented young man are clear. He is a member of the Halle Youth Choir and has also developed his compositional skills too, so there are plenty of strings to his bow so to speak.
Crucially he has the natural ability to produce a true soprano cornet sound, although it will take time and further hard work to develop his technique, sound and stamina in the years to come. If he can do that then the world's his oyster.
Sound: 8/10
Technique: 8/10
Stamina: 7/10
Musicality: 7/10
Potential: 8/10


---
Previous Scouting Reports:

Wales: www.4barsrest.com/articles/2007/art729.asp
Yorkshire: www.4barsrest.com/articles/2008/art779.asp