Band under the spotlight - Unison Kinneil
31-Jan-2008
In the second of a new feature, 4BR puts a band under the spotlight to find out more about them and whether or not we think they can be successful in 2008. This times its Unison Kinneil celebrating its 150th birthday this year.
---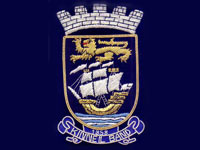 Band: Unison Kinneil
Website: www.kinneilband.co.uk

Region: Scotland

Major Honours:
Champion Band of Great Britain (Second Section): 1959
Scottish Champion: 1962; 1966; 1967
Scottish First Section Champion: 1999
Scottish Second Section Champion: 1959
Scottish Third Section Champion: 1957
Scottish Fourth Section Champion: 1955
---
Band History: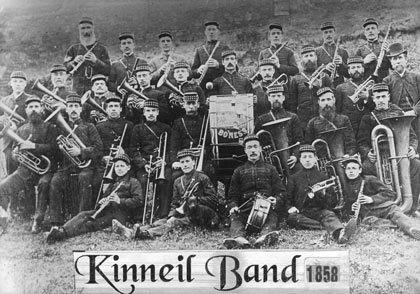 Kinneil Band 1858

The miners of Kinneil Pit and the workers of Wilson's Kinneil Iron Works, in Bo'ness, West Lothian, founded Unison Kinneil Band in 1858.
The band started life as a military style band but in 1953 changed to brass, adopting the name Kinneil Colliery Silver Band.
Within 4 years of entering the Fourth Section they reached the Championship Section and since that time they have been Champion Band of Scotland on three occasions (runner –up six times) and has tasted victory at nearly every Scottish contest.

After years of mineworkers support Kinneil Colliery closed in 1983. Shortly after, trades union support from NUPE and subsequently UNISON allowed the band to continue and it changed its name to Unison Kinneil Band - a relationship that continues, by way of sponsorship, to the present day.
In 1959, with Philip McCann (aged 11) in the cornet team, they won the Second Section National Championships, whilst in 1965 they came 4th at the National Finals. Adjudicator's comments and Daily Herald Newspaper reports told of a near disastrous ending to 'Triumphant Rhapsody' that may have cost them the title that day!
More recently Kinneil was runner–up at the First Section National Finals in 1999 and a few months later, on their return to the Championship Section, were pipped to the Scottish Championship title, although they went on to play at the Royal Albert Hall.
The band continues to be successful – notching up a hat trick of wins at the Whitburn Invitation Contest as well as taking the first ever Land of Burns Contest title - achieved again a few years later.
Conductors of the band have included John Kirkwood and John Childs in the 60's and 70's, Roger Payne, Alan Fernie, Raymond Tenant in the 80's and early 90's followed in recent years by Archie Hutchison, Eric Dunlea, Alan Ramsey and Andrew Duncan.

In addition to contesting, they have featured in many radio and also TV broadcasts and further afield there have been two tours to Germany and a reciprocal trip to Norway as guests of Sandefjord Band in 2006.
---
Statistics:
Current 4BR Ranking: 51
2007 Contesting Record:
Scottish Championship: 6th
Senior Cup: 10th
Land of Burns: 2nd
West Lothian Challenge: 3rd
Scottish Open: 11th
2007 Prize Money won: £1350
---
4BR Seven Year Ranking Progress: (World of Brass/4BR ranking at the end of each contesting year)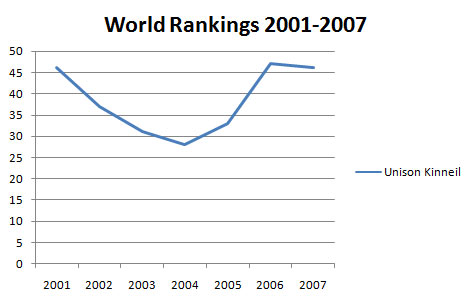 Unison Kinneil has experienced a few ups and downs since the 'World of Brass/4BR Rankings' came into existence – ending 2007 with the same ranking as it did when 4BR started publishing them in 2001.

At the end of 2001 they were ranked 46th, but with a series of good results over the next two years they climbed to 37th at the end of 2002 and then to 31st in 2003 and to a high of 28th at the end of 2004.
They have dropped back since, to 33rd at the end of 2005, 47th in 2006 but up to 46th at the end of last year. They are currently ranked 51st.
---
Personnel: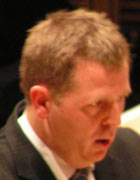 Musical Director: Colin McKenzie
Colin McKenzie was born in Glasgow and studied Music, at the University of Glasgow and the Royal Scottish Academy of Music and Drama.
Since then Colin has led a varied career that has afforded him the opportunity to work throughout UK, Scandinavia, Central Europe and USA.
As a conductor he has worked alongside James Loughran as assistant at the Aarhus Symphony Orchestra and the Royal Scottish National Orchestra. In the brass band world Colin first came to prominence whilst conducting the Bathgate band, winning the Scottish Championships, National Championships and Pontin's contests in one year.
He has had successful periods of association with many bands both at home and abroad. He has conducted the Stavanger and Sola Brass Bands in Norway as well as regular concert work with the Scottish Co-op Band. Colin has also worked as an adjudicator at many festivals around the country.
Current Players:

Principal Cornet: Keith Johnston
Solo Cornets: Suzanne Smillie, Craig Ball, Jim Buchanan, Richard Duff
Soprano: Owen Downs
Repiano: Susannah Downs
2nd Cornets: Lauren Robb, Dianne Doherty
3rd Cornets: Scott Gardiner, Willie Gardiner
Flugel Horn: Trevor Gray
Horns: Louise Tobin, Helen Corrigan, Robert Doherty, Kirsteen Lehany
Euphoniums: Ian Campbell, Andrew Meikle
Baritones: Andrea Ball, Darren Whitehead
Trombones: Colin Buchanan, Fiona Gormley, David Frame
Basses: Tom McCrone, Jamie Quin, Gary Kelly, Graeme Gilfillan
Percussion: Cameron Marr, David Lyons, Callum MacIntyre
---
2008 Aims and objectives:

Kinneil's Principal Cornet player Keith Johnston in action

Contests:
"Kinneil will be striving to put on good performances at every contest with the major objective being retention of Championship status. Two indifferent results had left the band in a perilous position but they pulled together, and this year, after strengthening personnel, we hope to do even better, especially on a test piece which, when last used for the area, saw Kinneil lift the Scottish title.
Promotion from the Senior Cup is a major goal too, and we will be looking for success at other main contests north of the border."
Non contesting front:
"A committee has been formed to handle celebrations for the 150th anniversary and many events are already in the pipeline. A CD recording will take place in April, a high profile concert with a world class soloist is pencilled in for September, an Open Solo and Ensemble Contest around Summertime and a special dinner event to round off the year are all at the planning stage.
Band merchandise is under consideration and hopefully a proposed publication of a book covering the bands entire history. Hopefully, new uniforms are in the offing with a return to the bands original colours."
---
4BR Predictions: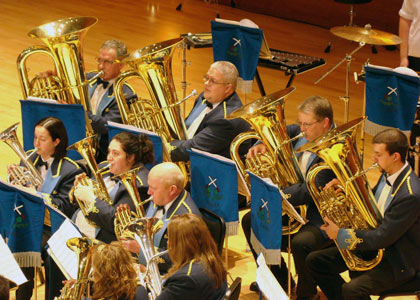 Putting in the hard work: Kinneil's lower brass do their stuff

With such a busy year ahead celebrating their 150th birthday it could be easy for Unison Kinneil to lose focus on the contesting front and just enjoy themselves.
Nothing wrong with that, but with encouraging signs that the band are returning to the type of form that once had them as high as the top 30 bands in the country they will want to make 2008 a year to remember.
The Scottish Championships may not quite see them record their fourth victory in their history, but they would be well pleased if they could push a little bit higher into the top six this year.
The Senior Cup is also a difficult ask too – there are so many bands there of the same standard. Given that the top four do get promoted then it is not beyond them, but they will have to up the ante somewhat.

Domestically they should be confident of doing well at the likes of the West Lothian and Land O' Burns Contests, although they still have a bit or work to do to make a mark at the Scottish Open – and that's tough test piece this year too.
Lets hope the band do have something to celebrate for the future as well as their fine past – making 150 is a fine achievement, so fingers crossed for success on both the contest and non contesting fronts.