2008 RNCM Festival of Brass: - Festival retrospective
30-Jan-2008
With bands still getting a raw deal from the BBC, Paul Hindmarsh masterminded a fantastic weekend of brass playing at the RNCM.
---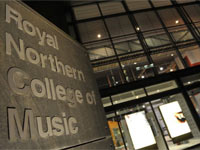 The RNCM Festival of Brass was once again a most enjoyable and thought provoking event led with a real sense of almost evangelical fervour by the admirable Paul Hindmarsh.
With the BBC once again displaying it pompous attitude to brass band output on its airwaves – just the three programmes from the bands will get an airing this year (and that was with Paul twisting their arms around their backs), the importance of this Festival cannot be under estimated.
Encouraging

Thankfully there were healthy audiences for each of the main concerts and encouraging numbers too for the ancillary events. Paul must have been exhausted but mightily satisfied with his efforts and that of administrator Philip Biggs and the staff at the RNCM.
14 premieres (some great, some not), top class soloists (all great) and seven bands (some stunning, some very good, none poor) all made for an encouragingly upbeat atmosphere in the austere RNCM surroundings. Everyone deserved the plaudits.
Few duds

For the composer who gets the chance to have a piece performed at this festival, it's an absolute joy - the ability to write a work free of restraint gives them total freedom to express themselves in the way in which they want. We therefore had some interesting new works, some even more interesting additions to existing works, and a couple of head scratchers too. The duds were few and far between.
It does however make for those lucky enough to attend, or hardy enough to listen to every performance (and there was a fair few that did with people flying in from the USA and Europe) sometimes feel as if they had gone in the ring with Ricky Hatton for twelve rounds. The intensity of the programming, and the delivery by the contributors was at times exhausting for both parties – performers and listeners alike.
Highlights

Each of the concerts provided at least a highlight or two - and in some cases more than that. Dyke's 'Montage' and Professor Gregson's expanded 'Laudate Dominum'; Howarth's 'Spooks'; Higgins's 'Forest Symphony'; Cory's performances of Lloyd's 'Symphony Number 10' and Gareth Wood's 'Actaeon' amongst other stood out.
If that's not enough, few present will forget the brilliance of James 'I'm not dead yet' Gourlay's performance of Bruce Fraser's new 'Tuba Concerto' or Les Neish's fantastic performance of Andy Scott's new concerto, 'Salt of the Earth'.
Katrina Marzella warmed up for her Ern Keller title defence in a couple of weeks and her efforts were matched by Leyland under Howard Evans (who got the vote for sartorial elegance on the weekend) who really pulled out all of the stops.
Producing the goods

Bramwell Tovey and Garry Cutt produced the goods with Fodens and that just left Grimethorpe and Allan Withington to bring the curtain down on a great weekend of playing in fine style.
In addition to the concerts, there were two excellent Besson Masterclasses from James Gourlay and Steven Mead, (with the latter giving young students some priceless tuition) a Brass Quintet competition and a couple of informative pre-concert talks.
Although it is a crammed weekend of music making, and despite the odd overrun, the whole Festival ran very much to time – a triumph of pre-planning.
Odd moments

There were the odd moments when things didn't quite come off - a couple of the archaeological resurrections should be interred in their tombs as soon as the sun goes down over Manchester City Centre, whilst the rather amateurish insistence of some bands to perform 'lollipop' encores is neither needed or desirable.
A final word of praise to Paul Hindmarsh for his sterling contribution to the whole weekend. Paul took the strain off the conductors by introducing the background to the music and acting as a valuable resource and lip saver for the bands.
Radio 3 will bring highlights of Black Dyke, Fodens and Grimethorpe's concerts at a date to be announced and next year's festival is already confirmed when the proposed themes will be music of the 1970s, Gilbert Vinter and Professor Philip Wilby.
Iwan Fox and Malcolm Wood