2008 Yeovil Entertainment Contest - Preview: Introduction and prediction
29-Jan-2008
Yeovil celebrates its 31st anniversary this year. Does it opt for comfortable middle age spread or try and regain the exciting vigour of its youth - all based on comments made by two of the movements most experienced adjudicators.
---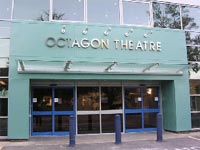 In the immortal words of Jimmy Saville: "Now then, now then."
The Yeovil Entertainment Contest used to be the brass band equivalent of football's Charity Shield; the traditional season opener for the various championship section contenders before they had to knuckle down to the hard graft of test piece preparation for their Areas.

The bands that came here knew what they had to do and how to do it, and as a result a kindly adjudicator would make one of their early season dreams come true with a first prize and a nice fat cheque for a couple of grand.
It was the same formula year in year out, from a time when Jimmy was in his prime dishing out gongs to wide eyed kids whose innocence hadn't been tainted by the cynical opportunism of pop groups in search of a bit of well placed primetime television PR. How's about that then, guys and gals.
All change?

That may now have all changed.
The recent comments made by adjudicators David Read and Peter Parkes following the entertainment section of the Butlins Mineworkers Championships in Skegness have put the proverbial cat amongst the pigeons.
When two such senior figures make the point that they believe the time has come for bands to seek something new and innovative instead of relying on the tried and tested, then it deserves to have far reaching effects.
If the bands have taken the message on board then it could well make for one of the most exciting contests here for many a year. If this year's adjudicator, David Hirst, has done the same, then it could well be a long old day to remember (and it can be a very long old day too).

However, if both the bands and the adjudicator decide not to take those opinions on board, then we could well have another year of bland, uninspiring fare – standardised prescription entertainment; tried, tested and worn out through repetition.
On the other hand, if the bands try to be innovative but the judge opts for a safety first approach, or the judge becomes innovative and the bands opt for the safety first approach, then things could get very interesting indeed.

Choices
There are choices to be made here, both by the competitors and the man in the box, which could have far reaching consequences not only for this contest, but others of its ilk.
The organisers also have a part to play too. Yeovil has remained a 'closed box' since its inception, but if it is to become more innovative then surely the time has come to put the judge in the open here. Having an entertainment contest judged blindly seems as outdated today as Jimmy Saville's chair that had a pop out Goblin teasmaid in one of its arm rests.

There is also the rather vexed question of the pre-draw here too. Bands are appreciative of a pre-draw when they believe it to be both fair and takes into account the best interests of all the competing bands.
It starts to stick in the craw however when it is reported that the organisers add a late entry (allegedly after the official closing date from entrants) to the lineup but make no attempt to make a new draw to make it fair to all the original competitors. That borders either on the grossly unfair or just plain incompetent.

The bands

What can we look forward too then?
Three of the bands in the over large 14 band field (Hyde dropped out this week) will have had first hand experience of what happened at Butlins.

For Tongwynlais, Skegness was good news once more. Their innovative approach to the entertainment discipline very nearly struck gold and they will surely be confident that they can improve on that slick showing. If they do a podium place at the very least awaits.
Meanwhile both SWT Woodfalls and Mount Charles may have had to go back to the musical drawing board. Their programmes at Butlins certainly didn't find favour with the two judges and saw them ending up close to the bottom of the pile, but they were well received by the audience.
A repeat showing from both may well appeal to the audience here too, but how will their more prescribed programmes go down, in, rather than outside, the box? An interesting conundrum for both bands to try and solve then?
PolySteel has long been an innovative outfit under the direction of Philip Harper – sometimes great, sometimes just plain strange – but always interesting and different. What mix of the visual and musical they will bring with them this year as they seek to retain their title could be one of the highlights of the day.
The two bands that pushed them the closest last year are also back. BTM can always be trusted to bring something a touch different to the proceedings, and will be looking to make a definitive mark of contesting intent under new MD Graham O'Connor, whilst Bournemouth Concert surprised quite a few observers and listeners twelve months ago, but under the energetic Chris Davies could well feature if they repeat last year's form once more.
The 2006 champion, Tredegar returns after a year's absence to try and add a sixth title to its CV under the baton of newly appointed MD Ian Porthouse, whilst they are joined in the journey over the Severn Bridge by Parc & Dare directed by Richard Evans, who had to miss last year's contest due to snow falls in the Rhondda Valleys. Both bands will be looking for an early season confidence booster.

The Midlands region sends down two strong contenders in Jaguar (Coventry) under Dave Lea and Sovereign Brass directed by Stephen Roberts. Jaguar returns to the contest for the first time since 2004, whilst Sovereign will surely be looking to improve on last year's 7th place.
Meanwhile London & Southern Counties have two representatives in the form of Zone One Brass conducted by Paul Archibald and Friary Guildford directed by Chris King. Zone One's debut here could be of considerable interest given their undoubtedly talented line up of players, whilst Friary will be looking to make progress from last year's 9th place.
That just leaves the locals – the bands that is - not the friendly audience who flock here in great numbers each year and give each of the competing bands a very warm welcome and appreciative applause.

Camborne returns once more looking to add a second Yeovil title to the one it won way back in 1993. With Frank Renton at the helm anything is possible, and they must feel they are due a touch of luck here.

Meanwhile Aldbourne will take to the stage with the busy Melvin White (who is also taking Woodfalls according to the programme). They have been pretty consistent over the last few years, so who knows, especially as the MD can be relied upon to pop the odd gem out from up his musical sleeve.
4BR Prediction:
It depends really on what the bands are looking to achieve and what the adjudicator is looking to appreciate.
Class should out though if the bands play to form and we have the feeling that perhaps the handicap of not being able to see, as well as hear the bands could mean that the title goes to a band that balances innovative thinking with pragmatic musical programming. That allows a little leeway on everyone's part – the adjudicator included.
We don't expect to see any real way out stuff, but it would still be nice if a couple of the bands could do something just a touch different.

That said, PolySteel seem to be the band to beat once more, but we think the likes of Tongwynlais, SWT Woodfalls and BTM could push them all the way. Camborne too could be worth a few quid on the nose, whilst Tredegar and Mount Charles should also be in with a decent enough shout if they play to form.

1. PolySteel
2. Tongwynlais Temperance
3. SWT Woodfalls
4. BTM
5. Mount Charles
6. Tredegar

Dark Horse: Camborne