4BR Interview - Paul Hindmarsh
25-Jan-2008
The man behind the success of the RNCM Festival of Brass talks to Chris Thomas about what's in store this year and possibly beyond...
---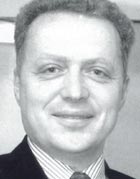 Chris Thomas: Back in the 1990s when you took on the artistic organization of the Festival did you imagine that the Festival would still be going strong…with its unique place in the brass calendar more vital to the band movement than ever?
Paul Hindmarsh: No, but I'm so glad that it is. I came up with the original idea of making hour long studio concerts of substantial brass band repertoire in 1990 when I was a BBC Radio 3 Producer.

The station had axed Bandstand and wanted something shorter and more high profile to replace it. The BBC Festival of Brass had run its own course by 1997, but not before I had been able to bring all the leading bands and conductors to Manchester including some from Norway and Swizterland.

I still have almost a complete set of tapes at home and it is really satisfying to review them from time to time and hear how innovative they were in so many ways. Radio 3 did a great and unheralded job then by paying for works like 'Paganini Variations', 'Songs for BL' and the never to be forgotten 'Prague'.
When the BBC didn't want the event any more, the RNCM stepped in - thanks to Principal Edward Gregson - and they have really run with it. I came back on board a few years ago as Artistic Director and have been able to expand my vision for a strong creative repertoire ever since thanks to the College, where I am now Consultant in Brass Band Studies.

Chris Thomas: As usual there are a number of themes running through the Festival but you must be the first of many festivals this year to pay tribute to Vaughan Williams on the fiftieth anniversary of his death, whilst undoubtedly the only one that will centre on his music for brass?
Paul Hindmarsh: We'll be RVW'd out by the end of the year! He was a great composer with a unique 'take' on the English musical style. There is a timeless quality about his music which can be hear in his brass band pieces. He didn't write very many - 3 original works only - but he wrote wonderfully for brass.

'Variations' (his penultimate major work) is a masterpiece. 'Henry V' and the 'Prelude on Three Welsh Hymn Tunes' show how impressively he could construct 'selections'. We have also tried to capture the essence of his style in a number of new arrangements . But the 'Variations' - one of his last works and a masterpiece of the medium.

Chris Thomas: The music of VW's friends and contemporaries collectively forms the backbone of our brass band repertoire, yet it is all too rare that we get to hear a performance of a work as fine as Herbert Howells' Three Figures, a piece that itself pays tribute to three great banding personalities?
Paul Hindmarsh: Indeed, where would we be without RVW and his great friend in music Gustav Holst. 'Moorside Suite' established a new style for brass bands when it came out in 1928. And were Holst went others soon followed - like Vaughan Williams and of course Howells.

He was greatly influenced by RVW, but in 'Pageantry' produced arguably the finest piece of brass band music of the inter-war years. 'Three Figures' is more restrained - coming from his later period, when he was writing a lot of church choral music. - I think something of that contrapuntal and lyrical style shines through the later piece - it's much under-rated.

Chris Thomas: In addition to Vaughan Williams and his contemporaries a strong second thread this year will feature the music of Philip Sparke?
Paul Hindmarsh: I think Philip has often been too modest about his composing. He has a technique 'to die for' - such a fantastic ear for brass and wind colour and a strong sense of structure. His music al style seems to lie somewhere mid-Atlantic! and this gives it a blend of vibrancy, energy and lyricism.

He likes to take his listeners on an emotional journey, composing the music he would like to hear - that's what pieces like 'Harmony Music', 'Tallis Variations' and 'Music for Battle Creek' are so admired.

Chris Thomas: George Lloyd is a composer whose contribution to the band repertoire is possibly sometimes underestimated but alongside his popular 'Diversions on a Bass Theme' we have the intriguing prospect of a new arrangement of his Symphony No. 10, "November Journeys" by a name that might be unfamiliar to many, Luc Vertommen?
Paul Hindmarsh: Luc is a fine conductor and arranger from Europe. He is coming over to hear this performance. George composed 'Symphony No.10' for the BBC Philharmonic. He often said to me that he didn't think it would go on brass band - not enough going on and too long - but Luc's edition has, I think , proved him wrong. It looks terrific and I can't wait to hear it.

Chris Thomas: There are also birthday tributes to Peter Graham and Thea Musgrave with a rare performance of her 'Variations for Brass Band', a composer whose exciting style of writing could have been terrific for the band repertoire, if only she had been persuaded to write again for brass?
Paul Hindmarsh: Thea Musgrave's style changed soon after composing this rather severe little work. She got into opera and also started to write in a colourfully theatrical way for orchestra. Her style has become more tonal and lyrical. But she also moved to the USA and hasn't got back into the brass band medium, although she has written very effectively for winds.

It will be interesting to hear how 'Variations' stands up now against all the music composed since.

Chris Thomas: New music and premieres have always played a vital part in the Festival going back to its BBC days and this year is clearly no exception with a major Elgar Howarth first performance. What can we expect of the new music at this year's Festival?
Paul Hindmarsh: Brass bands, like any other musical medium, evolve though the music that is written for them. Over the years I reckon that I have had a hand in commissioning over 30 pieces and through the Festival many more have been premiered.

This year there are 14 first performances - a record I think - from world premeires of music by Gareth Wood, Simon Dobson, Andy Scott and many others to some new arrangements and discoveries. As you say, the major new commission this year is from Elgar Howarth - a work for brass ensemble and percussion, featuring the bass trombone of Mark Frost and intriguingly entitled 'Spooks'.

Chris Thomas: The line up of bands once again speaks for itself this year but there is an equally impressive line up of soloists playing a fascinating range of works?
Paul Hindmarsh: It's low brass year this time round. Steven Mead has been a regular guest giving workshops and he and I decided that this year we would try and integrate low brass talent (there's so much of it around now) into the body of the festival.

So Steven is joined by James Gourlay (tuba) and we'll also be hearing from great tuba players Leslie Neish, Joseph Cook and Oliver Brown, plus David Thornton (euphonium) and Katrina Marzella (baritone) - all playing new or recent concertos or concert pieces. Should be 'awesome'

Chris Thomas: The educational and workshop events that now play such an important part in the Festival are something that you have developed much in recent years. Are there further directions in which you would like to take this particular side of the Festival's events?
Paul Hindmarsh: Fringe events always add depth and context to festivals like this. Steven Mead is giving his annual Besson masterclass (Saturday) and James Gourlay will be giving a short concert of music for solo tuba (Sunday).

We'll also have an opportunity to hear some of the RNCM's rising stars - a brass ensemble from the Junior School (Saturday, 2pm) and Scherzo Brass - a brass band quartet, currently Open Champions (Sunday , 2pm)

Chris Thomas: And for those of us that cannot be there in person can we look forward to the BBC broadcasting highlights of the Festival once again?
Paul Hindmarsh: Not to the extent that I would have hoped, if I am honest. Radio 3 will be taking 3 concerts for broadcast across a week of Afternoon Performance programmes in February. Radio 3 has chosen the Black Dyke, Fodens and Grimethorpe concerts.

Chris Thomas: Do you have any as yet unfulfilled future ambitions for the Festival?
Paul Hindmarsh: To keep it going from year to year is a recurring 'ambition'. Next year I'm looking to the centenary of Gilbert Vinter, the 60th birthday of Philip Wilby and the spirit of musical adventure displayed by brass band composers in the 1970s.

I would like to find ways of integrating brass band and the rest of the brass world - without diminishing the impact or centrality of the brass band medium. I'd like to think that others might also mount festivals or large scale events where the aim was to perform great music to the highest level but for its own sake and to award points or prizes for doing it.

Chris Thomas: And one final question. A huge amount of work clearly goes into the organization and running of the festival. What is it that keeps you going?
Paul Hindmarsh: I have the best job - dreaming up the programmes and blending my ideas with those of the bands I invite. That is motivation enough for me. All the admin and organisation is down to the tireless energy of Philip Biggs and the RNCM team - for whom the words 'thank you' seem so inadequate.

Chris Thomas: Thank you for talking to us.