2008 Butlins Mineworkers Championships - Postcard from Skegness
23-Jan-2008
Skeggy has it all - except the Lower Section National Finals. How about it then?
---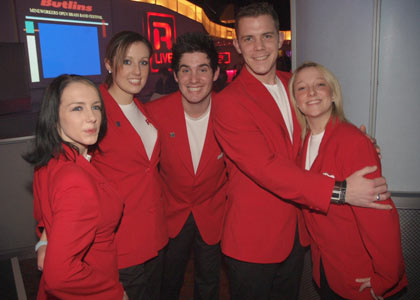 Happy smiley people: Butlins entertainment dispensers...
Picture: John Stirzaker

What do you think of this idea then? Butlins to host the Lower Section National Finals in the future?
Good idea or not?
General agreement

There seemed to be general agreement that it was on the weekend from the vast majority of people we asked at Skegness. Granted, they tended to the very people who were seemingly enjoying themselves by the bar at the time, but the Butlins resort does has everything Harrogate has to offer (although perhaps not the Lincolnshire equivalent of Betty's Tea Rooms) and more.
You get to stay on a bespoke site, close to the venue you are going to play at; the accommodation is warm, clean and tidy; the food is good wholesome fare; you can upgrade your accommodation to cater for a little bit more luxury (the Gold apartments are very nice indeed) and is competitively priced.
The entertainment on offer at night is first rate and even geared towards the brass banders particular interests; the beer and refreshments are roughly the same price as you would find in the vast majority of watering holes in Harrogate; there is plenty for the kids to do and plenty of staff to look after them too; the prize money on offer is more than adequate; there are enough little venues dotted around for rehearsals – and most importantly, you get people in the halls to listen to the bands playing.
Professional organisation

Add to that the professional organisation headed by Steve Walker and his team from Butlins and Brian Eggleshaw and his helpers who make sure the contest rules etc are adhered too, and a weekend in Skegness in January or September come to that is not a bad place to be at all.
Skeggy is of course a bit of a bind to get to – but then again Harrogate isn't exactly first stop off the motorway now is it either. Some people don't like Butlins, but then again some people don't like Harrogate. One thing is for certain though – Butlins does have an atmosphere – something that Harrogate at present sadly lacks.
Butlins has been spending a fair bit of dosh in recent years. £2 million on the Reds auditorium, with more money being poured into some of the ancillary venues in the coming months. People may have reservations about holding a major brass band contest here, but given that there was very nearly 80 bands catered for this weekend, a few more for the Nationals isn't going to be too much of a problem. They now do it rather well.
Much to enjoy

Back to the contest weekend, and there was much to enjoy.
Friday night saw the Centre Stage venue packed to the rafters as Desford Colliery Band conducted by Russell Gray providing a bit of a fish and chip supper concert that was enjoyed by everyone. We say fish and chip as the music couldn't have been appropriately titled if the MD had come on dressed in a souwester holding a bag of cod balls.
It was the type of programme ('Bugler's Holiday', 'Toccata in D Minor' etc – complete with non scripted extra drum break to finish which put the willies up Russell and the band) that could be enjoyed without casting too much of a critical ear to proceedings and allowed you to go to the bar and have a chat without disturbing the listening experience of the 1900 or so people sardined into the hall.
Men O Brass

On the Sunday night it was the turn of Men O' Brass who made something of a triumphant return under the baton of Nicholas Childs to an equally packed hall with a programme that also gave the audience just what it wanted after two long days of contesting battle.
Add to that the delights of Mark Nightingale, the eye candy playing of Bella Tromba, the Brass Band Archive artefacts for those with anoraks to keep happy and the host of other bits and bobs going on and you can see why over 4500 stayed on site with another 500+ coming through the doors as day visitors on the weekend.
Butlins are not in it as brass band philanthropists of course and there is a hard nosed business edge to what they do and how they do it. They do however do it with a smile, a reactive ear to the needs and wants of their customers and with plans for long term investment and development.
The decision to make a CD of next year's test pieces was a case in point, as was the decision to let the bands book their place for 2009 by paying the £60 entry fee now.
Disappointment

On the contest front only the Third Section was something of a real disappointment in terms of standard, although it would be nice to see one or two so called 'big boys' come and compete in the top section. They can't complain there isn't any money in it now can they what with a top prize of £6,000 on offer – double what you get for winning the Open. Fairey and Fodens were there on the weekend for Men O Brass and both of them we are sure wouldn't say no to starting their season off with that amount of money in the bank. Others too may want to reassess their reputations.
The Championship format with 10 bands (the ideal number) offers the audience variety over the two days, and with the judges now openly telling the bands that they want to hear something new and innovative rather than old, tried and tested, the next few years also offers the chance for bands to really experiment with their entertainment programming.
Excellent form

Frank Renton was on excellent form once more, Peter Roberts accepted the 4BR Special Award for his contribution to the brass band movement as well as the Excellence Award from the Butlins organisers, whilst the awards ceremony on the Saturday night was excellently handled. There are few minor niggles her and there – some problems with percussion and day visitors which need to be ironed out, but overall it is now a very impressive event.

The lower sections are filling up nicely and with the bands now knowing a year in advance what pieces they will have to perform it gives them time to get the pieces up to scratch and still devote the Christmas period to fund raising and caroling without worrying about cramming in unwarranted rehearsals.
All in all then a great weekend. The Butlins Mineworkers Festival is a contest to relish and enjoy, revived and brought back to life in a manner none could have anticipated when Butlins took it over in 2003.
Should it host the Lower Section Nationals? The future may well be in their hands.
Iwan Fox