2008 Butlins Mineworkers Championships - Retrospective: Championship set work
23-Jan-2008
It was life, but not as we knew it at times on the Saturday, as the 10 contenders battled with the idiosyncrasies of Cyril Jenkins old pot boiler...
---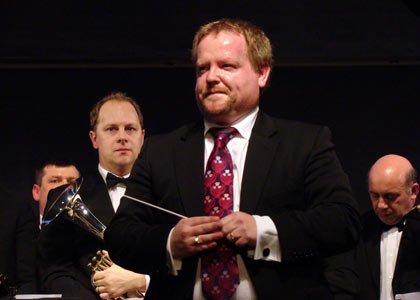 A serious look of intent: Russell Gray in determined mood after the performance of Life Divine
'Life Divine' may well be over 85 years of age, but as some conductors at Skegness found out to their cost, treat it without respect and it still has the musical teeth to bite you painfully on the bum: For some it sounded as if they had been mugged by a particularly crotchety old pensioner in a post office queue, leaving them dazed and bewildered and with just a whiff of Lilly of the Valley and stale Turkish Delight to remind them that they should have watched their Ps & Qs.

Musical mix

The piece is a musical mix of Victor Meldrew meets Hilda Ogden; an almost incomprehensible scattergun of bombast and theatrical melodrama. Redolent of a time that has passed its musical opinions are so old it would take carbon dating to pin point their origin. That said it still made for entertaining contesting fare – although it was a bit like having to sit and listen to your Gran tell you about the Great Strike, doodlebugs and not seeing a banana until 1952 for five hours.
For those conductors who did treat it with a touch of reverence the reward came from the box. Those who didn't were left in need of a musical tetanus injection to overcome the effects of a painful bite on the posterior.
Examples of the belief that they and they alone had somehow unlocked the eternal secret to success on the piece usually came in the form of either dropping the flugel horn to add another unwarranted cornet voice, or playing an extra trombone where none was needed.
Erosion

That course of action invariably resulted in an erosion of middle ensemble balance, with bands becoming ever more 'top heavy' and harsh in sound, especially as the understanding of what constitutes a fortissimo these days is rather like asking Mr Creosote from the Monty Python film, whether or not he'd like another 'waffer thin mint' – with the same predictable messy result.
Being able to blow loud is one thing, but when it means you get soprano players looking as if their brains are about to explode out of their nasal passages as they try in vain to put the top C cherry on the cake at the end of the piece, then the MDs should hang their heads in shame. Unfortunately the Tongwynlais sop player passed out (primarily because of tiredness and poor breath control) but also because he had to try and sound like Maurice Murphy and the combined forces of the LSO trumpet section just to be heard.
Obscene

At times the loud playing on display was obscene – like fat backsided American tourists waddling about Skegness fun park in tight fitting shorts. Dynamics are relative of course, but when even pianissimos are now starting to be a plumped up bigger than a Bernard Mathews butterball turkey then you know things are going to be just as tasteless.
The acoustic of the Centre Stage venue didn't perhaps help the bands, but why some conductors still felt that they had to get their trombone sections to stand and blast their declamatory motifs time and time again was beyond us. Not even Lemmy and the lads of Motorhead could have beaten some trom sections in the thrash metal stakes.
Bang to rights

Major Peter Parkes had it bang to rights when he said the bands all played the notes (and most in the right order too, although there were noticeable rep players trying the age old trick of playing their runs with their slides yanked out and euphonium players trying to disguise themselves as baritones). Technique though is never enough – and as Peter pointed out, the lack of true emotion on display was at times palpable.
There was plenty of melodrama and pastiche, but very little subtle colouring or tasteful restraint. The number of cornet players who had the ability to come in on a bottom C in their solo without being almost half a tone sharp could be counted on the thumbs of your hands, whilst some of the rallentandos and cornet trills bordered on the unintentionally comic.
Old Cyril Jenkins wanted love to be triumphant. He stated as much in his programme note to the front of the piece, so why then did so many conductors go for the wham, bang, thank you mam approach? Life Divine? It was Life at times – but as Bones used to say on Star Trek – '…but not as we know it'.
Contest to be won

All that then and there was still a first half of a contest to be won.
Desford were the best – no doubt about it.
Russell Gray did make the odd tweak here and there, but overall it was a traditional approach and one that was broad and spacious without ever creeping into misplaced pastiche. His players responded too, with a balanced mix of tasteful restraint, bombast and melodrama. It had the stamp of quality and authority and deserved to come out on top.
We had SWT Woodfalls in second place, but Nicholas Childs's lyrical reading was never quite executed with the same degree of polish as Desford and crucially didn't resonate in the box either. Using three baritones didn't quite work, and although they had the best soprano player of the day in Mark Pye it wasn't enough to push them any further up the field than a disappointing 8th place.
Wingates eventually took the runners up spot (we had them 3rd) after they put down a decent marker off the number 1 draw. Their compact and stylish reading featured some excellent baritone work, but also a fair amount of ragged playing too, whilst the decision to get the troms to stand seemed to be superfluous.
Tells you much

Not bad, but not at their very best, it was still good enough to feature highly – and that tells you much about many of the other performances.
It was United Co-op Milnrow that took third spot (we had them 7th) from the judges Alan Morrison and Peter Parkes, after an intelligently shaped and delivered performance under John Ward. His neutral reading of the score did what it said on the tin and as a result the strengths of his band far outweighed the more obvious weaknesses. It wasn't as big, brash and bold as others, but it was thoughtful and controlled – a Life Divine in cardigan and sensible shoes.
Mount Charles was one band that went for the four trombone option (and some extra trom player too – Chris Thomas from Cory), but it wasn't needed and brought a noticeable imbalance to their overall ensemble sound.
The technical playing was pretty good, but the emotional content was a touch raw at times and by the end it was starting to get a little OTT. Thankfully the good work of the cornets earlier in the piece had given them plenty of plus points and 4th spot was their reward (we had them 6th).
Red in tooth and claw

If it was red in tooth and claw you were looking for then Yorkshire Imps laid it on the table in honest Yorkshire fashion. Jim Davies conducted without a score and it was the nearest we got all day stylistically to a true old fashioned brass band account of the piece.
Big, bold and at times a little brash it was full of endeavour all right, even if the execution at times was a touch ragged. They eventually came in 5th place (same as 4BR). Life not quite divine and in need of just an occasional peck of tenderness on the cheek.
Tongwynlais made hard work for themselves. Overblown and at times just plain raucous, a poor start seemed to put them out of kilter. It recovered with some fine technical playing and a lovely lyrical cornet solo, but just when it seemed to be right on track the propensity to try and blow the roof off returned. The soprano player's misfortune was thankfully nothing more serious, but he was trying to be heard above a pretty over wrought din.
That it came 6th tells you much (we had them 8th) but a sense of restraint could have paid rich reward on the day.
Dispense with services

Virtuosi GUS was another band to dispense with the flugel players services – a decision that really did make their middle of the band sound under powered. Jeremy Wise's vibrant approach to the score was a touch pacy at times and as a result a lot of the filigree work was muddy and occasionally very scrappy.
There were some lovely moments though (Gary Fountain on soprano was on particularly fine form), but that insistence on high tempi was their undoing and they ended up coming in 7th place (we had them 4th).
Opposite

That just left the two bands, the first of which was Thoresby under Ian McElligott with a performance that was the total opposite to GUS – this one lacked any sort of rhythmic pulse in places that it sounded more in need of life support than Life Divine.
Why the insistence on tempi that just made for a rather turgid sense of style seemed a touch bewildering given that when they did finally up the ante it sounded so much better. It was a decision that totally undermined their chances on the day and 9th place was bang on the mark.
Bactiguard Wire Brass opted for a rather strange set up for their performance, with the front row cornets on the back row and with the euphs placed in an extended line with the basses.
Why Paul Andrews thought this would work is best known to him alone, as it gave the band a rather strangled balance. That said his reading was neatly shaped, and although at times the technical demands were not met, there was a gem of a cornet solo from Mike Jones – the best of the day by a country mile. It all got a little tired and scrappy towards the end, but it was a brave effort from a young band. 10th place though was the right result.
With the draw for the following day made on the Saturday night it was still all to play for come the entertainment section of the contest – and to add to the danger for the bands, the grannies had all put their best teeth back in to take a bite out of any of them that didn't take their fancy there too.
Iwan Fox