2008 Butlins Mineworkers Championships - Retrospective: Championship entertainment
23-Jan-2008
Innovation and quality playing were the keys to success on the Sunday - and Desford just had enough of both to retain their Butlins title and pocket the 6,000 top prize once more.
---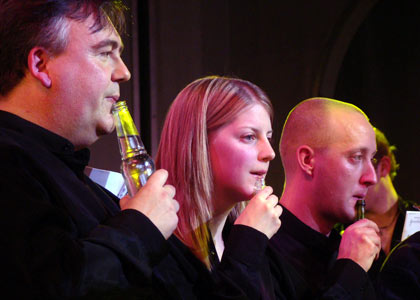 Hitting the bottle: Wingates take a sip of innovation to top the entertainment contest


"We rewarded innovation today". These may come to be four of the most important words spoken by an entertainment adjudicator all year.
For the bands that thought they knew what David Read and Peter Parkes were going to be looking for sat in the open in the Centre Stage venue of Butlins Skegness on the weekend, then they were in for one heck of a big surprise.
So too the rest of us.


Fresh thinking
It appears bands had better start thinking afresh just how they are to going to plan and execute entertainment programmes in future. When two of the best and most respected judges make their opinions felt as strongly as this then you can be sure the rest of the adjudicating fraternity will have taken note too. After the UK Gold repeat fest of Brass in Concert the judges have spoken: The time has come to move on.
That may well be difficult for some to do (other judges included). Conductors are strange old breeds that invariably believe that they (and not the adjudicators) know best. Many bands may also feel uncomfortable with the thought of moving out of their own comfort zone too.
Immovable objects

Trying to get these relatively immovable objects to embrace the need for change and them to do it, may take a while, but at least they know that if they are to do well on the entertainment contest platform in future then they had better start thinking a little bit more outside the box so to speak.
If we all do (and that does include other judges, both in and out of the box) then surely more exciting times are ahead for a contest genre that was fast becoming stale and very predictable. There is still a place for the march, cornet solo, and even well judged humour item, but there is an even better place for something thoughtful, intelligent and even challenging too.

New musical directions
Wingates perhaps showed more than most what can be achieved with some lateral thinking, talented compositional ability and players ready to embrace new musical directions with enthusiasm and style.
Their eclectic programme may not have got off to the best of starts as MD Andy Berryman bounded onto the stage only to be faced with no conductors stand. That nasty little hiccup was quickly overcome though by some well presented choreography, neat solo features and two pieces in Lucy Pankhurst's 'Wicked' and the final section of Johan de Meij's 'Extreme Makeover' that were certainly different and challenging, but also well received by the packed 1800 souls in the Centre Stage venue.
At times the execution did meander into the realms of the mediocre (the final item sounded tired) but overall it was a performance that left you feeling as if you had been treated to something that was thankfully not aimed at the lowest common denominator of crowd pleasing lollipop entertainment. That it eventually came out top with the judges was not surprising given their comments.
Diverse

Desford may not have gone as far as Wingates in their approach, but they too opted for something new in their enjoyable offering. Two new works from the pen of 'must have' arranger Leigh Baker in the form of a new take on 'Deep Harmony' and 'When the Saints' showed that they too were looking to explore diverse directions.
The old ones were not forgotten though and there were splendid performances of the finale from 'Daphnis and Chloe' and 'The Clock with the Dresden Figures' as well as a sublime piece of trombone playing from Nick Hudson on 'Stardust'. It was enough to just pip Wingates overall, and although the half point final margin may have seemed too close to call, in reality Desford were a good length or two ahead of the rest of the field.
There was an argument to suggest that on this occasion Desford were rewarded more for the quality of their playing than their programming perhaps, whilst for the others it may have slightly been the other way around.
That may have been true of Tongwynlais, who certainly delivered the most eclectic of all the programmes on offer all day – a day that started at 9.30am and finished at close on 5.00pm.
10 bands is surely the maximum number for a contest such as this – 12, such as at Brass in Concert is just too many for comfort or enjoyment.
Recurring theme

The Welsh outfit did opt for a recurring humour theme throughout their programme, which started as being funny but soon became tiresome with the dead pan tuba player pestering Frank Renton to play his solo (which eventually came with the old 'Cuckoo' feature).
However, the interest was really maintained by intelligent programming with everything from relaxed jazz to contemporary original brass, that short comedy feature (crucial after the overlong build up) and a bit of Shostokovich to end.
The only weak point seemed to be the rather needless inclusion of the music from 'Chitty, Chitty, Bang, Bang', although that was quickly forgotten due to a superb bit of percussion playing from Gavin Pritchard. His Bulgarian inspired feature was certainly different (and showcased his clever ability to overcome potential disaster when he dropped his drum sticks and came in early in the final section) to give him the £300 Geoff Dove Soloist Award. Some player.
MD Gareth Pritchard wasn't frightened to try something different and on this occasion he very nearly struck gold with his choices, even if at times the execution wasn't quite in the same league as the two bands that finished above them.
Tried and tested

Jeremy Wise and Virtuosi GUS didn't quite just go far enough away from the tried and tested route on the day. Their programme was well played (Gary Fountain once again on tip top form on soprano), but just when it ventured into new and exciting territory it fell back into the realms of the safety first approach – especially to end.
The highlights were a neat '76 Trombones' opener; compete with choreography, American marching band instruments and even flugel player Cliff Pask going a passable impression of the Lurpak trombone player, and the music from the western film 'Silverado'. The rest though was standard fare – even down to the finale from 'Checkmate', which is as fresh as one of the meat pies in the Butlins staff canteen.
Just a bit more daring would have given GUS a better chance, although they do sound like an impressive band in the making.
Shhort straw

Thoresby picked the short straw in having to kick off proceedings at 9.30am, and it was also a touch disconcerting to see MD Ian McElligott in immaculate tuxedo attire, complete with creases in his trousers that could have cut cheese, when the rest of us were just about getting the sleep out of our eyes.
That said those trousers could have come in handy, for 'Fest Musik' to start is as cheddery as it gets nowadays, whilst 'Battle of Trafalgar' to end is also starting to sound as mouldy as a piece of gone off gorgonzola. The narration was tremendous, but the flag waving and the odd sight of a French assassin shooting but seemingly missing everyone (couldn't someone have played dead as Nelson?) was old hat stuff.
Add a touch of lame humour and a bit of a struggle on the old JSVB 'Fives & Threes' and Thoresby were a touch fortunate to come home in 5th place for us – there wasn't much innovation on show.
That really was the case with the rest of the bands on the day too. The playing was decent enough (but never more than that) but the programming, given what the judges were looking for, was never going to make a mark, even though many of their efforts went down very well with the audience.
Nostalgia

Yorkshire Imps really did go on a musical archaeological dig to exhume the long dead body of '1812 Overture' to finish their programme. The discombobulated narration and film show also left you with the wiff of an old musical corpse that was better off left in the library cemetery where it belongs.
'Amazonia' to start, 'Be My Love', 'Folk Festival' and the percussion feature 'Liszteria' were all well enough played but nearly all were well past their sell by dates year ago. You are not going to win contests on nostalgia trips as Imps found out here.
Prescribed

John Ward must have known that he didn't have the player resources at his command to make any more than he could with his young players of United Co-op Milnrow. The decision therefore to go with a very prescribed programme (they started with a precise 'Praise' march) was never going to push the up the table any further than they eventually came, but in their favour was that each of the items was well played and intelligently directed.
The highlight was solid performance of Philip Harper's arrangement of 'The Irish Carol' whilst the weaknesses were most evidently shown in the finale, the 'Coronation Scene' from 'Boris Gudenov', which was more Coronation Street than Kremlin Square to end.
Audience appeal

SWT Woodfalls certainly appealed to the packed audience on the day. Nicholas Childs craftily chosen programme made sure the strengths of his band were show to the full, whilst the more obvious weaknesses were camouflaged away as best he could.
Two Paul Lovatt-Cooper works topped and tailed the set (but sounded very similar in context as a result), whilst the inclusion of 'Devil's Galop' may have reminded a few of the over 70s of the joys of Dick Barton once more, but is a piece that is pickled in aspic somewhat.
The humour highlight was a slick, short (in more ways than one) 'Post Horn Pandemonium' complete with fine 'serious' soloist in Ivan Hutchinson and one 'comic' presence in Frankie Detorrie in wellies and 12 foot long post horn. It was the best bit of laughter making of the day, even if it has been done before. The judges though didn't like it and a second successive 8th place was the result.
Something different

One band that did try to present something different (although it has been done before, most notably by Brass Band of Central Florida) was Bactiguard Wire Brass.
Paul Andrews opted for a big band set up and series of items that were very slickly presented (the MD was excellent as a roving front man). It came as little surprise then that the two Redcoat judges (or entertainment control dispensers as Frank Renton described them) chose them as 'Most Entertaining Performance' winners to bag the band a well deserved £1,000 and the great old Butlins Youth Band Trophy.
It was more style than substance, and despite the overlong 'Stomp' type binmen number not quite coming off, the rest of the presentation was first rate and very enjoyable on the eye.
On the ear it was a slightly different matter though (as was shown by the result from the two judges) with the fundamental problem arising from the band being unable to actually 'swing'. The all important rhythmic pulse was wrong throughout (to hear the correct swing rhythm you had to listen to the pro acts on the Friday and Saturday and night) and that meant that items such as the opening 'Malaguena' and especially the old stomper of 'Sing, Sing, Sing,' never sounded comfortable, or right.
It was a brave effort though to try and present something a little left field – let's hope they continue to hone their playing skills on it though.
On paper

That just left Mount Charles who is not having the best of luck at the moment.
On paper their programme looked decent enough – an upbeat opener, a ripper of a trumpet solo, a new arrangement of a Beatle's classic, a cracking march, a moments reflection and a big old pot boiler to end. Some worked others didn't though, whilst there wasn't quite enough innovation to tickle the palette of the men in the box.
Perhaps Mount Charles tried to second guess what they thought the two judges would like – if they did it was a big mistake.
All in all it was pretty well played, but we have heard nearly all the pieces before, and better it must be said, and given what the judges were looking for, that was never going to be enough to make any sort of decent impression on the results table.
Given that the top four bands were a fair old margin ahead of the rest of the field, the bands that eventually came fifth to ninth could really have come in just about any order. Some will have been disappointed, others perhaps a touch pleased, but it was in truth a mix of fairly non descript average championship banding entertainment fare – some good, plenty OK, enough mediocre and a few that made your teeth curl.
That was that then. An hour or so later the results came and Desford retained their title and pocketed the £6,000 first prize – just reward for their efforts and a sign that they had that extra stamp of class over the two disciplines to deservedly take top honours.
Wingates also should be pleased with their efforts and could really be band to look out for this coming contesting season, whilst Tongwynlais will be massively boosted by another fine showing here – so too, Milnrow. The rest may have a bit of work to do if they are to enjoy 2008.

Iwan Fox