2008 Butlins Mineworkers Championships - Retrospective: Second Section
23-Jan-2008
It was a battle between the Red and White Rose for the top honours in the Second Section where Haslingden & Helmshore eventually took the honours is fine style.
---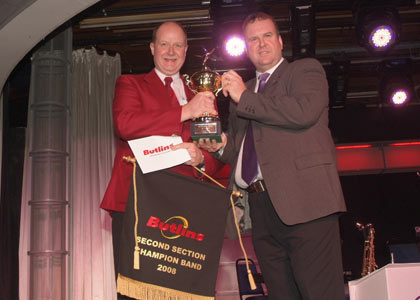 Butlins Champions 2008: Chris Faulkner receives the Mineworkers trophy from Steve Walker
Picture: John Stirzaker

On coming to this contest 4BR was immediately drawn towards the test piece choice, 'An Alberta Suite' by Derek Broadbent, who had produced an enjoyable concert work that was also readily accessible as asset work test.
The piece proved to be an entertaining mixture of styles, melodies, stiff but not overtly treacherous technical challenges, with plenty of music for the bands and their MDs to get to grips with. The euphonium and principal cornet players both had critical solo lines but there were testing features across all areas of the band including technically challenging underscored and accompanying parts for flugel and horn (to name but two).
On paper

On paper the contest looked an appetizing prospect with fourteen well matched bands in competition for the £1,500 first prize. And so it proved.
Butlins 'Lakeside' venue is a fairly wide prefabricated structure comprising a low ceiling, dry acoustic and an adjudicator's enclosure within immediate earshot, approximately twelve rows back from the band. There was in fact nowhere to hide, as every single note and nuance could be scrutinized (and was we are sure) by Geoffrey Whitham and Kevin Wadsworth..
Impressive

Haslingden and Helmshore under the baton of David Holland took the honours and the Butlins Trophy from ninth in the draw.
They set a steady tempo at the outset and delivered an opening fanfare with just the right style and presence, whilst the slower lullaby was nicely controlled and flowed quite beautifully to the close. A few crackles in the euphonium solo line didn't really detract, but then no band came away totally flawless at this competition. The final toccata with its rapid semi-quaver figures was well balanced and throughout the piece the horn section gave a really good account of themselves. It was an impressive winning performance.
Dodworth MW was the highest placed mining band and under Elliot Darwin they continue to impress and improve to take a well deserved second place.
They followed Haslingden and Helmshore in the draw and under their young MD delivered a reading that had much to admire in a quite arresting performance. Their euphonium soloist played with elegance and whilst sticky moments beset the lullaby accompaniments, overall this was generally a tight and clean interpretation. It fully deserved to come as high as it did in the prizes.
Strong North West

The North West region featured strongly once more this year here as an in-form Middleton Band with Matthew Stringer in the middle cemented their growing reputation by coming third.
A performance brightly lit with lots of attack and gusto benefited from support of a sterling contribution from the soprano cornet chair. There were not too many weaknesses throughout their performance and it was fairly clear that it would hold its own come the announcement of the results.
The fourth and final cash prize went the way of Yorkshire. David Nichols guided Frickley South Elmsall with playing that was controlled dynamically and had enough stirring and technically clean content to capture the prize.
The second movement lullaby was not without its nervous moments but the warm and lyrical sounds were the pervading impressions. With bass trombone sounds of rounded depth and quality it enhanced a trombone team that really supported this performance and deservedly brought them reward.
Outside the prizes

Continuing down the results table there were two performances that just finished outside the prizes that had much to offer.
Kippax directed by Russell Gray presented the adjudicators with a technically polished performance. A euphonium solo of tremendous control highlighted their technical efficiency but overall it was perhaps a little too clinical in approach to perhaps push for a higher placing on the day. It was good playing though.
Raymond Tennant brought down Johnstone Band from Scotland and they too deserved a well appointed place in the final standings. The musical picture was so well laid out by the MD but a weaker middle movement must have proved costly. With the bass section working so well as a team this underpinned a worthy show.
First band to play on the day was YBS Concert under the guidance of Ian Craddock. They had some warm and broad sounds especially complimented by a lovely euphonium soloist, quite gentle in style. A result half way in the awards was about right given the moments of loose playing that were occasionally noted though.
Similar thoughts

Similar thoughts must be applied to the Delph contest performance where Phil Goodwin also paced the musical picture so effectively. Although his trombone team gave him their all it was in the slower lullaby that perhaps valuable points were lost.
Yiewsley and West Drayton unquestionably produced their best playing in the final toccata 'line dance' section. Christopher Cole benefited from some lovely support from his tenor horn team but a rather forced opening section could have been perhaps where the adjudicators found fault.
Of the bands finishing in the lower third our attention was particularly drawn by East London Brass.
End of her stick

Jayne Murrill had the band, as they say, on the "end of her stick", and we thought that this performance might have sneaked in a little higher in the results. Whilst they may not have had quite the rounded, fuller sound of the prize winners this was for us a nicely shaped interpretation with a particularly pleasing euphonium lullaby.
City of Coventry meanwhile had an early draw and whilst the fanfare cornets shone some of the musical bridges throughout the piece were a little scrappy. The early draw perhaps didn't help but despite the strong lead from both MD Stephen Cooper and their principal cornet, the difficulties encountered throughout the piece nudged the performance further down the final places.
Graham Jacklin has delivered with Leicestershire Co-op SMW a number of rewarding performances over the years but on this occasion they just didn't come together as we are sure he would have liked. An untidy opening did not help their cause and it took time to gel, and it was frustrating scrappy moments in the whole work that must have been very costly. Despite a creditable performance on the principal euphonium chair this was not to be their day.
Long Eaton Silver and Sharon Stansfield stepped up to the contest stage having a nice pedigree in contests in the recent seasons.
On this day though the solidity they normally deliver eluded them and despite a most rewarding performance by the trombone section the whole lacked the unity that would see a place further up come the field results time.
Betteshanger Welfare under conductor Tim Vinall filled the final place in this section. The performance had a sure and steady feel rather than a punchy delivery that perhaps some of the music demanded, but the kit percussion certainly could not be criticized for her contribution with lovely style and rhythmic content.
Contest predictions

Our pre contest predications of Kippax and Delph managed to deliver solid performances that unfortunately one way or another just pushed them out of the frame. Dodworth MW and Frickley South Elmsall, as we thought, captured a prize each whilst Johnstone Silver and YBS Concert just slipped outside the judges radar. Our dark horse was just that with Haslingden & Helmshore from the North West eventually taking the top prize.
The North West and Yorkshire regions certainly demonstrated their abilities in the Second Section here taking all four prizes and overall this was a most interesting and enjoyable contest to sit through.
Having come to Butlins expecting bands to conquer each of the test piece's three movements, given that it was fairly transparent writing with well defined melodic lines, in the end it was to be the underscored parts and the accompanying figures that really tested and stretched the bands.
John James