2008 Butlins Mineworkers Championships - Retrospective: Fourth Section
23-Jan-2008
Eccles put the cherry on top of their musical cake with a commanding winning performance of Simon Dobson's difficult, but enjoyable 'Ldian Pictures'.
---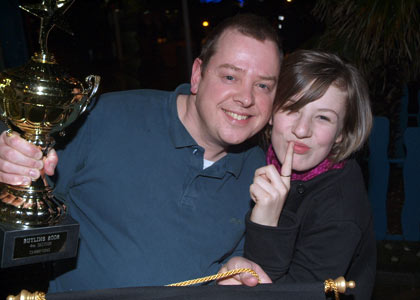 Don't tell anyone we won: MD Les Webb quietly holds onto the trophy
Picture: John Stirzaker

Eighteen bands competed at the dramatically named Royal Arthur Suite on the Saturday morning and it was Eccles Borough Band who came out on top with a commanding three point margin to give them the Butlins title and £1,500 first prize.

The overall standard of playing from the competing bands was slightly disappointing, with Simon Dobson's excellent 'Lydian Pictures' really finding many of them out. Apart from five or six performances most other bands struggled to come to terms with the musical content, with more than a few struggling to play the notes. There is no doubt it is difficult music for bands at this level, but when played well, as it was with the winners, it is a fine piece to listen to.

Early season incentive

The £1,500 top prize was of course an excellent early season incentive for the contenders on the day and it was Tewkesbury Town who opened the contest with a performance that suffered from pitching and intonation problems, especially from the trombones and bass line. 15th place was about right and on this occasion they couldn't have too much cause for complaint.
Backworth Colliery under the direction of Colin Harris tried at all times to find the music in the score and kept a good tempo throughout, but a few too many split notes just robbed them of the chance to come any higher than 8th place.

Bestwood Black Diamonds meanwhile were fairly solid from start to finish and the second movement in particular had just the right feel to it. It just became a little harsh in places, but overall 5th place was a decent return for an encouraging performance.
Watford were next on stage and although the opening fanfares were a little splitty the overall performance had its moments of quality, although it just fell away in the last movement.

The next three bands Maltby Miners Welfare, Kingsway Printers and Coleshill Town all suffered from extended periods of poor intonation, and at times, poor direction from the middle, although Maltby at least observed most of the dynamics.
Waiting to get to grips
The adjudicators David Read & David Lancaster must have been waiting for someone to get to grips with the piece, and for us, Thoresby Youth conducted by Christine Gent did so but found themselves eventually placed 11th by the judges.
You have to respect the decision of two experienced adjudicators but perhaps the band can count itself a little unlucky as it did sound controlled and precise in the ensemble. That's contesting though.
Rolls Royce (Derby) gave a good account and fully deserved its runner up place as they produced a lovely flow to the music and were very well directed by Graham Cardwell.

Clear winner

After a short break at the halfway point, the contest resumed with the performance that turned out to be a clear winner.
Eccles Borough was outstanding, with a tight ensemble as they searched for the music and found it too. Well done to the conductor Les Webb and the band and the three point winning margin was clearly deserved.

It is worth noting at this stage to say how nice it was for all the bands to have a good sized audience to play to throughout the day. The venue was comfortable and the acoustics were pretty good too.
Ireland Colliery (Chesterfield) under Ian Knapton was another band that gave a good account of the piece and although the tempo's were on the quick side at times they went for it and third place was just reward.

Royston Town, Martlesham Brass and Skegness Silver just failed to get to grips with the basics and it was a struggle at times with some poor tuning especially in the quiet passages. No complaints with the end result we feel.
Mixed bag

The last four bands to play also gave a mixed bag of playing with some nasty moments interspersed with fleeting moments of quality.
Whitwell Brass didn't quite have the quality or consistency to really make more of a mark than they eventually did, but Banovallum Brass showed a great deal of promise for the future with a decently crafted account that had plenty of plus points.
So too Thurcroft Welfare with a more robust and colourful account which had real quality in places, and finally Market Rasen RCP who produced a fair old account to bring to an end a contest in which the large majority of bands struggled to come to terms both with the required needs of the piece and at times, basic playing.

Dave Tinker