2008 Butlins Mineworkers Championships - Preview: Introduction and prediction
15-Jan-2008
Skegness will be full to the rafters once more this weekend as all the bands, players and supporters pile in to enjoy the test pieces and the entertainment once more.
---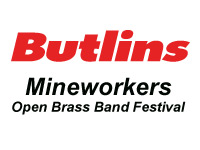 Once more into the breach…
The 2008 contesting season starts all over again here in Skegness. The Butlins Mineworkers Championship is now firmly ensconced as the first major contest of the year and like those of us who are trying to shed a few excess Christmas pounds, it gives an early indicator to bands of whether or not they are in fit enough shape to challenge for medal success or if they will just be sweating a lot just to make up the numbers.
There is the usual plethora of things to do to keep everyone from granny to grand kids happy: Mark Nightingale, Bella Tromba, Roger Webster, Georgina Bromilow, Men O' Brass, Stan 'Parkinson' Lippeatt, Grimstein Oompah Band and Peter Roberts – and not forgetting nearly 80 bands providing good old brass band contesting entertainment too. You can't say Butlins doesn't cater for your particular needs.
On that contesting front all eyes and ears will be on the 10 bands that will compete for the huge £6,000 first prize in the Championship Section. There were initially 12 bands down to compete but with Hatfield and Redbridge dropping out 10 seems to be an ideal number.
Stern test

Those bands face a stern test though if they are to carry off with them the Warwick Vase. 'Life Divine' is a real old classic from the archives (it was first used at the Nationals in 1921) and there will be a whole host of baritone and repiano players who will have had a few sleepless nights trying to master their parts. It's still one heck of a tester for bands.
With the set work played on the Saturday the bands will have time to put the finishing touches to their entertainment programmes, and it will be interesting to see how they approach this aspect of the contest now that the judges are seated in the open.
Do they opt for the visuals or just concentrate on the music? Do they try something new, or do they revert to the tried and tested? Will any cornet player make a decent job of playing the trumpet? Questions and possible answers will be asked and sought.
These are strange times on the entertainment contest platform – as the UK Gold repeat fest of Brass in Concert showed. Not too many bands are willing to stick their necks out at present – a pity as something different may be the key to success here and there is a nice fat cheque for £1000 (and another great old silver trophy) for the band that top the pile.
This contest is a bit of a balancing act – go for broke on the set work and perhaps come undone on the entertainment, or opt for safety on the test piece and try and cash in on a showstopper on the Sunday? Whoever ends up the overall winner, they will have done it the hard way.
Competing bands

As for the competing bands?
Not perhaps the strongest line up (given the perilous state of many a top band at present you do wonder why a few 'big names' haven't felt fit to put their reputations on the line for the chance to pick up a huge wad of cash) but an interesting one nonetheless.
The reigning champion Desford is back to defend its title and should be well priced at the bookies to at least come in the prizes. Others though will fancy their chances, especially as we are sure nearly all the bands will have a sprinkling of 'guest players' in the ranks to help their cause. Perhaps the organisers can get the audience to play 'Spot the Ringer', as there is sure to be a few familiar faces in unfamiliar, and badly fitting stage jackets on the weekend.
Of those who should be in with a real shout though are Virtuosi GUS who have a solid look about their line up as well as SWT Woodfalls who have Dr Nicholas Childs at the helm – and he doesn't do contests for the fun of not winning.
Wingates are fast becoming a force to be reckoned with once more, whilst there are sure to be solid challenges from Yorkshire Imps and Tongwynlais, both of whom enjoy the format here.
Mount Charles is a band that on their day can be quite inspired and different (who can forget the thigh slapping at Brass in Concert a few years back) whilst Thoresby may be a good outside bet with Milnrow and Bactiguard Wire Brass solid outfits who can up their game to challenge at this level.
Who will seek divine inspiration then to take the prizes?
Desford should have enough about them over the two days for us if they play to form, whilst GUS should be right on their tails. Woodfalls and Wingates may be the next in line with Imps and Tongwnlais also in the mix. Our dark horse is Mount Charles.
4BR Prediction:
1. Desford
2. Virtuosi GUS
3. SWT Woodfalls
4. Wingates
5. Yorkshire Imperial Urquhart Travel
6. Tongwynlais Temperance
Dark Horse: Mount Charles