Band under the spotlight - Wingates
9-Jan-2008
In the first of a new feature, 4BR puts a band under the spotlight to find out more about them and whether or not we think they can be successful in 2008. First up is Wingates.
---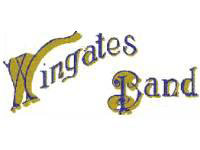 Band: Wingates
Website: www.wingatesband.org/
Region: North West
Major Honours:
British Open Champion: 1906; 1907; 1918; 1921; 1923; 1939; 1975
National Champion: 1906; 1907; 1931; 1971
North West Region Champion: 1945; 1948; 1971; 1974; 1977; 1995
Grand Shield Winners: 1996
Senior Cup Winners: 2007
French Open Champion: 2006
---
Band History:

The band was formed in 1873 when elders of the Good Templars Lodge ensured a temperance band would represent them and their ideals – the name that would be associated with the band for years to come. That ended when the band were sponsored by Bass Brewery - a combonation that didn't quite mix!
The association with William Rimmer and William Halliwell led to many successes – including the famous 'Double–Double' of Open and National titles in 1906/1907, whilst their last Open victory came under the baton of Richard Evans in 1975.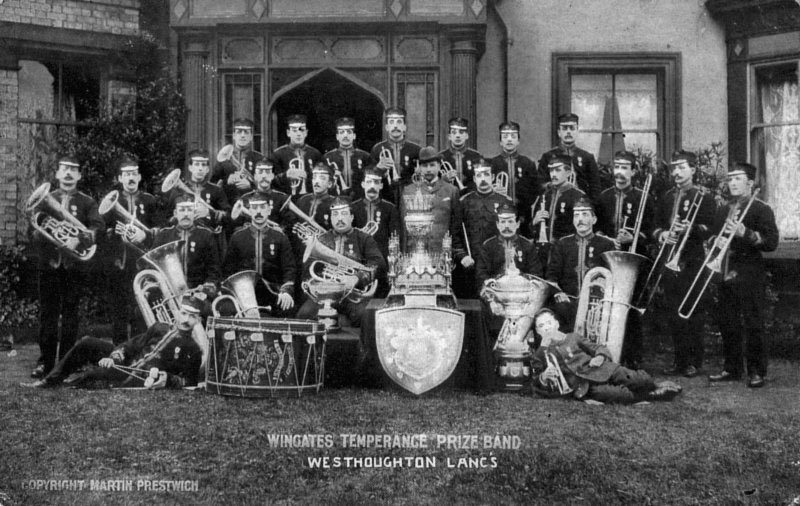 Double Double Champions: Wingates Band 1907
Click for larger version

Less successful periods of time have been felt too however, but the band has maintained a proud and occasionally inspired contesting record. 7 British Open titles, 4 National and 6 North West Regional victories show that they have managed to maintain their competitiveness at the highest level throughout their history, even if there has also been extended periods when things haven't been so good.
The most recent renaissance has occurred in the past couple of years however with increasingly confident and successful performances as far afield as the French and US Opens as well as closer to home as they try to reclaim their position back at the British Open where they last appeared in 1999 and the Royal Albert Hall where they last set foot on the stage in 2004.
That increased profile has also led to something of a resurgence on the concert and recording platform too, with their Nyman Brass CD release finding resonance with fans and critics alike and with them once more starting to appear more regulalry on the national concert circuit, things are looking good.
---
Statistics:

Current 4BR Ranking: 27

2007 Contesting Record:
Butlins Mineworkers Championship: 10th
North West Area: 3rd
Senior Cup: Winners
French Open: 2nd
US Open: 3rd
2007 Prize Money won: £1675.00 (approx)
4BR Seven Year Ranking Progress: (World of Brass/4BR ranking at the end of each contesting year)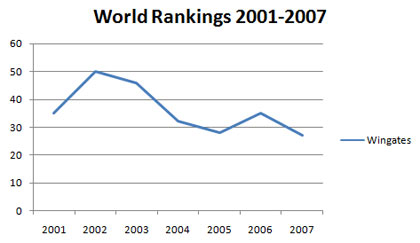 Wingates have been a bit up and down since the 'World of Brass/4BR Rankings' came into existence. In 2001 they were ranked 35th, but two poorish years saw them drop down to 50th in 2002 although they improved to 46th in 2003. Since then they have moved up to 32nd in 2004 and 28th in 2005, before a fall to 35th in 2006. That improvement in contesting form in 2007 though saw them reach their highest position in the last 7 years of 27th.
---
Personnel: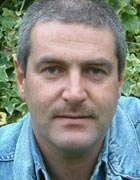 Musical Director: Andrew Berryman
Andrew Berryman is the Principal Trombone of the Hallé Orchestra. In 2005 he became interested in developing his profile as a conductor and accepted the position of Musical Director with the band.

Since his appointment the band has enjoyed success in the French Open, Senior Cup and the Areas Championships.

Andrew has fulfilled two of his ambitions with the band: Making joint CDs with the Hallé lower brass section (Frolic for Trombones) and Michael Nyman music (Nyman Brass). The band is working towards the possibility of a tour promoting Nyman music along with the official Nyman band. In 2007 Andrew also completed his MA in conducting from Salford University.

Andrew also plays with Hallé Brass and Hallé Rock, groups essentially consisting of Hallé Orchestra personnel and is a trombone tutor at Chethams School, the Royal Northern College of Music, and Salford University. Andrew is also very active in the education department and in recent years has worked as an animateur.
Band Manager: Graeme Hall
Current Players:
Principal Cornet: Andy MacDonald
Solo Cornets: Emily Dodsworth; Steve Greenhalgh; Gareth Crane; Lesley Richmond
Soprano: Nigel Fielding
Repiano: Michelle Lane
2nd Cornets: Andy Morris; Stuart Barton
3rd Cornets: Sue MacDonald; Jane Moore
Flugel Horn: Lizzie Sawyer
Horns: Lucy Pankhurst; Megan Downing
Euphoniums: Gary Curtin; Liz Pope
Baritones: Katie Smallwood; Barry Bentley
Trombones: Peter Moore; Tom Berry; Adrian Bird
Basses: Michael Morris; John Clough; Mark Hart; Phil Lightfoot
Percussion: Pat Noone; Paul Sibbet; Andrea Crossley; Adrian Smith
---
2008 Aims and objectives:

The main MD Andrew Berryman is looking for is further progress. "We want to break into the top echelon of 20 ranked bands this year and make others really look over their shoulders at us. We are all pulling in the right direction, which is really encouraging."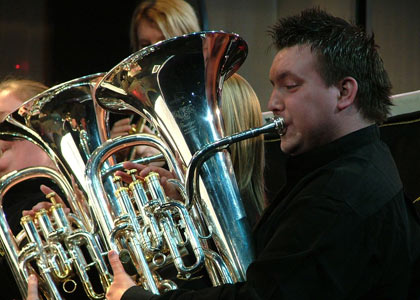 Aiming high: Wingates Principal Euphonium Gary Curtin

Contests: "We want to do well in each contest we play in of course, but we are looking realistically to push strongly for a qualification place at the Areas as a main aim this year. The Grand shield will be difficult but we will be very focused on that too. Butlins will be a good start to the year and we are confident going into the contest."
Non contesting front. "We have plans for possibly two CDs this year featuring the band and soloists, whilst we hope to do something more with Michael Nyman – watch this space! We are now getting better concert jobs on the circuit too, starting at Morley this week, so the profile of the band is getting higher."
---
4BR Predictions:
Wingates is certainly a band on the up and there is a sense of expectation and ambition about the lads and lasses from West Houghton. Whether that can be maintained in 2008 will have to be seen and we may get an indication of just how good there are at the forthcoming Butlins Mineworkers Championships in Skegness where last year they were well off the pace.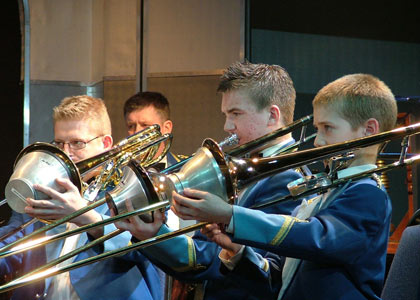 Trombone trio: Wingates trombone section work together

There is solidity about their line up of players now with plenty of experience mixed in with some exciting (and prodigious) young talent. Andrew Berryman can be a flamboyant and very musical presence in front of the band too – something that may well pay dividends throughout the year, so with a touch of luck they could be on of the star performers this contesting season.
The Areas holds real hope as the region will send three bands through to London. After a close call last year and with Fodens already qualified, they could well be in with a real shout of upsetting either one of Leyland or Fairey to book a place at the Royal Albert Hall.
As for the British Open? That may be just a stepping stone too far this time, although you never know. The line up at the Grand Shield is very strong this year and a realistic aim may well be for a top 10 finish or above.
However, with less contesting distractions and with a settled line up of personnel, Wingates are in a healthy position – and very well run to by the backroom staff. There is ambition and desire in abundance, and allied to the aims and objectives of the MD it could be a year to savour.