Dinner Guests - Chris Wormald's ultimate brass band dinner guest list.
9-Jan-2008
In the second of our new feature Chris Wormald tells us who he would like to invite to come to dinner...dead or alive.
---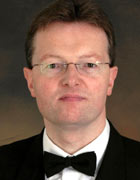 Given the opportunity, the wish list, the ability to mess about with the Space-Time Continuam like Doctor Who, and the skill to cook like Heston Blumenthal, who would you like to invite around to your place to enjoy a meal and chin wag with?
We've been fairly generous with our criteria too: The 10 people can come from any time in history, but must have some link, in however tenuous a form, to the brass band movement. The budget for the meal and drinks comes out of their own pockets though...
4BR started it all off a few days before Christmas with our 10 dinner guests, so we thought we had better ask a few more brass band personalities who would be on their all time dinner list too...

First up is Chris Wormald, conductor, adjudicator and Assistant Headmaster, Director of Arts at Smithills School.

1. Elgar Howarth
I have always been fascinated by his involvement and innovation regarding brass bands.

2. William Rimmer
A senior figure to the Mortimer dynasty and a prolific arranger, Rimmer was so much more than just The March King.

3. Wilfred Heaton
So many compositional questions I would love to ask.

4. Sir Edward Elgar
His views on brass bands and repertoire would undoubtedly be illuminating to say the least.

5. Gordon Langford
When it comes to arranging, Langford awoke my interest over thirty years ago, then came Catherall and Fernie, but in my early teens I was always curious as to how Langford created his sound. Fantastic pianist for after the meal…

6. Philip Jones
I had the pleasure to meet and play for Philip and would love to talk with him again and see him discuss the pioneering PJBE days with Elgar Howarth.

7. Willie Lang
A great cornet player of his generation and long time colleague of the legendary Mr Murphy.

8. John Philip Sousa
Given the presence of Rimmer, I would be fascinated to invite Sousa to the same dinner.

9. Geoff Whitham
Just to lighten the atmosphere, few can match the longevity, banter or humorous anecdotes from a life in brass banding...

10. Melanie Sykes
For obvious reasons! A very capable baritone player in her day I believe, can you imagine a dinner party with a dectet of male only guests? Miss Sykes presented at The Lowry in 2006 and was a pleasure to meet.
---
Previous dinner guest lists:
1. Who would 4BR invite?