2007 Norwegian National Championships - First Division retrospective
15-Feb-2007
There was certainly a lot to admire in the First Division as Jaren took the honours under the iconic baton of Helge Haukas.
---
The First Section in the UK is a mess. Nobody really now knows what it is there to do and as a result it has become a dumping ground for bands of varying standards with varying degrees of proficiency, ambition and talent. Not so here.
Here the First Division here really is what it is meant to be – a genuine feeding ground of talented and ambitious bands all with an innate belief that they can play, and play well at an even higher level. That was evident here on the Saturday morning where 12 bands took to the stage to provide excellent entertainment with a wide spread choice of repertoire.
Kim Lofthouse and Alex Schillings were the two men out in the open to judge this section (the first time it has been tried at this level) and they didn't have any problems in picking out the winners, with two outstanding performances making their task a little easier, whilst the rest of the field sorted itself out in pretty regulation fashion.
Helge Haukas is one of the iconic conductors of Norwegian banding, someone who has won titles here at just about every level. He has conducted the likes of Eikanger to victory in the Elite Section as well as in the last few years Jaren Hornmusikkforening both in the top division and here in the First. He is a delight to watch in action, and although sometimes his interpretations can border on the surreal (we remember a Journey into Freedom of recent vintage that would have made Eric Ball spin in his grave) he always brings something of interest out of the scores in front of him. He is also one of the most aesthetically pleasing MDs to study too, with a superbly elegant technique allied to his somewhat maverick musical tendencies.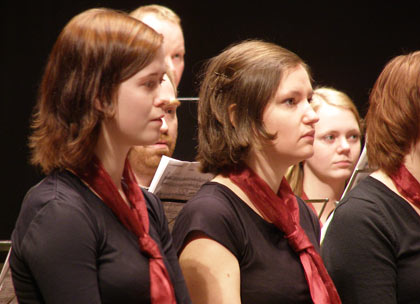 Waiting to take their journey: Jaren's top cornets wait patiently to deliver their winning performance

Here he was on top form with Jaren and their performance of 'Journey to the Centre of the Earth' was a delightful, almost filmatic interpretation full of energy and colour and plenty of bravura excitement right up the point where the protagonists are shot up the spout of the Stromboli volcano. He certainly enjoyed putting his very individual stamp on a score that allows some latitude for clever thinking. The band were also blessed with players on top class form who showed that they would not be out of place in the Elite Division either – a fine soprano, powerful trombones and basses and quality euph - although some of the middle of the band sounds were a bit weak and occasionally out of tune. Still it was a fine performance and we had them as the clear winners too. They should hold their own at the Elite level if they continue to improve on what we heard here.
Picking out the runners up was also a fairly easy task too. Oslo Brass Band conducted by Frode Amundsen producing a super rendition of 'Revelation' by Philip Wilby that wouldn't have been out of place in the Elite Division either such was the way in which it was delivered.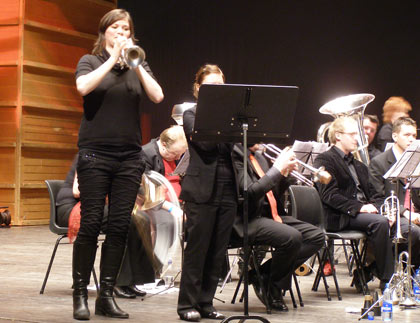 Now you see me, now you don't: Oslo make a real impression on Revelation

It just had the odd moment or two of unease, but overall it was a stunning effort for a band at this level and had a quite brilliant ending. Just those little errors and unease earlier in the piece may have cost them the title, but it was a cracker nonetheless.
With these two bands a good margin ahead it was still interesting and quite difficult to pick out the best of the rest with Kleppe Musikklag showing a great deal of class and some lovely musical touches under Russell Gray in their performance of 'Dances and Alleluias' by Philip Sparke.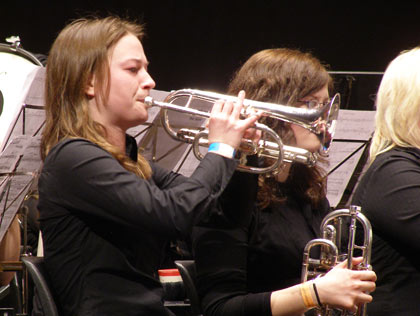 Dancing to the right tune: Kleppe take third spot under Russell Gray

It may not have had the overall quality of the top two (and contained a nasty misplaced entry from the baritone that very nearly upset the applecart) but it was still a high class show and one that would have possibly made it into the top 10 at the English Nationals without a doubt. That should give you some idea of what the standard was like here.
Below the podium places the standard was still remarkably high with a fine performance from Askoy conducted by Egil Magnussen of 'Partita' to come fourth and a really super show from Laksevag Musikkforening to tie with them. They chose Eric Ball's 'Kensington Concerto' and the piece that gave so many problems to the Elite bands a few years ago posed no problem to them under conductor Tom Brevik who just allowed the music to flow with a lovely understated sense of style and shape. It was a very good performance that on any other day may have come into top three at the very least.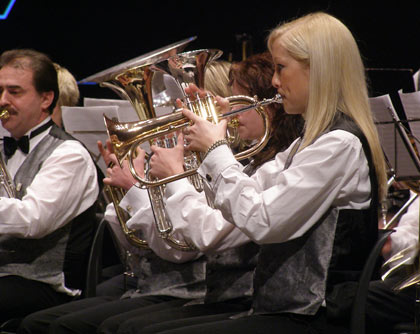 Playing the part in partita: Askoy's flugel does her bit

Radoy and Gareth Pritchard also produced a fine account of the horrendously difficult 'Montage' that featured a fine solo cornet player and an impressive solo cornet bench, whilst Oster Brass under Torstein Aagaard-Nilsen produced a finely structured and very lyrical performance of 'Forest of Dean' that was as good as we have heard for some time. Both of these bands can be very satisfied with their efforts on the day.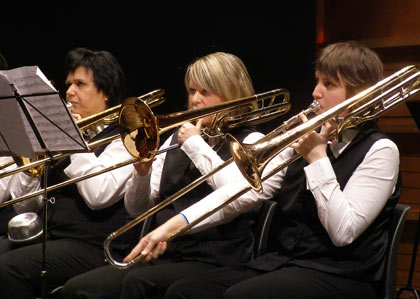 Trom trio: Laksevag's troms blow their way into the prizes

Haukas and Sorum tied for joint 8th place and both produced worthy performances that although not maintaining consistency throughout had enough about them to suggest that a bright future lies ahead under their conductors. Haukas opted for Gregson's 'Dances and Arias' and gave it a thoughtful account that just tired to end but did feature a very fine tuba player, whilst Sorum produced a performance of 'Lowry Sketchbook' that got better and better as it went along and which by the end was a little corker. If only they had started better they may have featured more highly in the prize list.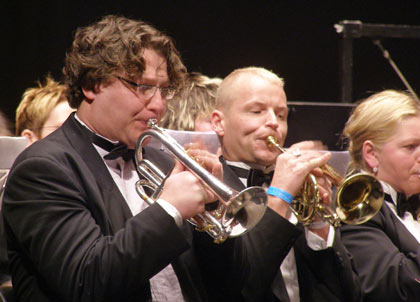 The Radoy man: Radoy's top man leads them into sixth place

That just left Folleso in 10th place with a decent showing on 'Royal Parks' that just didn't quite capture that sense of loss and desperation in the middle movement, whilst Alexander Brass Band under Morten Hansen produced an inconsistent account of 'English Heritage' that was in turns quite thrilling but also quite error strewn. That just left Sola with 'Variations on an Enigma', which lived up to its title somewhat as they struggled to find the key to unraveling its mysteries.
All in all though a fine contest and one that continues to show that the Norwegians have got the concept and the execution of the First Section just right.