2006 4BR Awards - 4BR Band of the Year
3-Jan-2006
Who are the players (and conductors) who we have chosen as the 4BR Band of the Year for 2006? Some great performers from all around the world have made it into our band for us, but do you agree with our choices?
---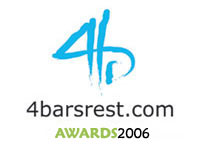 The criteria for inclusion is simple – just read the above paragraph; so it is not a question of who are simply the best players in the world (that would be a bit of a pointless cherry picking exercise), it is a question of those who have performed at the very top of their form during the past twelve months and have made a real lasting impression on us by doing so.
We think we have made a pretty good selection of players from all around the world and although not everyone will agree with our choices (that's for sure) we believe they make a pretty formidable line up and we hope they give a bit of festive cheer to those included, although it was an immensely difficult task in picking just 25 players and four percussionists – we could have made up two or three bands without any problems.
As always, certain players have stood out amongst their contemporaries in 2006, and 4BR has usually been there to hear most of them play on the biggest stages of all. From Skegness to Salford, Belfast to Birmingham and Bergen, these are the players who we think deserve that little bit of extra recognition for their efforts.
After we made our choices we had the problem of what to do with the band we chose, and as always we came up with the idea of an entertainment concert so that just about every player could showcase their talents and show the world why they were chosen.
These are the choices:
---
Conductors:

Allan Withington and Richard Evans
We couldn't really separate them if we are to have a one half of serious music and another of a bit of light entertainment. Withington was the class act of the year on the contest stage, a superb example of controlled musicality.
Evans returned to the stage that he controls the best – the entertainment platform to inspire Brighouse to a Spennymoor win that was as unexpected before hand as inspired after the MDs appearance dressed in that military overcoat.
---
The Cornet Section:
Principal Cornet:
Roger Webster
Grimethorpe Colliery (UK Coal)
Still the best around – and he continued to prove it throughout 2006. Masterful performances both on the contest and concert stage all year and his leadership of the band from the principal's seat at Grimethorpe set the tone for their efforts too.

Richard Marshall
Black Dyke
Made the inevitable move from Grimey to Dyke and showed himself to be worthy of the seat right from the word go. A player of the rarest gifts he performed with immense class all year when under the harshest of banding spotlights.

Kirsty Abbotts
Carlton Main Frickley Colliery
What a fabulous player. It is hard to suggest that we have heard her play better, whilst her contribution to Carlton Main's renaissance in 2006 cannot be under estimated. The judges also made sure she was rewarded too for here efforts too in gaining a number of individual awards.

Mark Wilkinson
Fodens Richardson
Rarely put a foot wrong all year and was the cornerstone of Fodens performances throughout 2006. When he led from the front the rest followed suit – as did the results. A paragon of dependability.

Ian Williams
Buy As You View
One of the most accomplished performers in top class banding, he led BYAV on all fronts with immense class and solidity all year.

Philip Cobb
International Staff Band

What a talent this young man is. Anyone who can go to Paris and make a mark against the very best trumpet players from all over the world in Maurice Andre's backyard must be special indeed. All this and he has been something of a star performer on cornet all year too.

Hans Gansch
Brass Band Oberosterreich
OK – We know we wax lyrical about the former top trumpet at the Vienna Philharmonic, but once again when we heard him at Belfast it was a privilege to listen to such brilliance. Heaven knows how good he could have been if he took cornet playing seriously…

Paula Russell
Brisbane Excelsior
We head this talented young lady a number of times during 2006 both as a soloist (she won the Ern Keller Solo Contest), as a principal cornet (with Brisbane at Cambridge) and as a very worthy contender at the British Open Solo Championships. One English player actually doing brilliantly in Austrailia this year…

Iain Culross
Sellers International

A young man with a very big future ahead of him (he has now taken over the top spot at YBS). He was impressive on each occasion we heard him in 2006 and for such a young man he played with amazing maturity – especially at Brass in Concert where his slow melody playing was a real highlight for us.
---
Soprano Cornet:
Michelle Ibbotson
Buy As You View
One of the most difficult decisions each year is to pick the soprano cornet player who impressed us the most. All the top players seemed to be on their game this year, but Michelle Ibbotson from the BAYV Band was on quite sublime form every time we heard her.
---
Flugel Horn:

John Doyle
Black Dyke

A strangely muted year for flugel players in 2006 – the test pieces didn't really utlilse their talents as much as they have done in the past, although 'Judges of the Secret Court' did ask a few tough questions of them on a sticky day at the Albert Hall.
John Doyle though was admirably consistent and at times inspired even when playing some pretty ordinary pieces of music and in our opinion was the best of a very good bunch in the past 12 months.
---
Horn Section:
Owen Farr
Buy As You View
The Welshman really has matured into a superb all round performer – stunning soloist but equally fine section leader and as solid as rock on the contest stage. The undisputed leader of a very fine pack in 2006.

Sheona White
YBS Band
Even though she has decided to leave her spiritual home at YBS for a second time, she does so with her reputation enhanced even further on the back of some stunning personal performances during the year in a band that at times misfired around her.

Lesley Howie
Leyland
A real year of showcase performances from the Scotswoman who continues to deliver exceptional solo and section leader contributions on both the contest and concert stage. A beautifully understated sense of style pervades everything she pays to such impressive effect.
---
Euphonium Section:
Steven Mead
Unattached
On simply brilliant form all year. We heard him dep with Grimey, strut his stuff on a Milan catwalk, release two of the most impressive solo CDs for quite a while and even take to the baton. On each occasion he was never less than outstanding and he matures as we have said before – like a fine ruby port.

David Childs
Buy As You View
He may have had a quiet year by his amazing standards (although he did round it off by getting married), but he is still the most complete euphonium player of his, and perhaps any other generation. All year he displayed his wares in quite brilliant fashion, even when he didn't have a lot to do. Undiluted class.
---
Baritone Section:
Katrina Marzella
The Fairey Band
Without doubt the star brass performer of the year. Showed all her qualities in winning the British Open Solo Championship as well as a team player with Fairey's.

Bob Blackburn
Grimethorpe Colliery (UK Coal)
You will always need a man of maturity and musical sophistication to back you up and in 2006 Bob Blackburn showed all of that and more as an integral part of Grimethorpe's impressive campaign.
---
Trombone Section:
Runar Vaernes
Leyland
What a fantastic talent this lad is, and in 2006 he popped up in all sorts of places to showcase why even his rivals take time out to listen to him play. All this and he can play the euphonium left handed too. No wonder Leyland got their money's worth out of him.

Herb Bruce
Brass Band of Central Florida
We have heard Mr Bruce a number of times in the past, but perhaps not as stunningly as he was on the contest, concert and recording stage this year with BBCF. At Gateshead in particular he was on eye poppnig form, playing stuff that put a huge smile on the listener face. A rare treat.

Camilla S. Tveit
Manger Musikklag
Would have made it to the band on the strength of her performance at the Norwegian Nationals alone: It was a quite stunning piece of extended soloistic playing. It was bass trombone playing of a like you rarely if ever here today in a modern brass band, and our Norwegian spies tell us she got even better as the year went on.

---
Bass Section:
Shaun Crowther
Grimethorpe Colliery (UK Coal)
The Grimethorpe man continues to set the standard for others to follow as the premier leader of a bass end. Without his input and organization Grimey would not have come close to playing as they did throughout last year.

Joseph Cook
Black Dyke
A quiet and modest young man who has developed over the past few years at Black Dyke into one of the very best players of his instrument anywhere in the world. Gained just reward for a superb individual contribution to Dyke's Open win as well.

Philip Johnstone
Woolston Brass
Another player we tend to wax lyrical about, but once more the New Zealander is an exceptional performer who continues to do the biz, year in year out. This year he was New Zealand Champion again (by 6 points) and helped to lay the foundation for Desford to come third at the British Open.

Dean Morley
Grimethorpe Colliery (UK Coal)
Say what you like, but Deano still pumps it out bigger and better than just about anyone else. He may be losing a bit more of his hair (and inches around his waist) but he still has Samsonite powers of bass playing strength which provided Grimey with a sound to wake the dead last year.
---
Percussion Section:
Gavin Pritchard
Grimethorpe Colliery (UK Coal)
A brilliant tuned percussionist who can turn his hand to just about anything in the kitchen sink department too. The only player we heard all year who could play the xylophone part in St, Magnus properly without it sounding like someone had opened a bag of frozen pies onto the instrument, he was on fine form all year with Grimey and others.

Dave Danford
Buy As You View Band
A high profile player for certain, but one who can back up his publicity with the talent too. His contribution to the BAYV success of 2006 should not be underestimated and he is continuing to develop as a major presence as a soloist in his own right as well. Look out for him 2007 - you won't be disappointed.

Sergio Carrenoe
Brass Band of Central Florida
If you are looking for an authentic kitman who can provide the perfect foundation for any type of big band nuber, then this is your guy. No other kit player we heard all year was in the same class. He even twiddled his sticks like Cozy Powell used to do too.

Roanna Cooper
Woolston Brass
The New Zealand equivalent of Simone Rebello is much, much more than just an antipodean clone of the great female percussionist. In 2006 she once again showed her versatility by becoming individual New Zealand champion again and coming 2nd overall in their prestigious Champion of Champions shoot out. All that and she was a fulcrum of the Woolston Bands continued entertainment contest success and concert repertoire. Not bad eh?