2006 4BR Awards - 4BR Special Award - Markus Bach
4-Dec-2006
The 2006 4BR Special Award goes to Markus Bach, the architect behind the European Brass Band Championships and in 2006 the man who epitomised the belief that the contest had a future post the Besson collapse.
---
---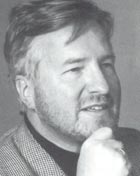 Without Markus Bach there would be no brass band movement in Switzerland. Without Markus Bach there would be no European Brass Band Championship.
He has been a player, teacher, conductor, administrator, developer, adjudicator and figurehead, and has been without doubt one of the most important and influential figures in the modern brass band movement. In the post Besson meltdown he was the central figure in ensuring the survival and ultimate revitalization of the European Contest.
His critics (and there are many) see him as someone who has perhaps put his own interests ahead of the greater good of the movement he represents, and he continues to illicit strong opinions from those who see him as a force for good (and there are many of them too) and those who are perhaps less charitable.
The latter group tend however to forget that if you are to drive forward an organization such as the European Brass Band Association for over decade, to develop its championships into a true international music festival, to have the belief and forcefulness that its future was worth saving at a time when it could so easily been diverted onto another course, is a man who you are lucky to have on your side. The benefit to the European Brass Band Championships as well as to banding in his home country has been incalculable.
As a young man he studied trumpet and trombone and heard the pioneering bands such as CWS Manchester as they took their first tentative steps into Europe at the end of the 1960s and early 1970s. He was bitten by the brass band bug, and soon after, with the likes of Ernst Graf, Roger Violet, Ernst Egger and Andy Winkler, he returned from a period living in London to found Brass Band Berneroberland in 1968, the Swiss National Brass Band Championships in 1972, the Swiss National Solo and Quartet Championships in 1974 and the Swiss National Youth Brass Band in 1976. It was a movement based on the development from its roots and by 1990 it had grown beyond the wildest expectations.
His own qualifications, polyglot abilities, attention to detail, professionalism and his immense ability to bring together like minded people to work for a common cause made him an ideal administrator. He continued to conduct with great success however (he won his own National Championships on more than one occasion) and made his first appearance at the contest he would do so much to develop and shape in 1981, conducting Berneroberland into joint 7th place.
In the early 1980s he became a member of the Boosey & Hawkes Advisory Committee on the European Championships and in 1995, together with Jappie Dyjkstra, Tom Brevik, Robert Shotte, Fred Harles and James Abbott he helped set up EBBA. Since that time, and under his stewardship as President, he has helped develop the championship from an annual even, that after its initial start at the Royal Albert Hall had become something of a brass band side show, at times relegated to sports halls and small provincial venues that lacked imagination and funding, to a true international festival, held at the major concert halls throughout Europe.
Those abilities to communicate to all member countries and to encourage sponsors to invest in the event over the years has also helped develop the B Section, create the European Youth Brass Band and also enhance the status of the ancillary European events such as the composers and conductors competitions. Only a man with his drive and enthusiasm and genuine love for the movement could have done this, and his long term ambition of seeing countries such as Italy, Germany and Lithuania join EBBA and develop a true brass band culture in their countries has been lasting and significant.
His diplomatic skills in late 2004 and early 2005 also helped to save the contest from what could have been a potentially disastrous future. With Besson, mired in financial melt down, the decision to stop sponsoring the European Championships could have been a hammerblow from which it could never recover. With rival organizations looking to step into the breach, Markus Bach held firm with his belief that the future could only be sustainable under the EBBA banner. He proved both successful and right. The European Brass Band Championships is now just that – not a British Championship with European interest.
Other troubles also surfaced too, and it was his direct, yet sympathetic handling of the Welsh membership problems that finally made it possible for them to return to the fold and enable Wales to send their champion band to the Belfast contest.
In other areas he has perhaps not been so successful, and there is still genuine concern over some aspects of the EBBA organization and some of the mechanisms, which he has overseen into the contest. The choice of adjudicators and set work music still raises concern in many quarters, but it is to his credit that at each European contest the press are allowed to ask as many questions as they want of him and his fellow EBBA members at official press conferences, ancillary debates and functions.
He has of course been fortunate to work with a group of people who share his vision, and with his retirement as President of EBBA in 2007 after the Birmingham event, the future course of EBBA and its flagship contest will skip a generation. It will be in very safe hands though.
That says a great deal about Markus Bach; a man who has given his life to music. He is a most deserving recipient of the 2006 4BR Special Award.