2006 Scottish Open Brass Band Championships - Postcard from Glasgow
28-Nov-2006
The Scottish Open has had four years to establish itself in Glasgow, but its future lies in Perth it seems.
---
Glasgow certainly has a well earned reputation as being a place were being 'hard' is an essential requisite for survival, but it is also a city that has a lot to offer those of a more 'artistic' bent who seek their thrills and spills in music.
The Scottish Open has taken place here for the past four years, but as from next year it will move north east to the banks of the River Tay and Perth. It is a move that in true Scottish style is more to do with pragmatism than anything else.
The Royal Concert Hall has been a fine venue for the contest, but it has singularly failed to attract a large enough audience for the Scottish Brass Band Association to justify its expense – and it is an expensive hall to hire at around 5 grand a day.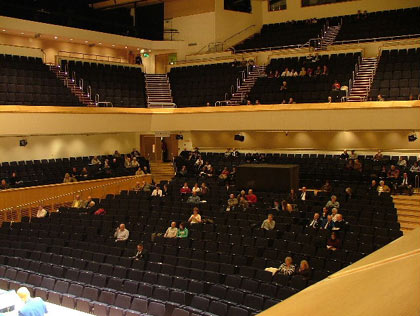 Bums on seats? The Scottish public come in their droves to listen in Glasgow

You need plenty of bums on seats for that price, and although there have been encouraging signs that a core audience was starting to come to the contest here, the numbers never really added up.
The good news of course is that the Scottish Youth Championships are a real success story and from next year they will form a central part of a two day event, allowing for the kids to perhaps be persuaded to come and listen to the senior band outfits. Give them cheap ticket or block family bookings and let them enjoy the bands. That must be encouraged for at times this weekend there were more people on stage than there were in the hall for some senior bands.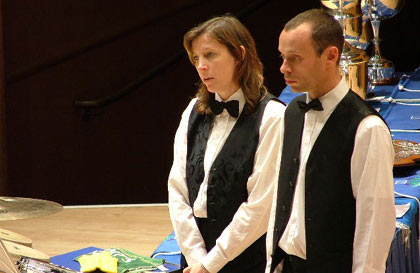 Enthusiastic response: Woodfalls perc section drum up the enthusiasm factor

The one thing you do get here though is a warm welcome and the Association should be congratulated for its friendly yet very professional approach to the way in which they run things. From the delightful Mrs Gray who makes copious amounts of tea and lovely sandwiches and cakes to feed the masses behind stage to the officials who know what they are doing there is a sense of things always being under control.
That said though, the almost disastrous draw for the Scottish Open when someone forgot to put enough draw numbers in the bag did raise an eyebrow or two especially in the English contingent of band representatives.
The individual contests themselves varied in quality, but the Youth Championships were quite excellent. Headed of course by the continued excellence of West Lothian Schools under Nigel Boddice MBE, the trickle down effect has really started to take hold and in the Premier Section in particular the standard of playing was very, very high.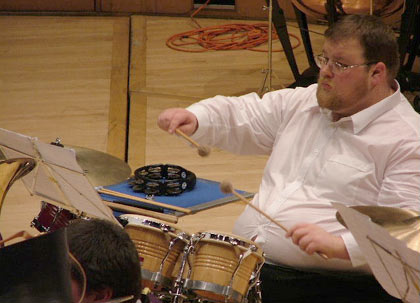 Now where do I put these? Kingdom's perc play tries to find the bongos

The Development Section also featured a number of well trained bands, all of whom brought something to the contest and which gave adjudicators David Childs and Alastair Orr plenty to ponder, whilst the sole representative in the Community Section produced a little gem of a performance too. Our man John James certainly enjoyed every minute of all three contests and described in the 4BR Podcast his sense of joy in hearing bands and young players enjoying making music first, competing second.
Back to the big boys and the Scottish Challenge Cup saw a varied selection of music as well as playing standards, but an enthusiasm that was second to none. Kevin Wadsworth was quite right when he said it was great to hear so many well chosen own choice selections.
The Challenge Shield only really disappointed in terms of the number of bands, and the number of people in the hall to listen, but there was still enough good quality music played to encourage the organizers into persevering with the contest and hoping to attract more bands next year.
The Scottish Open though is at a bit of a crossroads, although the signs are that it will head down a secure future path even if it does mean that the contest may become a bit more 'closed'.
The question of prize money needs to be addressed (although the move to Perth may well free up some extra cash) as without it and with the increased costs of travel and accommodation there would appear to be little incentive for the bands south of the border to make the trip at the end of what is now a very long contest season. If they can boost the prize fund then perhaps we could see a return to the overall standard of entrants that was such a feature in its first year or two. It would be a great pity if the contest lacked cross border rivalry.

As for the standard of playing in the top section? That was variable but then again, which contest isn't nowadays. The two experienced adjudicators had plenty to think about and did a fine job, whilst 4BR got it absolutley nowhere near with our predictions! Before the contest we actually tipped all seven top bands, but not in the right order, but when it came to the contest we didn't do anywhere near as well.

Whitburn of course will have been delighted with that, especially after we had come down so hard on them after Brass in Concert. Andy Duncan though is a lovely man and realised that he was being interviewed by a 4BR Editor who was prepared to eat plenty of humble pie (which he did) and took pity on us. He did though make a nice sly remark that this winning performance was still 'A Work in Progress' (Ouch!).
Good for them as they are a fine band who haven't had a great year of it - the future though looks bright.
There is a real future for the Scottish Open Brass Band Championships, but only if the move to a new venue is accompanied by an injection of cash to boost the prize funds and an injection of enthusiasm from the Scottish banding public to support it. Let's hope they get it right on both counts.
Iwan Fox