2006 Scottish Open Brass Band Championships - Scottish Open retrospective
28-Nov-2006
There is always a good old scrap on the cards when the Scots lock horns with the English, although they are keen to battle amongst themselves too. Whitburn though came out of it all as Champions - and off a number 1 draw!
---
You are always going to get a good old scrap between the Scots and English. Over the centuries the flag of Saint George has tended to be flown more in victory however, although at Glasgow's Royal Concert Hall on the weekend it was the Scottish Saltaire that was being waved from the battlements.

Five English invaders had made the trip north of Hadrian's Wall to do battle against the musical Picts, and after an enjoyable if slightly disappointing contest in terms of quality, all five were sent home 'to think again' as it were, as Whitburn took the honours. You could even detect a smile on the face of the slightly mean statue of former First Minister Donald Dewer outside the Glasgow Royal Concert Hall.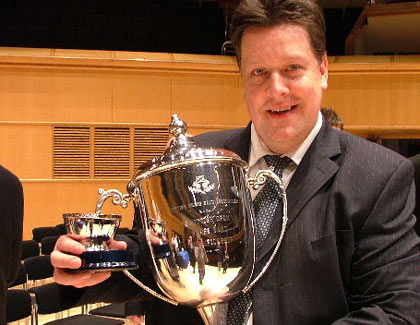 Which one will I fill up then? Andy Duncan celebrates Whitburn's success

Given that the Scots enjoy nothing more than sending the English packing it also has to be said that they do also enjoy the type of domestic in house fights that would make the Ali/Forman 'Rumble in the Jungle' look like a handbags at ten paces affair outside the Bon Accord pub in Glasgow on a wet Saturday night. The Scots do parochialism rather well (although not as good as the Welsh it must be said), so it must have been doubly satisfying that Whitburn rounded off what for them has been a rather disappointing 2006 contest season by getting one over their domestic rivals too.

It may have taken the edge off Scottish Co-op's own celebrations of being crowned Scottish Championship Section Band of the Year to know that their season ended on a bit of a low note by coming runners up, but they can look back on 2006 with fair degree of satisfaction. Kirkintilloch meanwhile can also reflect on a fine 2006, but there surely would have been a bit of a bitter taste to their pints of 'Heavy' after coming in fourth.

As for the English? The main question as the old song goes is 'Will they noo come back again?
With the contest now moving home after four years here to head for Perth there is concern that the event may not continue to attract the English bands. The organisers do run a very professional contest, but the lack of a substantial prize fund (the top prize is £1,000 with only a second prize of £500) has diluted the quality of representation from south of the border. This year there were no Welsh bands whilst of the five English bands just the one (SWT Woodfalls) came from south of Birmingham.
Thankfully the Scottish Band Association has recognised this and the move to Perth should enable them to cut overheads (the hall was rumoured to cost 5 grand for the day here) and to plough the saving back into the prize money fund. That, and the fact that next year's event will be spread over two days should enable them to offer an attractive incentive to competitors from farther afield.

Hopefully Carlton Main should make it back here after showing continued promise in coming third, whilst they headed an English contingent that saw Fishburn come fifth, Wingates sixth, SWT Woodfalls, seventh and Freckleton eighth.
The remaining clans of Scottish bands filled the bottom 9th – 14th places with varying degrees of consistency with Broxburn & Livingston heading Dalmellington, Kingdom Brass, Kirkintilloch Kelvin Brass, Unison Kinneil and Bon Accord Silver.
The contest could have panned out so differently if things had possibly gone to plan at the draw.
It would be a touch churlish to suggest that stereotypical Scottish meanness had meant that only 13 penny shaped discs had been placed in the draw bag instead of the 14 required, but there were plenty of wry smiles on the English band representatives after the first draw had to be abandoned after the mistake was identified. A few scratched heads and some uncomfortable chuckles later the second draw was made, much to the disappointment of Whitburn's representative Kenneth Crookston no less who dipped his fingers into the bag and drew out number 1! His plaintive call for a ' Best of Three' draw fell on predictable deaf ears!
With Fishburn also requesting an early draw due to understandable personnel problems the bands themselves all left pretty well satisfied with their lot, with the 'Big Three' Scottish contenders of Whitburn, Kirkintilloch and Scottish Co-op drawn 1, 5 and 6 and the fancied English bands of Wingates, SWT Woodfalls and Carlton Main getting 7, 9 and 14. Battle was about to commence!

The organisers had taken the sensible step of putting a Welshman and an Englishman in the box, with Dr. Robert Childs fresh from leading BAYV to a domestic triumph in Wales teamed up with Stephen Roberts. Both are rightly acknowledged as fine musicians in their own right and both have a well earned reputation of knowing their musical business, especially when it comes to top line test pieces. If the bands were going to impress these two then they had to do it without trying to pull the wool over the eyes, as both had worked extensively on each of the 11 own choice selections on show in the past.

In the end it was a question of quality that both were looking for. Dr Childs told 4BR: "There were some wonderful top class test pieces on show, but we had to weigh up the difficulty of the piece against its actual performance by the band. The most convincing performances were the ones that gave us that extra 'X factor', and showed the real qualities of the best bands to the full. The top two or three bands honed their performances to British Open standard."
The standard of the quality was set from that number 1 draw with Whitburn choosing to play 'Vienna Nights', a sensible choice given their somewhat uneven form this year as at Birmingham they were at their best and were a little unlucky to come in 10th.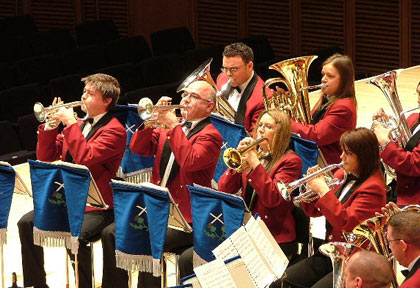 Good Night Vienna: Whitburn point the way to victory

Here they produced a well crafted account that at times was excellent, at others slightly messy. Given that they only had a week and three rehearsals to prepare the piece it was a fine effort, perhaps just in need of a bit more polish in places, but one that certainly had the hallmarks of quality in terms of sound, phrasing, style and execution that the judges were looking for (we had them 4th).
It was beatable though, and they perhaps knew it as they left the stage. But on a day when no band really took the contest by the scruff of the neck it was good enough to secure the £1,000 first prize and win MD Andy Duncan the silver Quaich from which to sup his celebratory winners whiskey.
He himself was pleased with the win, but given that he is such a modest and delightful chap, he was also realistic about it too: "The draw may not have been the best, but I knew we could perform this wonderful work really well. We have had a busy time of it of late, but the band responded to the need to put in the extra hard work to come here and deliver a winning performance. It's rounded off what has been a slightly disappointing year for us really well."
Following them came the first of the English challengers and the reigning Scottish Open champions, Fishburn directed by Russell Gray.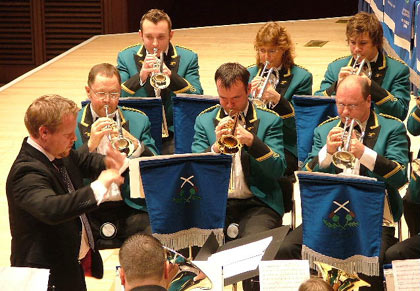 Fairly close encounters: Russell Gray leads Fishburn to 5th place

They opted for 'Tristan Encounters', a brave choice given that much depends on its success with the delivery of two sections of the work that the composer himself doesn't particularly like. The cadenza section was just about overcome, but there were ensemble difficulties throughout the piece that just took the gloss off, whilst Russell Gray opted for the extended drawn out final bars, which the composer himself has said clearly is not what he intended. In the end perhaps it didn't matter and a variable performance could only be rewarded with 5th place (we had them 9th).
That though was better than the outcome for Dalmellington who chose Philip Wilby's 'New Jerusalem' only to find that they had perhaps bitten off too much than they could chew. Dalmellington has had an excellent year, but if they are to make an impression in the top section next year they will have to up their game somewhat from here.

This was a brave effort, but it was undermined perhaps from the start with terrible intonation problems and a tendency to get scrappy and untuneful in the final third of the piece. In the end they could have little to complain about in coming 10th (we had them 12th)
Next up were Kingdom Brass under the experienced Archie Hutchison and they delivered a pretty good account of 'Cloudcatcher Fells' which we really liked and thought would have come in the top six come the results (we had them 6th in fact).
Not so in the box though and despite their musical approach and pretty good adherence to dynamics and tempi it didn't quite come over that way for Robert and Stephen and they put them back in 11th place. A bit unlucky perhaps.
For many, Kirkintilloch were pre contest favourites and had certainly added something extra to their strength by the return of Steve Stewart on soprano cornet, allowing the excellent David Prentice to return to Principal cornet duties. It seemed to be working with their selection of 'Harrison's Dream', although the decision to get all the cornets to play the opening semi quaver runs was noticeable. It was certainly full of drama and colour, but it also had a high quota of annoying errors especially in the faster dislocated sections.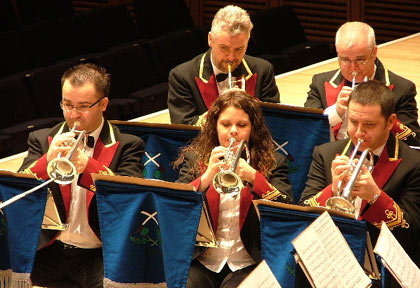 Not quite a dream result: Kirkintilloch head for 4th place

Steve Bastable brought his own little touches to bear too, although the choice of bells to highlight the souls of the drowning sailors as they descend to Davy Jones's locker sounded more as if Santa Claus had paid them a visit first: They were a touch tinkly. Still it had the quality though, but those errors cost them dearly and they had to be content with 4th place (we had them 2nd).

The core of the contest was certainly shown in the performances of the next couple of bands.
Scottish Co-op also picked 'Harrison's Dream' although their nautical trip did contain more navy wrens than stubbly old sea dogs as they had 13 women players in the ranks. What possibly cost them victory was a slightly messy start that took time to find its sea legs, but soon after it improved greatly and the lyrical sections in particular were playing of the highest class.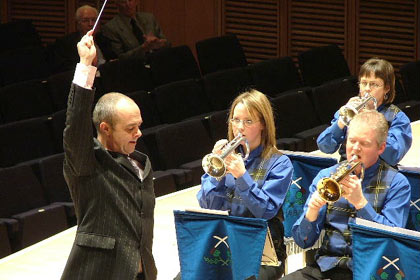 Waiting for the down beat: Allan Ramsay points Co-op into the prizes once more

More quality playing followed and with authentic navy sounding bells and a fine well managed finish it rounded itself off in style, although we felt those early problems would cost more than the men in the box thought. They gave them the runners up spot, whilst we had them down in 7th place, but it was a performance that could, and possibly, should have won them the contest if they had played to the form they had shown at Birmingham in particular.
Wingates meanwhile opted for dry land and 'Cloudcatcher Fells' and Dr Roy Newsome really rolled back the years with a stately, lyrical journey through the valleys and mountains of John McCabe's superb work.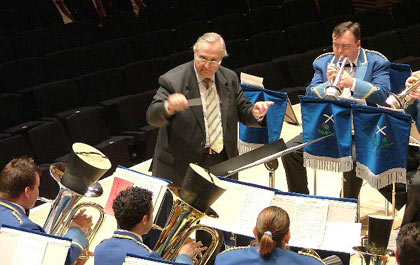 Doctor's note: Roy Newsome prescribes music for the soul

Perhaps it was a bit too stately in places as the quicker movements were in need of a touch more energy and bite, whilst there was a fair amount of little trips and noticeable clips that also detracted from what was a finely shaped musical portrait. In the end that cost them and they had to journey home in 6th place (we had them 8th).
Kirkintilloch Kelvin had shown here last year that a well chosen own choice selection could really make a mark if allied to a well executed approach. However on this occasion they couldn't repeat that and their performance of 'Tallis Variations' was decent enough without suggesting that it could come any higher than it eventually did. There were some nice touches and the MD Ray Tennant allowed the music to flow, but in the end it didn't have enough about it to come any higher than 12th (we had them 14th).
SWT Woodfalls certainly left the stage with the belief that they had done enough to come in the frame after a good effort on the extremely difficult 'St. Magnus'. If you ever want to gauge how well a band thinks it has played then always look out for a second cornet player who goes bonkers after doing his little bit to help the cause.
On this occasion the young man played his run with exemplary poise only to then quiver and shake like someone possessed by demons. Heaven knows what he would have been like if he had to have played the opening bars of 'Kensington Concerto'.

He did have plenty to be excited about though as it was a decent effort, directed with a broad shape by the MD, Melvin White. The more technical aspects of the work were well camouflaged, (the infamous cut and paste job on the semi quaver stuff in the final section was on show again though) and although it got strained towards the end it had enough about it for us to feature. We had them 3rd, but the judges (including of course the man who knows more about how to put this piece together than most) perhaps recognized those technical shortcomings more readily and had them in 7th.
The next three bands to take the stage unfortunately didn't set the pulses racing, although all three tried bravely to make the most of what were ambitious choices of repertoire.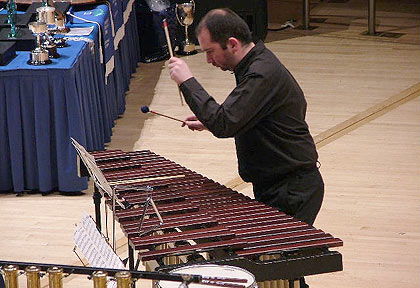 Which one next? Unison Kinneil's percussionist takes his pick

Unison Kinneil opted for 'Harmony Music' and although the solo euph had an excellent day it was those fiddly bits that really undermined their chances of coming any higher than the eventual 13th place (we had them 10th). There was perhaps a bit too much 'hit and hope' playing at times in the faster sections but a well managed ending showed that they had plenty in reserve and had obviously worked hard on the preparation.

Much the same could also be said of Bon Accord under Duncan Beckley who picked 'Between the Moon and Mexico' only to find that they couldn't quite reach either. It was an ambitious choice, but one that highlighted the weaknesses rather than the more obvious strengths of the band. As a result it became a bit monotone and tired and 14th place was about right (we had them 13th).
Broxburn & Livingston however picked a clever choice in 'Variations on a Bass Theme' that featured some real quality soprano cornet paying from Gordon Jenkins, a former Stanley Wainwright winner of the Best Instrumentalist prize at the British Open.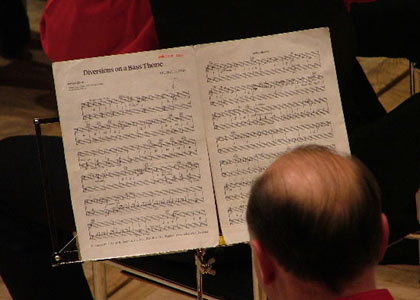 Head start: Broxburn's percussionist checks his position

He led the band with a touch of class, whilst his fellow performers reacted admirably to the MD Kevin Price and his intentions to allow the music to flow. 9th place was a fine return, although we had them a couple of places lower in 11th.

That was the end of the Scottish challenge for honours, but the English still had two strong contenders to show and both produced fine performances, although with varying results.
Freckleton opted for the one piece that may have raised a few eyebrows on the day – Ray Steadman-Allen's 'Hymn at Sunrise', a rather neglected piece in recent years.

Although not technically the most demanding to play it never the less asks a great deal in terms of musicianship. Paul Dalton certainly allowed time and space for the music and even though there was a high quota of small and annoying errors, especially in the first third of the piece it was a performance of merit, if a little colorless. We had them in 5th place as amid all the crash, bang, wallop of those around them it was nice to hear some restrained and refined music. The judges though perhaps noticed that the limitations of the piece meant that it needed something really special to make it a winner, and placed them 8th.

That just left Carlton Main Frickley Colliery and Gary Cutt who toped off the contest in the way in which it begun with 'Vienna Nights'.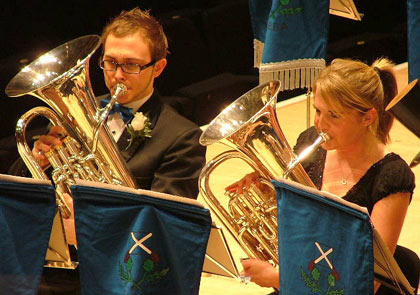 Two in a bar: Carlton Main's euph section do their bit

It started superbly with compact ensemble work and real precision and style in the Mozart episodes. Just when it appeared to be running away with the contest, nasty errors and individual frailties crept in and took the gloss off what was promising to be a clear winner. Kirsty Abbotts though was a beacon of quality and her fine efforts deservedly won her the 4BR 'Best Instrumentalist' Award and £100 of our hard earned dosh. She is some player.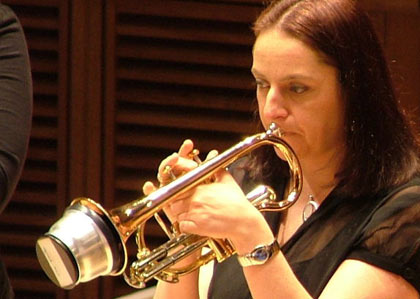 Vienna Star: Kirsty Abbotts wins the 4BR Best Instrumentalist Prize

After some excellent recitatives the drive for home was well managed and in plenty of style, but those errors seemed to nag at the men in the box and they eventually placed them 3rd. We had them as winners, but only by a neck from Kirky, but it was hard to disagree with the choice of the judges given what they said at the conclusion of the contest both to the audience and to us.
In the end though it was the four British Open bands that led the way, with Whitburn taking the honours and ensuring a good night in Glasgow after having a goodnight on Vienna.
Iwan Fox.