2006 Scottish Open Brass Band Championships - Scottish Challenge Shield retrospective
28-Nov-2006
Only four bands, and not many more people than that in the audience, but Johnstone Silver still won a very entertaining contest.
---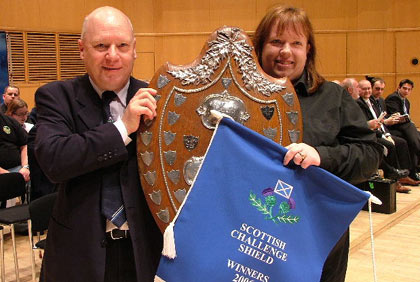 Strength and Shield: Johnstone's representative gets a hold of the winners trophy

The Scottish Challenge Shield took place on Sunday morning prior to the main event of the day with four evenly matched bands taking part. It has to be said though that it was a variable standard.
Adjudicator John Roberts spoke on behalf of himself and Nigel Boddice MBE at the results ceremony and he told it as was: Too many bands started well enough but were unable to maintain that level of consistency throughout their performance; some band's performances stretched them to the limit; there was hardly any quiet playing and when bands played some slow music, at times it got slower and slower. He was absolutely spot on and it is nice to hear an adjudicator tell it as it is. A good dose of reality is both welcome and appreciated and it does bands good.
Johnstone Silver led by Charles Keenan took the spoils courtesy of a fine interpretation of Philip Sparke's 'The Land of the Long White Cloud'. Although it wasn't error free, the performance featured some fine ensemble playing and it benefited from the way the MD gave the music time and space. Johnstone were one of the few bands that chose music that not only suited the band's sound, but was within their technical abilities to play too, and it proved not just to be a good choice but a winning choice too.
One point behind Johnstone in second place were City of Discovery Band who opened up the contest with George Lloyd's rather neglected 'Royal Parks'. They started effectively enough but sadly they weren't able to maintain things through to the end. The opening 'Dawn Flight' was most effective but they never seemed at ease during the 'In Memoriam' middle movement although they recovered well enough in the closing 'Holidays' Section.
Scottish Co-op's Paul Kiernan led Clackmannan District through 'Journey into Freedom' and it took too long to settle unfortunately, with tuning problems being in evidence in the cornet line. Having thought they were going to make a real good fist of it, the ending just didn't happen for them and the ultimate destination was never quite reached in the fulfilling manner that Eric Ball wrote.
The final place went to Gavin Lindsay's Lochgelly Band who chose another Philip Sparke piece, 'Endeavour'. Overall, this was a challenging work for the band that stretched them to the limit and perhaps they should have opted for a piece that was much more within their comfort zone – at times it was a bit too strained.
Having had a couple of withdrawals, it was a shame only four bands took to the stage and those who did have to be congratulated for doing so particularly as at times there were more people on stage than sat listening in the auditorium itself. Whilst a lack of apathy at contests isn't uncommon, it must have been a soul destroying experience for everyone concerned.
The problem will have to be addressed by the organizers, but we feel there is a real future for this section of the overall contest and with well matched bands it could develop into a contest of real merit. That is for another though and the winners, will still be very pleased that they took the domestic honours. They deserved it.

Malcolm Wood