2006 Scottish Open Brass Band Championships - Introduction and Prediction
24-Nov-2006
The end of season Scottish Open takes place in Glasgow on the weekend. Which one of the 14 bands taing part can round off their season in style?
---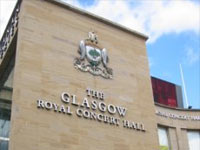 The Scottish Open Brass Band Championships now seems to have overcome the initial teething troubles that beset it after it first burst onto the contesting scene amid much publicity in 2003.

There were high hopes that it would attract the very best bands in the UK, especially as it had an attractive prize money package and was certain to be very well run by the Scottish Brass Band Association. Unfortunately that ultimately has not been the case, primarily due to the lose of that all important back-up financial package, but it is still a very well run contest and although it will be moving venues in 2007 to Perth it is still an important contest that does attract a high quality field of bands from both Scotland and England. It is a contest that is developing, albeit with a touch of Scottish prudence and common sense.

This year the Royal Concert Hall in Glasgow will play host to a fine turn out of bands all wanting to round off their contest season in fine style. In addition to the main event there is also the Scottish Challenge Shield, Scottish Challenge Cup and Scottish Youth Championships. It will be busy for sure!

The main event is the Scottish Open itself, where the Fishburn Band return to defend the title it took in somewhat surprising circumstances last year under the baton of Ray Farr. The contest retains its own choice format, and after the British Open, National Finals and Pontins there could well be a fair old mix of choices for the adjudicators Dr Robert Childs and Stephen Roberts to enjoy and pore over.

There are some interesting choices too with 'Between the Moon and Mexico', 'Diversions on a Bass Theme', 'Harrison's Dream', 'Tallis Variations', 'Cloudcatcher Fells', 'Harmony Music', 'Tristan Encounters', 'St. Magnus', 'Vienna Nights', 'New Jerusalem', 'Hymn at Sunrise' among the selections.
14 bands will take to the stage starting at 10.00am to see if they can win the top prize of £1,000 and it has the makings of a very interesting battle.

The Scots are a proud nation and will be keen to provide a homegrown winner this year. They send out a strong contingent too to try and repel the English invaders with the 'Big Three' of Scottish Co-op, Whitburn and Kirkintilloch, joined by Bon Accord, Broxburn & Livingston, Dalmellington, Kingdom Brass, Kirkintilloch Kelvin and Unison Kinneil. The English meanwhile send the big guns of reigning champions Fishburn, Carlton Main, Freckleton, SWT Woodfalls and Wingates.
On paper it appears a well matched field, although the Scottish bookies have shortened the odds on the usual suspects.

Of those plenty are in good form, with the likes of Kirkintilloch, Scottish Co-op and Whitburn all more than capable of winning and winning well, whilst Carlton Main, Fishburn, Wingates and SWT Woodfalls seem to pose the biggest challenge of stopping them.

Kirky come to the contest off the back of two fine showings at the Open and Nationals, and Co-op too showed plenty of quality at both events too, even if they were a little error prone at London. Whitburn showed at Birmingham that they still have it in them to pose a real threat, although both they and Co-op have only had a week to prepare after their appearances at Brass in Concert. Kirky then may be fresh and right on top of their own choice selection and may be slight favourites.
The reigning champions Fishburn will head north in good heart after a fine performance at the National Finals where they were good value for their fine result, whilst Wingates have had a good year and seem to be a band very much on the up. Carlton Main showed in Birmingham that they were playing at the top of their form whilst SWT Woodfalls were excellent here last year and have had time on their side in terms of preparation. They could pose a real threat if they really hit top form here again.
Elsewhere Freckleton seem to like playing here and will be well worth a listen too, whilst Dalmellington may be a First Section band, but only in name and could be a surprise dark horse. After their Fife Charities win Kingdom may well fancy their chances, whilst Kirkintilloch Kelvin showed last year that they are more than capable of taking more than a few scalps.
It would really be a surprise however if the likes of Bon Accord, Broxburn & Kivingston and Unison Kinneil take a podium place, but you never know and a crafty choice of own choice selection (just like Kirkintilloch Kelvin last year) could see anyone of them up and around the top six.

It is difficult to see beyond a 50/50 split though and the top three Scots of Kirkintilloch, Scottish Co-op and Whitburn should battle it out with Carlton Main, Wingates and SWT Woodfalls, with a couple of dark horses in Fishburn and Dalmellington.
4BR will be there providing live coverage as well as handing out a bit of our hard earned cash too with the £100 and trophy for Best Instrumentalist. Hope to see you all there.

4BR Prediction:
Harder than it first looks on paper this one especially as it is an own choice format. Quality and form should come through and we think it could be just the time for Kirkintilloch to gain something from a year of real improvement.

Behind them it could be very close, but Scottish Co-op and Carlton Main should be there or thereabouts whilst Whitburn, Wingates and SWT Woodfalls should have enough about them to fill the other top six places. As fro dark horse? Well Fishburn could just show that last year wasn't a one off.
1. Kirkintilloch
2. Scottish Co-op
3. Carlton Main
4. Whitburn
5. Wingates
6. SWT Woodfalls
Dark Horse: Fishburn