2006 Scottish Open Brass Band Championships - The Scottish Challenge Shield
24-Nov-2006
Four well matched bands take to the stage to see if they can raise the Scottish Challenge Shield
---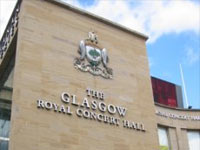 Pre -Drawn:
Contest commences: 10.30 am
Adjudicators: John Roberts & Nigel Boddice MBE
Test Piece: Own Choice
Awards:
1st: The Scottish Challenge Shield, Commemorative Banner and £300
2nd: £200 plus Commemorative Certificate
3rd: Commemorative Certificate
4th: Commemorative Certificate


---
Just the four bands take part in the Challenge Shield but it still has the makings of a interesting contest as it is a real domestic battle to see which of them can have the boasting rights to take into the start of next season.
Last year the title went to the Dalmellington Band and they were good value for their victory, but they were pushed all the way and Clackmannan District who eventually came third directed by James Scott were not too far behind. Meanwhile, City of Discovery could only manage 7th place in the Scottish Challenge Cup, whilst Johnstone Silver and Loghgelly didn't compete.
At the Regional Championships, Johnstone found live a bit tough in the Championship Section and came 10th, but both Clackmannan and Lochgelly didn't make a real mark in the First Section either, coming 5th and 6th respectively. City of Discovery meanwhile won the Second section in fine style and went on to come 4th at Harrogate, so they will certainly approach this contest full of confidence even though they are up against bands from higher sections.
Clackmannan recently did well at the Fife Charities Contest, picking up four trophies in coming 3rd under the baton of Scottish Co-op trombonist Paul Kiernan, and with the experienced Raymond Tennant at the helm they could well fancy their chances here.
Johnstone and Lochgelly have been pretty well locked together all season, with Johnstone just getting the upper hand at Troon where they came 6th, just ahead of their rivals, and they also came 5th at Fife.
There is a very interesting selection of own choice test pieces being used too, with 'Royal Parks', 'Journey Into Freedom', 'The Land of the Long White Cloud' and 'Endeavour' all getting an airing for the judges John Roberts and Nigel Boddice, who has been a very busy man of late to get their teeth into.
Who will win? Hard to tell really, but we opt for Clackmannan to take the title just ahead of Johnstone and Lochgelly with City of Dicovery in fourth.
4BR Prediction:
1. Clackmannan
2. Johnstone
3. Lochgelly
4. City of Discovery