2006 Scottish Open Brass Band Championships - The Scottish Challenge Cup
24-Nov-2006
12 bands line up to do battle for the Scottish Challenge Cup and try and gain the domestic bragging rights to tide them over into the new contest season.
---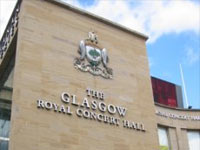 Pre-drawn:
Contest Commences: 9.30 a.m.
Adjudicators: Kevin Wadsworth & Steve Pritchard-Jones
Test Piece: Own Choice
Awards:
1st: The Scottish Challenge Cup, Commemorative Banner and £300
2nd: £200 plus Commemorative Certificate
3rd: Commemorative Certificate
4th: Commemorative Certificate
---
This could well be the contest of the day, with 12 bands well matched all battling it out to claim the top prize of £300 and the title Scottish Challenge Cup winners.
Last year's champions, Dalkeith & Monktonhall are back to defend their title and pushing them all the way are the bands who came 2nd, 3rd, 5th and 6th last year too. The mix of band from Second to Fourth Section shows two regional champions in Tullis Russell Mills who won the Third Section in Motherwell and Turriff Silver who won the Fourth Section.
After winning here last year Dalkeith didn't make much of a mark at the Regional Championships where they could only manage 7th place and they repeated that result at the Fife Charities Contest too. They should have enough about them to make a mark here, but they will have to up their form.

Tullis Russell Mills have had something of an up and down year after coming runners up here last year. They won the Regional title in fine style and went on to produce a super result at Harrogate where they had a delicious middle movement of Gordon Langford's 'Sinfonietta' that was one of the highlights of the entire weekend. However they coul only come in 6th at Brass in the Park, 4th at the Borders and 8th at Fife, so they won't be taking anything for granted here.
Dunfermline took the final podium position at this contest last year and went on to come 5th at the Regionals in Section Three, 10th at Land of Burn's and 14th at Fife. They will be looking for a return to form for sure. Campbeltown meanwhile are led by the talent Craig Anderson and they have shown pretty good form all year after coming 5th here. They were 4th in the Third Section at the Regionals, 4th again at Brass in the Park and 15th at Land O' Burns, so they could be confident of doing well.
Coalburn picked up 6th place here last year and since them they have had a very solid year of achievement coming 3rd at the Regionals, 9th at both Fife and Land O' Burns and 6th at the Borders Contest. Ones to watch out for then?
Selkirk Silver could well be a band to look out for too after they just missed out on a trip to Harrogate in coming 3rd in the Second Section at Motherwell. They have also had two solid results coming 5th at the Borders Contest and 7th at Brass in the Park under conductor Richard Duff. Much may expected of Croy too under James Anderson, who will be a busy chap on the weekend. They came 6th in the Second Section at the Regionals and 6th again at Fife, so will be determined to move closer to the podium positions.
Shott's St. Patrick will be a name to look out for, especially as the vastly experienced Brian Keachie conducts them. They came 5th in the Second Section at the Regionals and 8th at Land O' Burns' so they too will be looking to end the year on something of a high. Perthshire Brass under George Annan came 7th in the Third Section at the Regional Championships and have been rather quiet of late so it could be good or bad form which they bring into the contest, whilst Penicuik under its new conductor Terry Johns will be looking to make some sort impression for sure after coming 4th in the Fourth Section at the Regionals and 8th at Brass in the Park.
Finally two bands who have certainly made a mark in the Fourth Section this year. Turriff won the Regional title and went to Harrogate where they came 21st and so will be keen to round off their year in fine fashion, whilst Queensferry Community Brass and James Anderson (again!) will be keen to show the form that gained them 3rd place at the Regionals and solid performances at Land O'Burns where they came 13th and Fife where they came 10th.
There is a good old selection of own choice pieces too for the adjudicators Kevin Wadsworth and Steve Pritchard-ones to enjoy with 'Episodes for Brass', 'Dimensions', 'Rhapsody in Brass', 'The Plantagenets', 'Kaleidoscope', 'Haslemere Suite', 'Hollywood', 'Divertimento', 'Trittico', 'Sinfonietta,' 'Anglian Dances' and 'Images of the Millennium' all set for an airing.
4BR Prediction:
As for a prediction? We will really have to stick our neck out here, but we opt for Tullis Russell Mills to take the honours of they can perform as they did at Harrogate once more. Following them closely behind though we go for Selkirk Silver and Richard Duff to push them right to the winners tape with Campletown and Dalkeith & Monktonhall also on their coat tails. The final two top six positions we think may well go to Croy and Coalburn with a dark horse in Shott's St. Patrick.
1. Tullis Russell Mills
2. Selkirk Silver
3. Campbeltown
4. Dalkeith & Monktonhall
5. Croy Prish
6. Coalburn
Dark Horse: Shott's St. Patrick