2006 Brass in Concert Championships - Retrospective
22-Nov-2006
Not even Grimethorpe could beat the man who is still the King of Brass Band Entertainment, as Tricky Dickie creates his own history at Brass in Concert.
---
A few years ago this reviewer wrote a short piece about the 'retirement' from top line contesting of Richard Evans. After a long and highly distinguished career he was believed to be hanging up his baton. It was perhaps the biggest con trick since a chap called Victor Lustig sold the Eiffel Tower to two gullible American tourists - twice.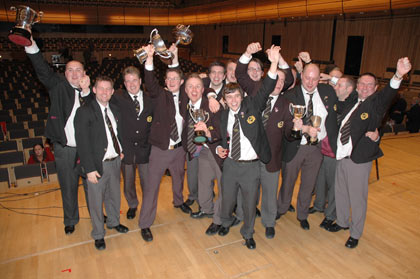 The new entertainment kings: The Brighouse boys celebrate their win
Picture: John Stirzaker

Ever since he has been like some sort of musical Lazarus and has been enjoying himself to such an extent that he is now busier than ever. There has been no diminishing of his talent, no sign of slowing down and on the evidence of Sunday at Brass in Concert, no sign of anyone yet being good enough to take over his mantle as the brass band world's greatest entertainer. This was his third win in a row and record seventh overall, with his third different band. The man is a bloody genius.
There can be no other brass band conductor who so intuitively knows just what a brass band audience wants then he. Where others sweat and worry he just smiles and delivers the goods. Who on earth could have thought up the idea of making an entrance like the one he did, resplendent in a frock military jacket that made him look like a cross between Herman Goering and Uncle Albert from Only Fools and Horses. Brighouse hadn't even played a single note, yet they were already 10 points ahead of their rivals, and the MD had them in the palm of his hand.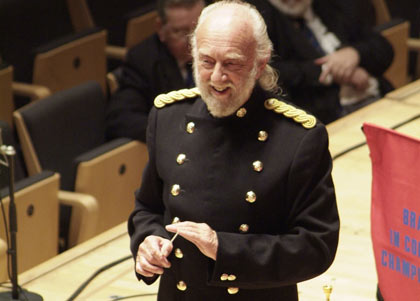 All brass and buttons: Richard Evans takes to the stage
Picture: John Stirzaker

There may have been a touch of self deprecating humour about what he did, but also a razor sharp mind too. No other conductor on the day came near to replicating his interaction with the audience; no other commanded the stage with his presence quite as brilliantly. And if you think it's all about show and no substance then think again.
This was the best Brighouse have performed for a year or more. Secure and precise in the ensemble, balanced and rounded in sound, committed and professional in presentation and as tight as a drum in execution. They were inspired.
Their programme was superbly balanced too, with a cracking opener leading into a lovely 'Elegy' in remembrance of their stalwart committeeman Eddie Noble. Alan Morrison tore the varnish off the walls of The Sage auditorium with a ripper on trumpet of the 'Green Hornet' before the real piece de resistance and the march 'New Colonial'.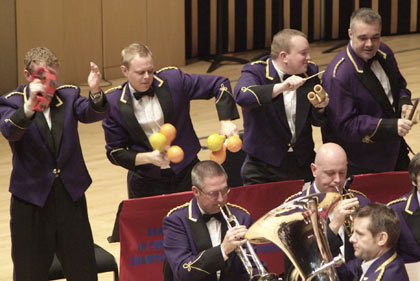 Brighouse chimps! The back row lads get into the swing of it!
Picture John Stirzaker

No other MD can make a band play a march like Dickie, can they now? All pomp and swagger, he was shaking his ass like Jay Lo in a swimsuit by the end of it, and the audience lapped it up. He has won the March prize here 9 times now since 1985 – that tells you all you need to know.
With the comedy item 'Bare Necessities' delivered with real showmanship all that was needed was a serious finale and a quality delivery ensued on 'Russian Christmas Music'.
It was an entertainment of the very highest class and come the results it gave the band the prizes for 'Best Soprano' (for the excellent Nigel Fielding); Best New Arrangement (for Leigh Baker's cracking 'Bare Necessities'); Best March; the trophy for Quality of Performance and the World of Brass Trophy as winners and the Peter Hartley Trophy to the MD. It was well deserved.
Just behind came reigning champions and double hat trick seekers Grimethorpe Colliery (UK Coal) conducted with flair and imagination by Steven Mead.
Any winning streak must come to end at some time, and this was it here for Grimey. They may feel slightly aggrieved, but overall they can't have too much cause for complaint as in the end the margin between the top two bands was just 2 points. If Brighouse had got one less, and Grimey one more in the music category then the first prize would have been theirs.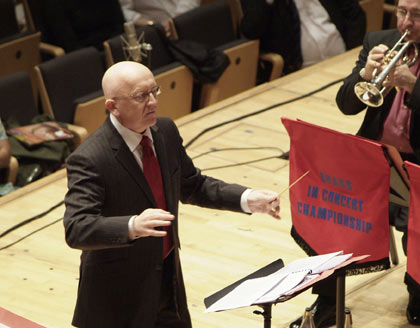 Serious business: Steven Mead leads Grimethorpe through their paces
Picture: John Stirzaker

We had them a clear neck in front on playing terms, but then again we couldn't complain because providing musical entertainment is a very personal experience to judge and the highly experienced duo of Nigel Boddice and Geoff Whitham knew what they wanted and knew what they liked. They did an excellent job, especially when you consider the results of the bands that were placed 4th to 8th and how close things ultimately turned out. No band on the day could complain that they didn't get a fair hearing and it was quite clear that the contest fell into three main sections: the top two; the next six; and the bottom three. Both men emerged with great credit for their efforts.
Grimey didn't do anything wrong, but in the end their slightly more conservative approach may just have counted against them. The opening 'Musical Toast' was just that and it was followed by a superbly delivered 'Mephisto's Dance'. Michael Dodd's sympathetic and understated approach to the lyrical version of 'Endearing Young Charms' picked him up the 'Best Soloist' Award, whilst if there had been an award for 'Best Ringer' it would surely have gone to Darren Lloyd, erstwhile 3rd cornet player with the band, who squealed like a pig in a pork chop factory in 'I've got Rhythm'.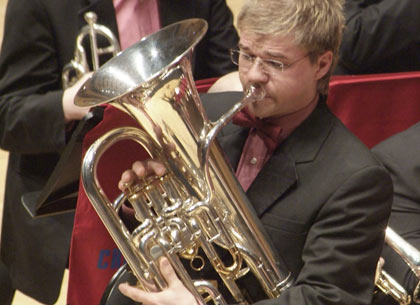 Charming Euph: Michael Dodd picks up the prestigious solo award
Picture: John Stirzaker

The comedy item 'Solo Secondo' featuring 2nd horn Stephen Peacock was delivered with real aplomb before the band literally took the roof of with their finale, 'Entry of the Gods into Valhalla'. It was some defence of their title, but in the end it was not to be and we are sure they will return next year ever more determined to impose themselves as the undisputed entertainment kings.
There was little doubt that these top two performances were in a league of their own, but Sellers International under Phillip McCann rounded off the day in fine style (although the new waistcoasts made them look like Scottish Co-op!) with a performance that never once let go of your attention.

Double strike: Gary Bates and Iain Culross do their stuff
Picture: John Stirzaker

Based around fine arrangements of film scores from Paul Drury it was a brave and at times, thought provoking programme. An extended opener with music from 'Pirates of the Caribbean' started things off on the right note before flame headed Iain Culross delivered a lovely understated performance of the cornet solo 'Here's to the Heroes' that in a considerable way showcased the abilities which won him the prize as 'Best Principal Cornet'. What a talented young player he is.
No real out and out comedy from Sellers, but a clever and witty arrangement of the march from 'Chicken Run' was followed by an excellent solo feature 'Ole South' with two fine tuned percussionists in Sarah Burn (the little blond lady who also played for Reg Vardy) and Ben Croons. Sellers finished their programme on a slightly somber note, but one that had real meaning and was delivered in fine fashion complete with vocals from the band and narration by Mr Drury.
Although they were a little way behind the top two on the day, Sellers were clearly ahead of the rest of the field and third place was well deserved for a programme of real stature and note by the MD.
The real battle for places surrounded the bands that came 4th- 8th, and at the end of the day it was the unique delivery of Brass Band of Central Florida that won, ahead of Fairey's, Reg Vardy, Leyland and Fodens Richardson.
Headed by Michael J. Garasi who simply oozed charisma and had the smile a Florida alligator would die for, they produced an eye popper of a programme that although uneven in playing quality simply was in a different league in terms of entertainment presentation.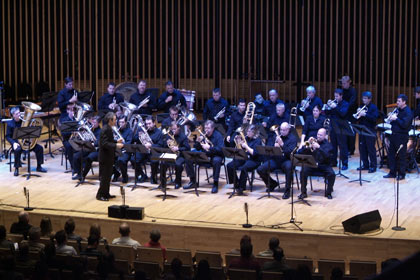 Florida keys: Entertianment USA style
Picture: John Stirzaker

The judges called it spot on too, placing them 8th on the music and 1st on the entertainment presentation with an unprecedented 59 points out of 60. It hard to see where they lost that 1 point.
From a highly choreographed 'Bolero' opener to a big band blast in true jazz/rock style in 'Birdland', a cracking old circus march in 'Rolling Thunder' and epic 'Malaga' with a drummer every bit as showy and as good as Cozy Powell, they were first rate. The highlight though was their performance of 'Tis a Gift' which showcased their ability to soften their sound and mould their internal balance whilst also delivering a superb piece of vocal harmony too.
There may have been the odd grumble from bands that finished behind them on the day, but they could have no complaints, especially if they took the time to come into the hall and listen to them perform. (It was interesting to note that Michael Garasi and many of his players sat in to listen as many rival bands as possible).
In a close run contest it is the little things that sometimes just make that vital difference and BBCF did the little things with such professional slickness that you could forgive them the odd moments of nervousness, the clips and little errors. They are some band in the making here and their invitation to compete at BiC was a master stroke. We shall hear more of them in the future, whilst any band that can afford Mr Garasi should book him now for this contest – the man is absolute class.
The strong rebuilding of the Fairey Band also continued on the weekend when they took fifth place under Simon Stonehouse.
The recent changes in personnel certainly made their mark throughout their performance (Morgan Griffiths won the Best Euphonium prize) and right from the word go there was a quality that certainly impressed. We recently reviewed their latest CD release on which their opening item 'Fanfare for the Common Man' in its jazzed up version was featured and we thought it was awful. Here though it was like listening to something completely different and stylistically it worked a treat. Time to go back and listen again we think.
Thereafter Katrina Marzella showed just why she is rightly regarded as the best baritone player in the business at present and her fellow girls were 'honoured' by the bands witty and pointed comedy item in 'There is Nothing like a Dame'. Clever stuff.

The Dame Brigade: Fairey's girls take to the stage
Picture: John Stirzaker

The weak point perhaps came with the Stevie Wonder 'Sunshine of My Life' which didn't quite have the right balance whilst the 'Trolley Song' and 'Impossible Dream' were something of nothing really, although both were well played. The finale 'Neapolitan Scenes' by Massenet just faded a little towards the end, but overall it was a well thought out programme decently executed. Fairey's continue to successfully claw their way back to the top.
The final top six place went to another band who are trying to claw their way back to the top – Reg Vardy (and they are Reg Vardy and not Ever Ready, as they were unfortunately called three times too often by Frank Renton), and they just missed out on coming 5th by virtue of gaining less music points than Fairey's.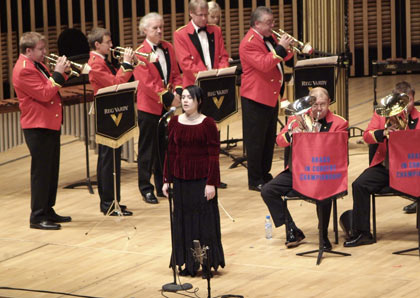 Not quite on my own: Natalie Farr and Reg Vardy

This was a fine result for a band that has been somewhat off colour at the majors this season. Their programme was topped and tailed by some serious brass band music in the form of excerpts from Kenneth Downie's 'King of Heaven' whilst in between Ray Farr conjured up an easy going mix of stylish playing. The highlight was the singing of Natalie Farr with 'On My Own' from 'Les Miserables' delivered with a haunting voice and excellent accompaniment.
The other items perhaps lacked a bit of substance in places but overall it was a performance of merit and showed that despite the poor results this year Reg Vardy are still a very capable band indeed.
Just half a point back came Leyland under Russell Gray (or to be exact only, half of him, as he didn't appear until after the second item). Theirs was a reprise somewhat of their Gala Concert show at the Royal Albert Hall and although it was pretty well handled it did lack variety in style, tempo and personnel.
There was an awful lot of waffle going on too in the opening item, 'Tour de Band' especially from the bass quartet to start which at times sounded like a small herd of elephants on the rampage, but it soon recovered.

Runar Vaernes showed just why he is such a star on trombone and deservedly took the inaugural Don Lusher Memorial Trophy back home to Norway with him, although it must be said, Leyland certainly got their money's worth out of him as he was featured in no less than four of their five item programme. Lesley Howie was also on good form, but the over riding impression as they finished was that it was all much of a muchness, and in relation to the big band style, not a patch on Florida either.
Brass in Concert does herald new trends for bands and at present just about everyone thinks they can play in an authentic big band style. The news is that they can't (with the obvious exception of Florida and perhaps Grimethorpe) and the sooner they realise it the better. At times bands swung like a condemned man on the hangman's gibbet.
Fodens Richardson meanwhile would have left Gateshead knowing that they only have themselves to blame for not building on an excellent opener in the form of 'Valero'.
Gary Cutt entered, left and entered again and it promised so much after that great start. Thereafter it started to fall away, gradually at first and then with the wheels coming off big style.
John Barber wasn't on the top of his usually impeccable form in the 'Superman' solo, which as we said did suffer from the odd moment of Kryptonite poisoning, whilst the march 'Old Panama' had great style but far too many errors. The Geordie 'Bobby Shaftoe' was quick and lively whilst music from the 'Mask of Zorro' really was a bit of throwaway musical bubblegum.
The best thing that could be aid about the comedy 'Typewriter' routine was that it was not comedic in any way, whilst the finale in the form of Andy Duncan's 'Manchester Tale' was dramatic and exciting but it was all too little too late. Fodens has had a quite amazing roller coaster season at the majors, but it ended here very much on the down slope. The only way is up come the start of 2007 though.
Scottish Co-op had a bit of an up and down day at the contest office. Allan Ramsay choose a good looking programme that was going well enough until the last item, a weak pastiche of 'Riverdance' meets 'Gaelforce' called 'Rince Eireannach' by Jan L Sorensen, which to be kind was a Danes stereotypical idea of what being 'Oirsh' should sound like. It was awful.
Before that though they had started well with a good old march 'The Contestor' and a nice sleazy bit of cornet playing by Jim Hayes on 'Feeling Good'. The percussion feature 'Ol' Man River' rolled on far too long, although it was well played, but the highlight was a clever bit of 1920's ragtime pastiche with 'My Sister Kate'. A second helping of the Stevie Wonder 'Sunshine' seemed to promise much, but that ender just didn't work at all. A stronger finish and they could have come in the prizes.
That left the bottom three bands, and Whitburn, Mount Charles and PolySteel will be left wondering if they have made their last appearance here for some time after their weak efforts this time around.
Whitburn committed musical suicide from the word go with their opener 'Work in Progress', complete with players dressed as workmen, road signs and orange bollards. In fact it was complete and utter bollards and killed off any chance they had of making any sort of mark. Joint 11th some 10 and a half points behind Florida in the presentation stakes told you what the judges felt about it too.
Without that handicap Whitburn played well enough with Richard Kidd outstanding on 'Dance Zeibekikos' (Martin Winter making a point of telling 4BR how well he thought he had played) and a very relaxed Duke Ellington jazz duet entitled 'Sophisticated Lady' that was classy if not always 100% secure. The choice of Mozart didn't quite go down as well as it should have, before the rather bland Phil Collins inspired 'Take a Look at Me Now' was as its alternative title suggested, 'Against all Odds' with itself, especially in the final couple of bars.
The finale from 'Swan Lake' was great playing, but by then they were doomed to come in 10th. It could have been worse, but it should have been so much better.
Where has all the vibrancy and colourful excitement gone from Mount Charles we wonder? A couple of years ago they came here and really thrilled the audiences at BiC, but here they were strangely bland although solid and secure enough throughout their programme.
The opening 'Valero' was followed by a rather uncomfortable 'Padstow Lifeboat' before the baritone solo 'Love of My Life' meandered to its rather non descript conclusion. The contrasts between the rustic 'Armenian Sabre Dance' and 'Jeanie with the Light Brown Hair' were not marked enough either and the finale from de Falla's 'Three Cornered Hat' was more a Saga holiday experience of Spain than a red blooded Iberian lovers tiff. All in all Nigel Weeks and his band sounded tired and rather bereft of ideas and they could have no complaints about 11th place.
That just left PolySteel who opened the whole contest at 9.30am with one of the strangest National Anthem's we have heard at a brass band contest. With proud members of the audience trying to latch onto the tune that appeared to be in a strange modulation of its original, it didn't get their programme off to a great start.
Another strange old Queen followed with Freddie Mercury's 'Fat Bottomed Girls' which lacked that old stomping feel making it sound more tastefully Reubensian around the buttocks than it should have.
After a lovely 'The Water of Tyne', PolySteel (and after some nifty changes of clothing) went into panto mode and 'The Royal Game' - a mix and match version of Abba's 'Chess' meets Arthur Bliss and his 'Checkmate' with a huge dollop of West Side Story thrown in for good measure.
It just didn't work, both musically (it didn't sound in any way technically difficult for a band of this class and the Mambo would surely have raised an eyebrow or two in the Leonard Bernstein household); visually (the choice of clothing for the Black Queen made the poor flugel player look like a poor man's version of Ted Hankey the darts player) or entertainment wise (the story line didn't make sense either, especially 3 bishops to plot the downfall of the White King. Anyone read the rules of chess or was one of them a double agent?) By its conclusion you yearned for a game of draughts.
The finale saw the band reprise their penchant for 70's kitsch and the theme music from 'Wonder Woman', which given that she used to throw a gold lasso around her rivals which made them tell the truth, encouraged us to do the same: This was a performance that had lots of show and very little substance and 12th place was what it deserved.
So that was Brass in Concert over for another year. Overall the standard of playing varied from the superb to the ever so slightly embarrassing, whilst the same could also be said of the entertainment and presentation of the programmes from the bands.
Still, that what its all about and we wouldn't have it any other way. It what makes this contest such a fantastic event.
Iwan Fox.
Brass in Concert Programme of Music 2006
Brighouse & Rastrick - Richard Evans
Where Eagles Sing, Paul Lovatt-Cooper (new)
Elegy, Leigh Baker
Green Hornet, arr Alan Morrison (new)
Soloist: Alan Morrison, Trumpet
March: New Colonial, R B Hall
Bare Necessities, arr Leigh Baker (new)
Soloist: Dave Hebb Eb Bass and Sousaphone
Russian Christmas, Alfred Reed
Grimethorpe Colliery (UK Coal) Band - Steven Mead
A Musical Toast, Leonard Bernstein arr Luc Vertommen
Mephisto's Dance, Franz Liszt arr Howard Snell
Believe Me if all those Endearing Young Charms arr Hunsberger/l. Maldomado
Soloist: Michael Dodd, Euphonium
I got Rhythm, George Gershwin arr J Cortner
Solo Secondo, W. Himes
Soloist: Stephen Peacock, Tenor Horn
Entry of Gods into Valhalla, Wagner arr Howard Snell
Sellers International - Phillip McCann
Pirates of the Caribbean, The Curse of the Black Pearl, Klaus Badelt arr Paul Dury (new)
Here`s to the Heroes, John Barry arr Paul Dury (new)
Soloist: Iain Culross, Cornet
March from "Chicken Run", Willaims/Powell arr Paul Dury (new)
Ole South (A Plantation Patrol), J S Zamecnik arr Stephen Brandum
Xylophone & Marimba Duet
The Mansions of the Lord from "We Were Soldiers", Nick Glennie Smith arr Paul Dury (new)
Brass Band of Central Florida - Michael Garasi
Bolero, Maurice Ravel arr Michael J. Garasi
Birdland, Joe Zawinul arr N. lane/Chris Sharp
`Tis A Gift, based on Appalachian Spring, Copland arr Michael J. Garasi
March: Rolling Thunder, Fillmore arr Gail Robertson
Malaga, Bill Holman arr Michael J. Garasi (new)
Soloist: Sergio Carrenoe, Drum Set
The Fairey Band - Simon Stonehouse
Fanfare for the Common Man, arr Jeremey Leith (new)
Pequena Czardas, Pedro Iturralde arr Klass Van der. Woode
Soloist: Katrina Marzella, Baritone
There is Nothing Like a Dame, Rogers & Hammerstien arr Rodney Newton
You are the Sunshine of My Life, Stevie Wonder arr Goff Richards
Flugels: Lucy Murphy, Brian Taylor and David Morton
Trombones: Lisa Saransini, Paul Coop and Paul Warder
Trolley Song, Ralph Blane/Hugh Martin arr Jeremy Sleith (new)
Impossible Dream, Joe Darion & Mitch Leigh arr Sandy Smith (new)
Neapolitan Scenes, Massenet arr Roy Newsome
Sirba Florcica, Peruvian trad arr Kerwin
Bartered Bride, Smetena arr Broadbent
Reg Vardy - Ray Farr
King of Heaven, Kenneth Downie (opening)
Alabamy Bound, Trad. arr Ray Farr
On My Own, Claude-Michel Schoberg arr Ray Farr
Features a vocalist from percussion section
What Now My Love, Gilbert Becaud arr Ray Farr (New)
Minuano, Pat Metheney & Lyle Mays arr Ray Farr
King of Heaven, Kenneth Downie (finale)
Leyland - Russell Gray
Tour De Band, E.D. Orf/S. Igsck/D. Ellington
M. Camilo
Autum Leaves, arr A Catherall
Suavito, M. Gomez arr Reid Gilje
Featuring Runar Vasenes, Trombone; Brian Hayes Cornet; ChrisDorran, Tuba; David Thornton, Euphonium; Andrew Lord, Cornet and Janet Lewis, Flugel
La Napolitaine, Oskar Bohme arr Gary Westwood (new)
Soloist: Leslie Howie, Tenor Horn
Viva Kenton, F. Flarieox arr P Stobar
Fodens (Richardson) - Garry Cutt
Valero, Swearington arr Smith
Can You Read My Mind, Williams arr Rydland
Soloist: John Barber, Trombone
Bobby Shaftoe, Trad arr North (new)
March: Old Panama, K J Alford
Mask of Zorro, Horner arr Smith (new)
The Typewriter, arr Duncan
A Manchester Tale, Duncan
Scottish Co-op - Allan Ramsey
March: The Contester, T J Powell (March)
Feeling Good, Bricuse/Newley arr Simon Kerwin (new)
Soloist: Jimmy Hayes, Cornet
Ol` Man River, Jerome Kern/Oscar Hammerstein II arr Mark Freeh
Featuring Percussion Derek Love
My Sister Kate, Williams/Piron arr Bryan Allen
You are the Sunshine of My Life, Stevie Wonder arr Goff Richards
Rince Eireannach, Jan L Sorensen
Whitburn - Andrew Duncan
Work In Progress, Andrew Duncan (new)
Dance Zeibekikos, Philip Wilby
Soloist: Richard Kidd, Euphonium
Sophisticated Lady, Duke Ellington arr Anne Crookston (new)
Soloists: Anne Crookston, Baritone and Iain Fleming, Horn
Requiem, Mozart arr Andrew Duncan
Against all Odds, Phil Collins arr Andrew Duncan (new)
Soloists: Chris Bradley, Flugel and Alex Philip, Trombone
Finale from Swan Lake, Tchaikovsky arr Andrew Duncan
Mount Charles - Nigel Weeks
Valero, Swearingen arr Sandy Smith
March: Padstow Lifeboat, Malcolm Arnold
Love of My Life, Freddie Mercury arr Svein H Giske
Soloist: Terry Sleeman, Baritone
Armenian Sabre Dance, Gomidas Vartabed arr Howard Lorriman
Jeanie with the Light Brown Hair, Stephen Foster arr Elgar Howarth
Ten Piece: Low Brass
Finale from Three Cornered Hat, De Falla arr Keith Wilkinson
Polysteel - Philip Harper
Fat Bottomed Girls, Brian May arr Philip Harper
The Water of Tyne, trad arr Philip Harper
The Royal Game, Philip Harper (new music)
Soloists: Danny Winder, Flugel; Andy Hicks Euphonium
Wonder Woman, Charles Fox arr Philip Harper