2006 Brass in Concert Championship - The humour stakes and mistakes
22-Nov-2006
Try as they might, getting an audience to laugh is still a mystery to too many bands as this year at Brass in Concert showed.
---
What is it about brass bands and trying to tickle the funny bone of an audience?
Humour is of course a very personal thing to appreciate. From PG Woodhouse to Chubby Brown, making people laugh is a real mystery that no one can really explain. How come some people find Bernard Manning hilarious whilst others chortle at Ricky Gervais; and how come anyone finds Patrick Kielty amusing?
An audience that watches comedians on television is very much the same audience that comes and listens to the bands at Brass in Concert – only in microcosm. Some will enjoy a more gentle approach, others a more intellectual one, a proportion will opt for the belly laughs and some will not want to see anything remotely funny presented to them in the name of brass band entertainment. The trick is finding some sort of common comedic ground which appeals to them all in some small way, and to do that you really have to know the audience you are playing to.
That is a problem many of the bands on the weekend couldn't seem to work out at all.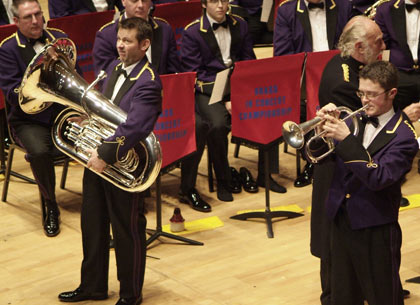 The Bare Essentials: David Hebb leads the way as Balou the bear
Picture: John Stirzaker

The average age of the audience at Brass in Concert must be 50+ and as such there is a pretty decent bet that they won't wet themselves with a comedy routine based on 'Little Britain' sketches. Their humour bone tends towards the more homespun, well crafted and presented skits of the Morecombe and Wise era.
Richard Evans knows that perfectly well and you can bet your bottom dollar that he knew that if he was to get the audience on his side from the word go he had to give them something that would put a smile on their faces before a note was even played.
The entrance in military overcoat was perfect – a reminder of days gone by when bands played with caps and striped trousers and the man in the middle had the type of authority of a local bobby on the beat. It struck an immediate chord, for the vast majority of the audience could relate to what he was doing without a second thought. It was humour with a serious edge and told the audience that 'I'm in charge here', even with a wry smile on his face.
Brighouse also opted for the witty rather than all out belly busting laughs with their comedy item, Leigh Baker's excellent arrangement of 'Bare Necessities' from the Disney 'Jungle Book' film. Again, it appealed to an audience who knew the tune, knew the film and knew what the players were trying to portray. It is not rocket science and as a result it was appreciated for the little touches (the tiny toy bear clinging to David Hebb's leg) as well as the big and bold one liners (Dickie's neatly sarcastic chant of 'Alan Morrison – you're such a fantastic player' as the great cornet player went through his paces).
Other bands also managed to hit the funny bone too, with Grimethorpe's clever skit on solo virtuosity featuring a wonderful dead pan performance from second horn player Stephen Peacock in 'Solo Secondo'. Here again was subtle comedy – the cleverness was in the music rather than in his rotund appearance (although he did look like a cross between Stanley Matthews and an up market Maitre de) and a knowledgable audience appreciated it all the more for it.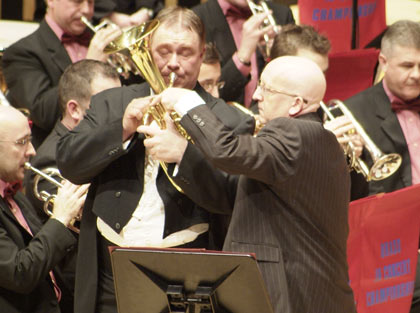 A helping hand: MD Steven Mead gives Steve Peacock a lesson
Picture: John Stirzaker

All based on one note, it was played so well by the soloist (although we are sure he can manage a few more than that) and a band who played with a connection to what he was doing and didn't leave him there looking like a lemon. As a result it came off because it didn't treat the audience like idiots – it asked them to appreciate the thought that had gone into its presentation.
In the same vein, Fairey's hit the right note too, although in terms of their signing ability that may have been stretching the point a little too far.
Their clever, almost self deprecating take on 'There is Nothing Like a Dame' from the film 'South Pacific' appealed because it was a neat twist on an old favourite, and poked a little bit of pointed fun at the last old bastion of outdated misogynistic thinking that may still apply in one or two top bandrooms around the country.
Others too had their moments, with Sellers and Scottish Co-op in particular opting to let the music do the talking rather than overplaying the histrionics. Mindful perhaps of past mistakes in the humour department, both Leyland and Mount Charles kept things in very much in check, whilst Brass Band of Central Florida just put a smile on everyone's faces with the sheer bravado of their presentation. No need to play for laughs here – this was good ol' American style entertainment with dollops of razzmatazz.
Reg Vardy also kept the humour quotient down to a minimum and it certainly worked for them, although Ray Farr's choice of shirt certainly raised an eyebrow if not a titter or two.
That left three bands that in their own way tried to put a smile on the faces and failed quite miserably.
Firstly, PolySteel, who perhaps were not trying to be humorous at all but still put on a bit of a pantomime performance nonetheless. 'The Royal Game' based on a game of chess featured changes of clothing (the MD initially came on dressed in his familiar Milk Tray look only to shoot off and return in a trendy stripey number) and an understanding of the game that bordered on the surreal.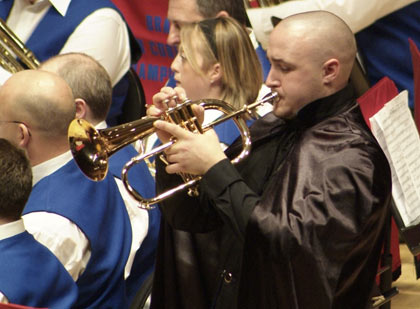 Ted Hankey meets Dracula meets Danny Winder? Surreal ain't the word for it.
Pucture: John Stirzaker

A male flugel horn player, supposedly as a Black Queen, dressed in the type of cape Dracula would have been proud of, and the euphonium as a White King dressed in a tuxedo which only the likes of Daniel Craig as James Bond can carry off with aplomb. Add to that a story line that featured three bishops, a rip off of the mambo from West Side Story and no explanation of who or how the game ended and it was like trying to make sense of the last few episodes of 'League of Gentlemen'.
If that was bad, then Fodens Richardson's comedy percussion feature was like something out of 'Phoenix Nights'. Why is it that bands believe that the xylophone is a comedy instrument? And why do they think that getting someone to dress up and act the fool in hitting various percussion instruments with various parts of the anatomy will bring the house down?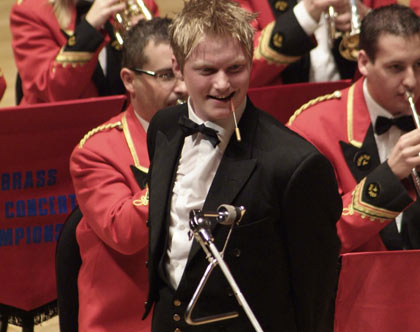 Look - no hands! Dave Wycherley looks for the right keys on the typewriter
Picture: John Stirzaker

Add to that the fact that 'The Typewriter' didn't feature a typewriter at all and almost didn't feature many (or any at one point) of the right notes, and you can see why it was greeted with the type of applause usually meted out to mime artists at a children's party.
However, if you thought that was bad, then spare a thought for the poor unfortunate souls who had to participate in Whitburn's opening item – 'A Work in Progress'. It is hard to suggest that in the annals of Brass in Concert history there has ever been such an awful item as this.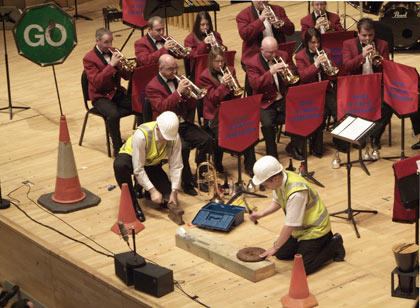 A comedy no go area? Whitburn start to dig a hole for themselves
Picture: John Stirzaker

The only thing stopping the brushweed rolling across the stage in silence a la Reeves and Mortimer was that the doors to hall were closed. This wasn't the bottom of the entertainment barrel being scraped, it was the dirt underneath it. It was completely out of any context in any way shape or form – it was not even post modern ironic as one wag next to us said.
Overall then, you do have to ask why the bands believe that producing a comedy item in a 25 minute programme is of such importance? If you are going to do one, then do it well. You may not like Bernard Manning's material but you have got to admit he does what he does rather well, and he usually makes sure that he only plays it to audiences who he knows will laugh along to it.
Perhaps some of the bands here should take a leaf out of even his book.
Iwan Fox