2006 British Open Solo & Quartet Championships - Retrospective
13-Nov-2006
Malcolm Wood and Dave Tinker enjoyed a long day of high quality playing in Dukinfield Town Hall, where Katrina Marzella enhanced her already fine reputation by taking the prestigious Senior title.
---
The eight other finalists in the Senior Final of the British Open Solo & Quartet Championships on Saturday night will have been cursing their luck that Fairey's baritone player, Katrina Marzella played so superbly to take the 2006 title. If the young Scot hadn't played as well as she did here, the result could easily have been so different, as the rest of the competitors really did perform to a very high level. The problem was though that she did.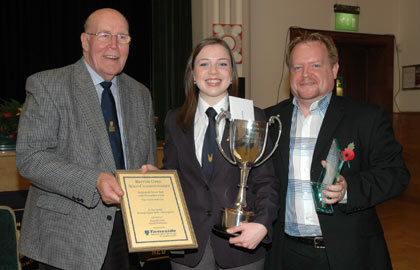 Marzella Magic: Katrina Marzella accepts the Senior title from judges Geoff Whitham and Russell Gray
Picture: John Stirzaker

Adjudicator Geoffrey Whitham made the point prior to the announcement of the results that the 'winner had picked themselves' and so for himself and fellow judge Russell Gray it was then down to who would finish second and third.
Katrina had set her stall out in the preliminary round with a cracking performance of 'Concerto Per Flicorno Basso' by Ponchielli that clearly set out her intentions that she'd not come to the contest just to participate, she'd come to win.
Ponchielli's work gives flexibility for the soloist to perform with style and musicality and this was exactly what Katrina did; any technical hurdles were overcome with consummate ease and her well earned reputation as an outstanding exponent of the baritone was there for everyone to hear. It might be a cliché, but Katrina had the audience in the palm of her hand not just in the final, but earlier in the day as well.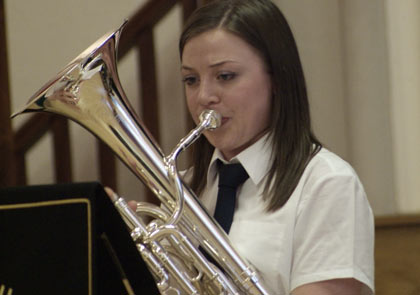 Seriously brilliant: Katrina Marzella plays her way to victory
Photo: John Stirzaker

Victory here not only gave Katrina the prestigious title, The Harry Mortimer Trophy, along with £350, but she will now represent the UK at the Ern Keller Championships next February, in Sydney, Australia. In addition, Katrina hopes to compete at the European Solo Contest next May after Robert Morgan, Chairman of the BFFB and owner of Morgan Electrics Ltd generously offered to sponsor the winner of this event and pay the entry fees for the runner-up and third placed competitors should they commit to the competition as well.
Philip Dias came to the contest last year and unexpectedly won and was invited back to defend his title this year. Out of nine contestants, the Royal College of Music student put down a serious marker with a fine performance of Graf's 'Konzert Concerto'. As with Katrina, there was some fine articulation and great phrasing to be heard, but the overall quality of sound wasn't as prominent as the winner on the day. It was still a very fine defence of his title and confirmed his growing reputation as a player with immense promise.
Trombonist, Gregor Stewart from Bo'ness & Carriden opted for 'Arrows of Time', a piece that served him so well in last year's competition. Gregor was in great form, playing with plenty of confidence but even after a second performance of great merit on the day he had to settle for third place and as happened last year, directly behind Philip. He is another player though with rich promise and as yet untapped talent.
Ben Thomson, the reigning BBC Radio 2 Young Brass Soloist can consider himself unlucky not to have featured in the prizes. Ben gave two solid accounts of the work during the day that gave him the BBC title earlier in the year – Rodney Newton's 'Capriccio'. What a talented young performer though.
Along with the defending champion, Paula Russell, the reigning Ern Keller Champion, and Graham Fraser, the current holder of the Scottish title, accepted invitations to compete in the final.
Paula had drawn number one and gave a solid and safe reading of Gregson's 'Prelude & Capriccio' that just lacked that extra touch of intuitive sparkle that was so evident with the prize winners, whilst Graham had unforeseen problems with his instrument just before he went on stage and having borrowed another bass, never really seemed at ease and will have gone back to Scotland not having given as good account of himself as he'd of liked.
Ian Fleming (Whitburn), Andrew Lawton (VBS Poynton) and Edward Leech (BT) were the other finalists and with the exception of Ian they never really hit the heights they had done in the earlier preliminary round performing the same repertoire.
Ian had opted for a familiar choice at solo contests, 'Variations on a Welsh Theme' and he projected himself very well. Speaking afterwards, Ian did make the comment that he knew it would be a tough contest and was happy enough to have given two good accounts of himself during the day. He is another player with great potential.
Andrew Lawton (baritone) and Edward Leech (bass) were delighted to have made it through to the final and both will relish the opportunity to compete again having performed 'Fatherland' and 'Celestial Morn' respectively. Both will also have benefited enormously from playing here (although their choice of repertoire perhaps was slightly dated) and will return as even more accomplished musicians.
Fodens Richardson euphonium star Glyn Williams and Geoffrey Whitham were charged with selecting those to go forward to the finals with Iain Culross (Sellers), Stephanie Barrett (YBS), Kate Eggleshaw (Carlton Main), Steve March (Sellers) and Gary Curtin (Wingates) unlucky to have come up against some exceptionally strong opposition on the day. On another day, anyone of these mentioned could have made it through to the final with Stephanie Barrett and Gary Curtin were also unfortunate to have missed out after their impressive performances of 'Concerto 1' and 'Variations on a Neapolitan Theme' respectively.
As always, individual British Open Champions were declared.
Edward Kennedy (Bb Cornet Mount Charles) was the only non-finalist to get an award with the others going to Ian Fleming (Flugel/Eb Horn), Gregor Stewart (Trombone), Ben Thomson (Bass) and the eventual winner, Katrina Marzella (Baritone/Euphonium).
Senior Quartet
With the morning Senior Solo preliminaries out of the way, it was the time for the Senior Quartets to be in the spotlight, although it was a touch disappointing that only four of the anticipated eight quartets competed.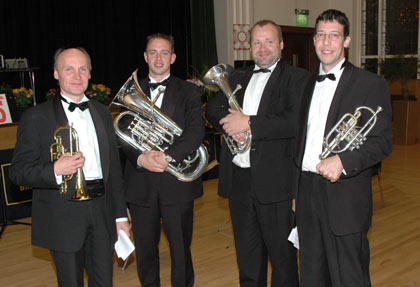 Nice and Cosy: The Belgian quartet pose for a photo
Photo: John Stirzaker

Simon Minshall was one of the members of a trombone quartet from Chets who were presented with their trophy at an evening concert having had to leave the contest earlier in the day.
'Surprised and delighted' to have won, Simon and his colleagues Philip Dewhurst, Jon Carvell and Christopher Mansfield gave a commanding performance of Bach's 'Fugue in G Minor' that was sufficient to beat off the competition from regular attendees here, Cosy Brass from Brass Band Willbroek. They had to settle for second place but their balance of sound and impressive technique demonstrated that they were musicians of real quality during their performance of 'Quator' by Paul Gilson.
Third place went to the other competing Chets quartet featuring horn, euphonium and two cornets. Containing Matthew White from Wingates and David Moore (Brighouse) they probably weren't over the moon that their fellow competitors had taken the glory on the day, but that said, they worked well as a unit during their performance of Sparke's 'Divertimento'.
The bass quartet from Rode Hall Silver opted for Eric Ball's 'Quartet for Tubas' as their offering on the day, and even though it was a very commendable performance against tough opposition, Glyn Williams and Russell Gray had the top three they wanted.
Intermediate Slow Melody
A turn out of over forty competitors not only was a record but also gave adjudicators Paul Andrews and Richard Marshall plenty to think about in the Intermediate Slow Melody preliminary round that ran con-currently with their senior counterparts.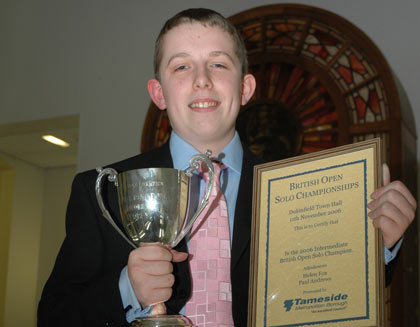 Sykeing them out: Stephen Sykes takes the Intermediate honours
Photo: John Stirzaker

There was some fine playing throughout and in the end five very good competitors made it through to the final where they were joined by last years defending champion Ben Hirons. Those who made it through were Nicholas Birch (Euphonium, United Norwest Co-op 2000), Philip Dewhurst (Trombone, Chethams), Christopher Mansfield (Tombone, Innovative Skelmanthorpe), Stephen Sykes (Trombone, Aldbourne) and Glen Van Looy (Festival Brass, Belgium).
When it came to the final it was the powerful trombone sound of Stephen Sykes that won the day. Playing last of the six finalists, Stephen's overall technique and quality of sound during his performance of Reitche's 'Adagio' was outstanding. Just as the Senior Solo final the overall standard from all the players was very high but it was easy to have sympathy with the other competitors with the winner in such commanding form. Mum and Dad will have been pleased as punch – and quite rightly so.
Euphonium, Glen van Looy of Festival Brass in Belgium took the runners up spot courtesy of a fine rendition of Sparke's 'Song for Ina' with Chets' Christopher Mansfield finishing in third place having performed 'The Summer Knows'. Both these players played really to the top of their form, but on the day they could have no complaints that they were defeated by a quite exceptional young performer.
Meanwhile Philip Dewhurst also opted 'The Summer Knows' whilst Nicholas Birch performed the familiar melody from the test piece 'On Alderley Edge' - 'A Time for Peace'. The defending champion meanwhile gave a fine account of 'Russalka's Song to the Moon'.
Junior Slow Melody
One of the brightest young talents around, Peter Moore of Wingates was in a class of his own in a field of eleven as he retained the Junior Slow Melody title with a performance of the 'Adagio' from Haydn's 'Cello Concerto'. It was a performance of rare merit and rightly deserved the accolades and the first prize.
The second and third places were evenly matched, with Jonathan Bates (tenor horn) from Innovative Skelmanthorpe taking second place after a well crafted account of 'Star of Bethlehem' ahead of Jodie Russell on Bb Cornet from Oldham Band (Lees). Both these young players can go home rightly pleased with their efforts – both are two stars for the future.
Junior Quartets
The balance of sound together with the relaxed manner from the all female quartet of Shaw Youth was enough to give them the Junior Quartet title after their rounded and balanced performance of 'Restless Waters'.
Second place went to Dobcross Youth for its interpretation of the timeless classic 'Euranthe'. They were in good form from the word go, but it wasn't as precise as the winners. Of the five other ensembles present, it was Solent Concert Junior that demonstrated plenty of dynamic contrast in their performance of 'Old Harmony' and they deservedly took the final podium place.
The four who missed out all contributed to a fine contest. Both the Shirland Welfare quartets, Oldham (Lees) and Upper Rhondda should be proud of their efforts and both adjudicators spoke of there delight at hearing the quartets perform. Well done to all concerned in fact on what is now becoming a integral part of this contest.
Throughout the day, Roderick Barrand and David Jones provided deft and very professional accompaniment on the piano, as did Robert Kerwick as MC and all the officials led by Frank Hodges. Frank praised the competitors and adjudicators for their co-operation during the day, including a respectful pause and the playing of the Last Post at 11.00am to mark Armistice Day. With a number of entrants involved in concerts at night, there were some alterations to the day's schedule that were slickly done in order to facilitate the needs of those who were on tight schedules. As always the organization here was first rate.
All adjudicators spoke warmly of the standard of performances that they had heard throughout the day and overall there was a healthy turn out across the sections, although once players commitments had come to a close, there was a tendency to leave and the Senior Solo Final took place with plenty of empty chairs - a point made by adjudicator Russell Gray in his closing comments prior to the announcement of the results.
This event remains an important opportunity for players to gain valuable experience when it comes to standing up and playing in front of an audience, which as Geoffrey Whitham eluded too, takes a lot of nerve and courage.

Two old pros at work: Derek Atkinson and Frank Hodges make sure everything as usual goes to plan.
Photo: John Stirzaker

Strangely though, it only attracts a sprinkling of players from some of the best bands around within the UK when in days gone by, contests such as this were the bread and butter for the finest players. The good news though is that the contest now attracts regular contenders from Europe with Brass Band Willebroek and the Scottish contingent was stronger here than it has been for some time. The generosity of Karyn andMartin Mortimer to allow the British Open titles to be bestowed on the winners never goes un-noticed either from the entrants on the day.
Tameside Council's commitment to the movement is unquestionable with their funds that go into various events throughout the year including this one. Without its support, banding would be all the poorer for it and Louise Atkinson, the council's Senior Arts & Event Manager confirmed to BB that next year's event will take place on Saturday 10th November.
The British Open Solo and Quartet Championships are growing in importance and stature and the standard is also improving year in year out. Now is the time for the very best players to recognize this and perhaps put their own hard earned reputations on the line too. Katrina Marzella certainly did this year and in return showed that she is without doubt one of the finest performers we have on any brass instrument in the UK.

Malcolm Wood and Dave Tinker